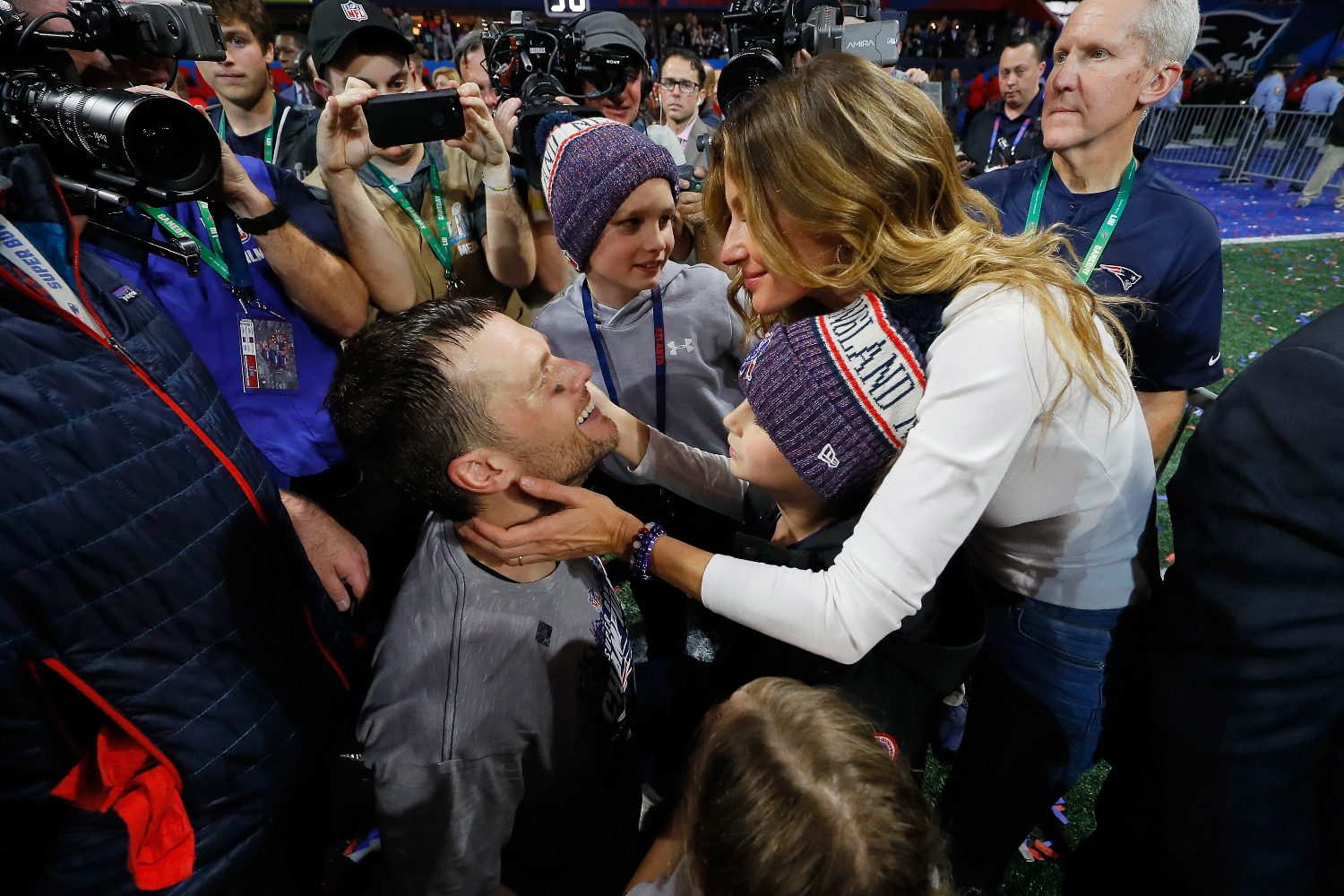 Tom Brady's Wife Played Major Role in His Patriots Departure
Tom Brady spent two decades starring for the Patriots. It turns out his wife, Gisele Bündchen, played a major role in his decision to leave.
Tom Brady surprised many by leaving the New England Patriots this offseason. After all, he became an NFL legend by winning six Super Bowl titles working alongside Bill Belichick. Yet, after two dominant decades, Brady said goodbye to Robert Kraft and Patriot Nation and took his talents to Tampa. And as it turns out, Brady's wife, Gisele Bündchen, played a major role in his departure.
Tom Brady left the Patriots after two dominant decades
Tom Brady accomplished everything possible in two decades with the Patriots. He went from an overlooked sixth-round pick into the greatest quarterback in NFL history. Along the way, he served as the prime example of the "Patriot Way" motto that Bill Belichick implemented when he took over the organization.
Even with an ever-changing cast of weapons, Brady managed to put the Patriots in a position to compete for a Super Bowl title on an annual basis. Sure, Belichick's brilliance as a coach played a significant role in New England's success. However, Brady's ability to deliver in the clutch made the true difference in crunch time.
The two NFL legends did not always see eye to eye, though. In recent years, Brady began to back off his commitment to the team's offseason program. That continued even after Belichick traded Jimmy Garopplo, who many believed would take over as the Patriots' starting quarterback one day.
Belichick's refusal to spend premium draft picks on weapons left the Patriots short-handed at wide receiver and tight end. Brady's final year in New England did not measure up to his usual standard. And so, after two decades together, the two parties moved in another direction. Brady moved to Tampa and Belichick brought in Cam Newton to be his new quarterback.
Gisele Bündchen played a major role in her husband's departure
Joe Montana recently revealed why Tom Brady left the Patriots. According to the Hall of Fame quarterback, Brady grew frustrated with his lack of input on personnel decisions. While that may be true, it turns out another factor played a major role in his departure: Gisele Bündchen.
According to "The Dynasty" by Jeff Benedict, Brady's wife joined her husband for a meeting with Robert Kraft after the Patriots lost to the Eagles in Super Bowl 53. Bündchen did not hold back her frustration about how her husband had been treated by Bill Belichick. (H/T NY Post)
As Benedict writes, "She also pointed out how ridiculous it was that after all these years, Belichick still treated Brady like 'f—–g Johnny Foxboro.' It was bad enough to never voice approval. It was bulls–t to still be dressing down the most accomplished quarterback in league history during team meetings and treating his personal trainer and best friend like some kind of outcast."
A later sit-down with Kraft took an unexpected turn when the discussion of Brady's future in Foxborough came up. At that time, Brady and his wife reportedly expressed their desire to leave New England, which came as a surprise to the Patriots owner.
Ultimately, Brady won a Super Bowl title in 2018 but never signed a long-term contract. He played out the final year of his contract and exercised his freedom as a free agent by signing a two-year, $50 million deal with the Buccaneers.
Will Brady regret leaving New England for Tampa?
Gisele Bündchen seems to have played a significant role in Tom Brady eventually leaving the Patriots. But now that the couple and their kids have relocated to Florida, will Brady regret his decision?
On one hand, escaping the grind of playing for Belichick has to be a relief. Brady now gets to work with Bruce Arians, who has earned a reputation as a player-friendly coach. Plus, he will once again throw passes to Rob Gronkowski, who he coaxed out of retirement. Tampa also boasts a dominant receiver duo in Mike Evans and Chris Godwin. That tandem gives Brady two elite weapons to target on Sundays.
Still, leaving behind a Patriots organization that annually competes for Super Bowl titles represented a massive risk. The Buccaneers do not have a winning culture; they last made the playoffs in 2007. Brady also has to compete in a much tougher division that features Drew Brees and Matt Ryan.
At age 43, Tom Brady does not have much football left. If can win a title in Tampa, he will silence any remaining critics. However, if he and the Buccaneers struggle, it will be Bill Belichick who gets the last laugh.
Like Sportscasting on Facebook. Follow us on Twitter @sportscasting19.