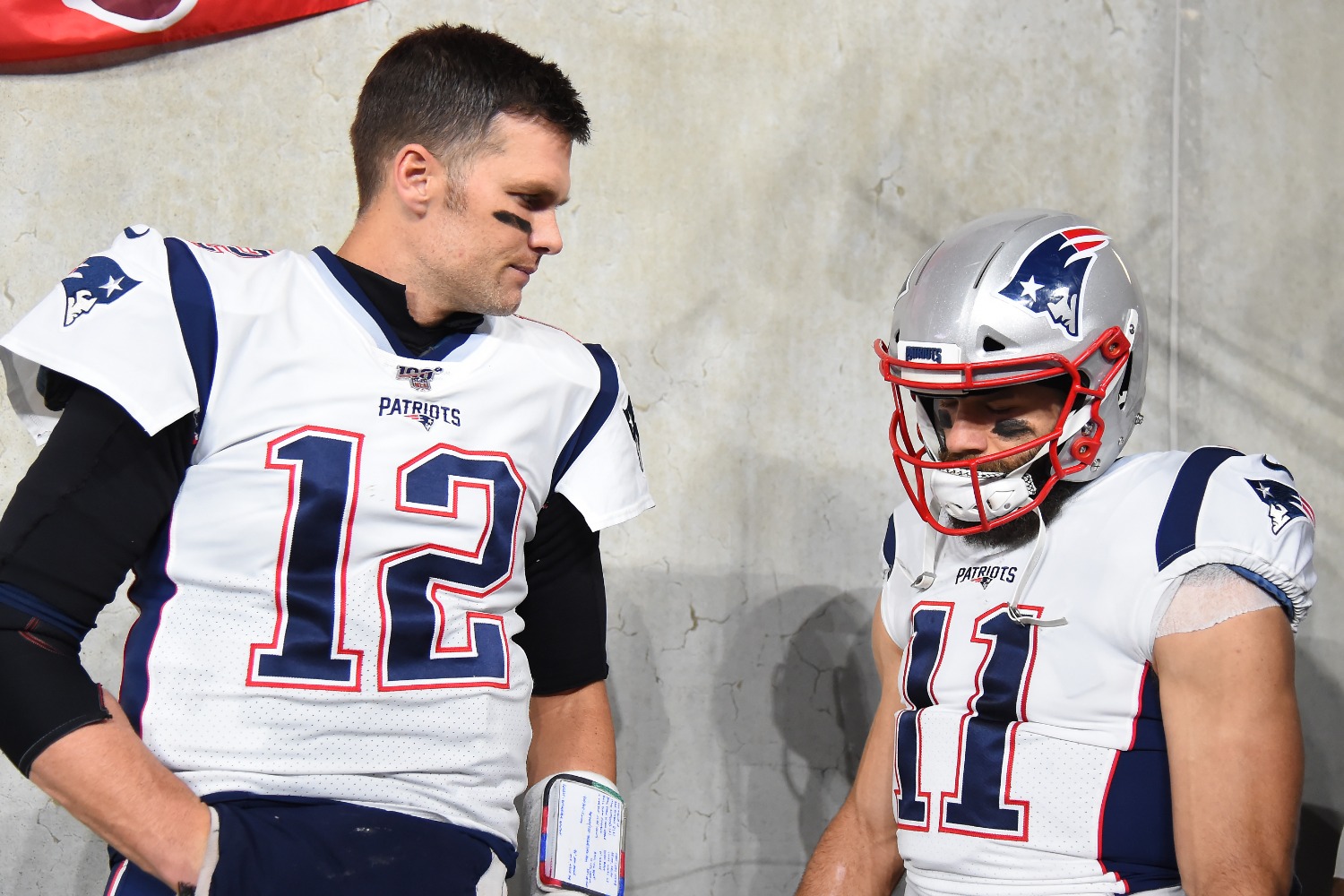 Julian Edelman Just Admitted His True Feelings About Tom Brady's Departure
Julian Edelman and Tom Brady became an unstoppable duo, but the receiver just delivered a surprising message about his former quarterback.
For a decade, Tom Brady and Julian Edelman built a connection that few defenses could stop. The greatest quarterback of all time helped turn a former seventh-round pick into the NFL's preeminent slot receiver. So when Brady left the New England Patriots this offseason, it represented a big blow to not only the organization but Edelman in particular.
On Monday, the veteran wideout spoke for the first time to the media since Brady walked away from the Patriots. And by admitting his true feelings about his best friend's departure, Julian Edelman certainly raised a few eyebrows.
Julian Edelman and Tom Brady made magic together
Like his quarterback, Julian Edelman entered the NFL as a late-round selection. The former Kent State quarterback showcased impressive athleticism in pre-draft workouts. Still, given concerns about his size and next-level fit, Edelman didn't hear his name called until the seventh round of the 2009 NFL draft.
The late-round flyer turned out to be one of the best draft picks of the Bill Belichick era. Though it took him a few years to get a shot at a starting job, Edelman quickly made up for the lost time.
Despite tipping the scales at 5-foot-10, 198 pounds, the California native racked up 105 catches for 1,056 yards and six touchdowns in his first year as a full-time starter in 2013. The following year, Brady's trusted target caught nine passes for 109 yards and a touchdown in New England's epic Super Bowl victory over the Seattle Seahawks.
That playoff performance perfectly sums up Edelman's NFL career. In the biggest moments, Brady seemed to find No. 11 running over the middle, prepared to take a violent shot from an oncoming safety. In Brady's penultimate season with the Patriots, Edelman earned Super Bowl MVP honors after tallying 10 catches for 141 yards.
To put it simply: Tom Brady and Julian Edelman made magic together en route to three Super Bowl titles.
Edelman sends surprising message about his former quarterback
On one hand, you could make a reasonable argument that nobody would ever know Julian Edelman's name if not for Tom Brady. After all, it seems unlikely that the former dual-threat college quarterback would have developed into a legitimate star without the help of TB12. So when Brady said goodbye to Patriot Nation, that represented a huge blow to Edelman.
However, in speaking with the media on Monday, the 34-year-old admitted his true feelings about Brady's departure. And by the sound of it, it certainly seems like New England's top receiver has turned the page to the next chapter of his career. (H/T 98.5 Sports Hub)
"You've got to move on and understand that this is a business," Edelman said. "You wish him well, and that's when you instantly start thinking about what you have to do to prepare yourself to go out and contribute and help the team for the upcoming year."
In addition, Edelman relayed that while he and Brady played a ton of football together, that won't stop the Patriots from charging ahead in a new direction.
"I love him to death but the train keeps moving, as it will when I'm not playing here or something. I mean, it just always keeps going. We've got to worry about the people that we have here, and try to prepare ourselves the best we can with the situation that we're in."
Will Cam Newton succeed in replacing TB12?
Julian Edelman may seem surprisingly content with Tom Brady leaving, but that could be a reflection of his confidence in Cam Newton. The veterans have already begun developing chemistry with offseason workouts. That should help tremendously once the season gets underway.
Obviously Newton faces a tall task in replacing a six-time Super Bowl champion. However, the former Carolina Panthers star has plenty of motivation to play well in 2020.
First, Newton wants to rewrite the narrative that he has already played his best football. Injuries took a toll on the former No. 1 pick over the last few years. Newton must prove he can stay healthy if he wants to succeed in New England.
Plus, the allure of a lucrative contract should drive Newton this season. He settled for an absurdly cheap deal to join the Patriots. A bounce-back campaign will set up the former league MVP for a massive raise in 2021.
For Cam Newton to complete his comeback, he'll need to rely on the same weapon Tom Brady did for years. Let's just see if Julian Edelman enjoys the same success with his new quarterback as he did with the GOAT.