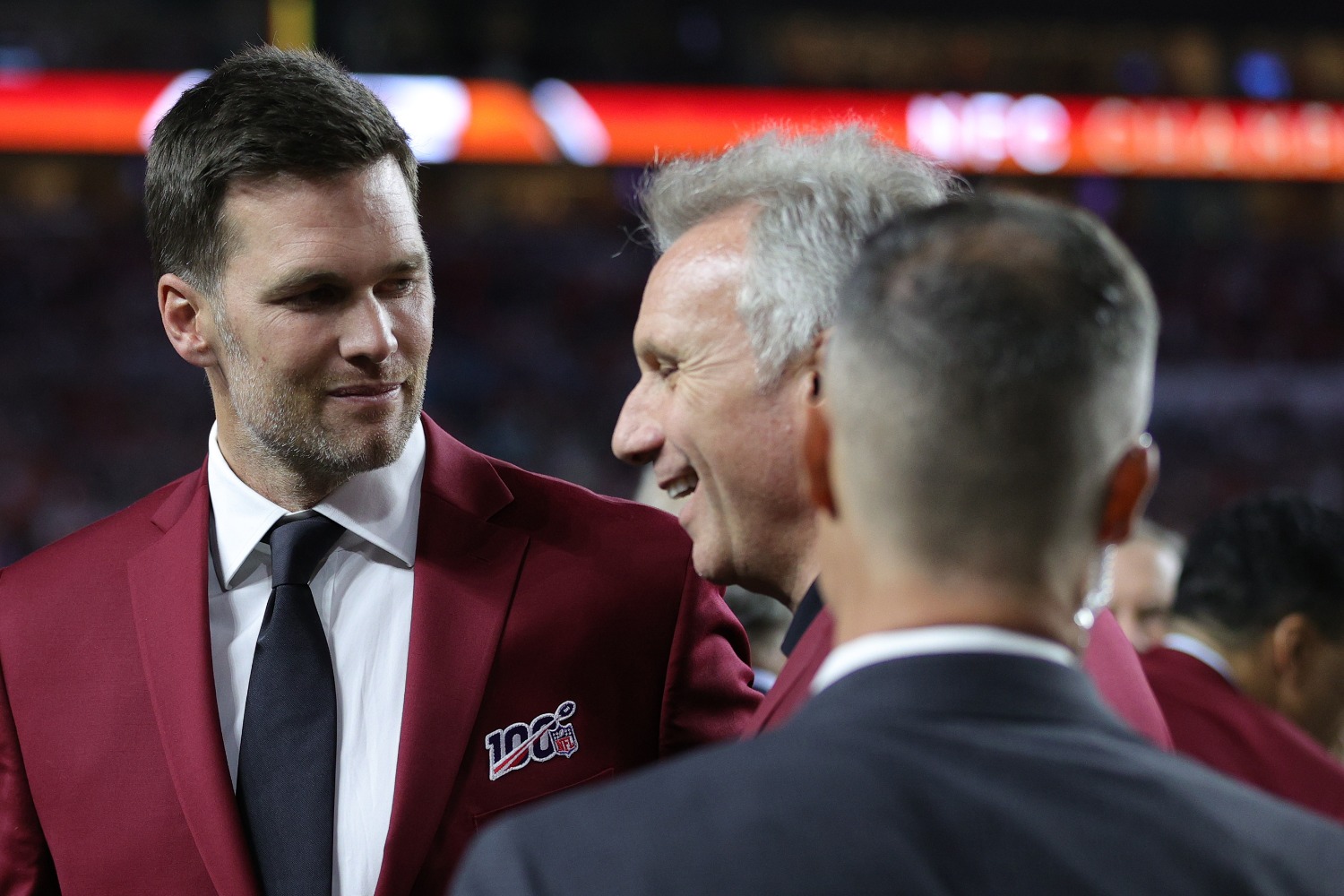 Joe Montana Just Revealed Why Tom Brady Left the Patriots
Tom Brady stunned the NFL world by leaving the Patriots. NFL legend Joe Montana recently revealed why Brady decided to walk away.
Joe Montana has already walked the path Tom Brady just embarked on. After all, Montana did not finish his career with the San Francisco 49ers—the organization with which he became an NFL legend. Like his childhood hero, Brady became a legend in his own right by winning six Super Bowl titles with the New England Patriots.
Yet, after two decades of dominance, the greatest quarterback of all time left Patriot Nation heartbroken by taking his talents to Tampa. As it turns out, Brady's idol revealed why the three-time NFL MVP left New England.
Tom Brady had some struggles in his final years with the Patriots
We all know the story of Tom Brady. He went from a sixth-round compensatory pick to winning a Super Bowl before age 25. While Brady excelled as a game manager early in his career, he developed into a lethal assassin thanks to his intimate knowledge of the offense and a rare ability diagnose defenses.
However, the man with six Super Bowl rings did not look like himself during the last two seasons. Though the Patriots did capture their sixth title in 2018, Brady played a backseat role. Fresh off of earning league MVP honors, his numbers took a slight dip across the board. By the time the playoffs rolled around, Bill Belichick turned back the clock for a more physical ground-and-pound style of attack.
In 2019, Brady's play slipped even further. His 60.8% completion percentage and 88.0 quarterback rating represented his lowest marks since 2013. He threw just 24 touchdowns—his fewest since 2006. And his 6.6 yards per attempt ranked as one of the worst marks of his storied career.
Overall, the last two seasons in New England certainly did little to disspell the notion that Father Time caught up to TB12. Of course, his lack of elite weapons did not help.
Joe Montana reveals why Brady left New England
When Brady officially left the Patriots for the Buccaneers, it immediately sparked questions about why he would make a drastic career change at 42 years old. Speculation surrounding his relationship with Bill Belichick swirled in the background. Others viewed it as purely a financial decision.
Apparently Joe Montana has the real answer. In an appearance on The Jake Asman Show, the NFL legend revealed an eye-opening detail from his conversation with Brady at Super Bowl 54 regarding his decision to leave the Patriots.
"I don't think he was happy with the way things were progressing there and his ability to have input and I think that was a big decision for him to make to leave there."
Reading between the lines, it seems like Brady did not appreciate Bill Belichick keeping him out of the decision-making loop. After all, the team cycled through an endless cast of disappointing receivers over the last few years. Plus, the Patriots quickly cut ties with Antonio Brown just as it seemed like Brady had finally found a reliable weapon.
Does Bill Belichick deserve blame for TB12's departure?
Based on Joe Montana's comments, it certainly seems like Tom Brady did not enjoy his final year in Foxborough. But does Bill Belichick deserve blame for TB12's departure?
On one hand, it makes sense that Brady grew frustrated by his lack of input on personnel decisions. Given his status within the organization, perhaps he felt entitled to weigh-in on the roster. After all, when you operate the same offense for 20 years, you probably have a good idea of what you need at certain positions.
However, Belichick also had to stick to his principle that nobody comes before the team. We saw how the surly head coach treated Brady over the years: exactly the same as the 53rd player on the roster. Allowing Brady to have a say on personnel decisions would violate that principle and compromise Belichick's entire program.
At the end of the day, Tom Brady and Bill Belichick both deserve some blame for the divorce. Like many marriages, certain issues just can't get swept under the rug forever. Now, the two NFL icons will try to win a Super Bowl on their own.
Can you just imagine if the Buccaneers face the Patriots in February?