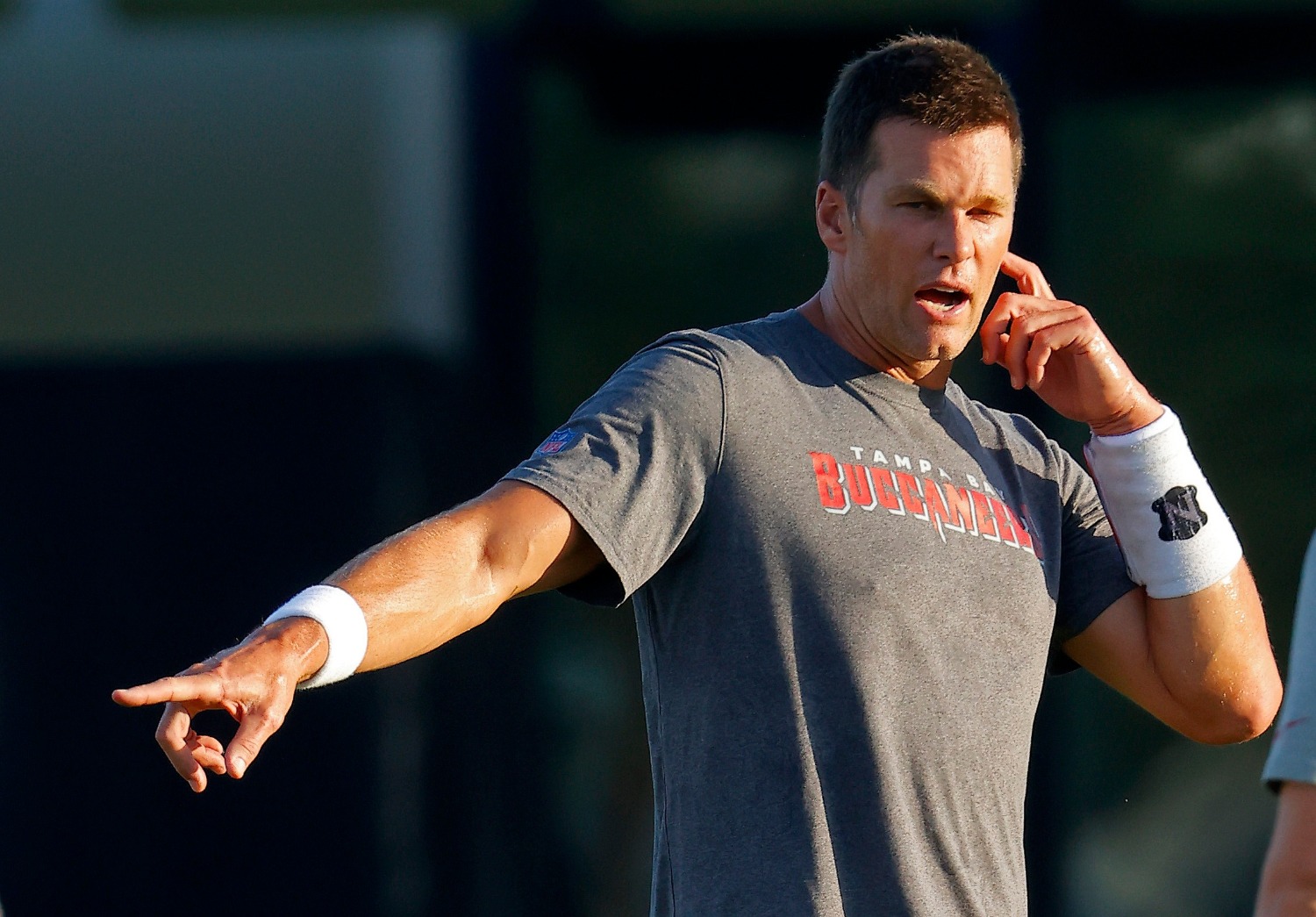 Tom Brady Must Learn a New Language He Didn't Speak With the Patriots
Tom Brady played in the same offense with the Patriots for 20 years. Now, he has to learn a new language with the Buccaneers.
Tom Brady spent two decades playing in the same offense. Naturally, he mastered the system to the point where he once said he had all the answers to the test. However, by leaving the New England Patriots, Brady also left behind years of institutional knowledge and familiarity. That has left the Buccaneers quarterback with no choice but to learn a new language.
Tom Brady mastered the Patriots offense for two decades
When Bill Belichick spent a sixth-round compensatory pick on Tom Brady 20 years ago, no one could have predicted he would become the greatest quarterback in NFL history. Heck, even the Patriots had no clue what they were getting in the former Michigan QB. After all, Brady's pre-draft workouts left scouts less than impressed.
However, once Drew Bledsoe went down with an injury, Belichick inserted the promising prospect into the starting lineup. We all know how the story went from there.
Brady led the Patriots to their first Super Bowl victory in franchise history. Over the next two decades, he went from being a game manager to the most clutch quarterback the league has ever seen. Despite numerous personnel changes, Brady remained the one constant.
Needless to say, the three-time NFL MVP certainly knew the Patriots' playbook inside and out. On one level, he ran the offense just as much as Josh McDaniels did. But by departing from the only franchise he's ever known, Tom Brady left behind two decades of familiarity, comfort, and understanding.
Brady must learn a new language in Tampa
Joining a new organization involves plenty of changes. No one has learned that faster than Tom Brady. The Buccaneers quarterback opened up about the challenges of learning a new language as he prepares for the 2020 NFL season. (H/T ESPN)
"It's been different having the opportunity over this time to move and to, for example, study my playbook — I mean I really haven't had to do that in 19 years, so you forget, 'Man, that's really tough,' like all of the different terminologies," Brady said Thursday. "You're going back a very long time in my career to really have to put the mental energy in like I did. I have to work at it pretty hard physically, still. I put a lot of time and energy into making sure I'm feeling good in order to perform at my best, but mentally I think that's been the thing that's obviously had its challenges.
For Brady, the learning process extends beyond his playbook. He explained some of the other challenges he has encountered as he transitions to a new team.
"You're trying to learn a bunch of different things and you're trying to not only learn an offense, but learn your way to work or learn guys' names," Brady said. "I didn't even know where the quarterbacks' room was or [where] the full-team meeting room was. You get in here and your brain is trying to figure out a lot of different things."
How will the Buccaneers offense perform with so many new faces?
On paper, it's hard not to fall in love with the Buccaneers and their loaded offense. It all starts with Tom Brady, who has to prove that his disappointing 2019 season had more to do with his lack of weapons rather than a decline in his own play. He will have ample opportunity to prove Bill Belichick wrong thanks to a deep arsenal of pass-catchers.
Evans and Godwin form arguably the most talented receiver tandem in the NFL. The former has posted six consecutive 1,000-yard seasons since entering the league as a first-round pick. Godwin actually led the Buccaneers in all receiving categories last season. The 2017 third-round pick posted career-highs in catches (86), yards (1,333) and touchdowns (nine).
Tampa also boasts a potentially dominant tight end duo in Rob Gronkowski and O.J. Howard. Though Gronk spent the 2019 season out of the league, he got coaxed out of retirement and looks healthy and ready to go. Howard hasn't lived up to his first-round pedigree, but he should get more targets from a quarterback with a long history of utilizing tight ends.
At the end of the day, though, the Buccaneers have a lot of work to do in order to live up to their Super Bowl potential. Talent certainly matters, but Tom Brady must master a new language and build chemistry and timing with his talented teammates if Tampa plans on hoisting the Lombardi Trophy.