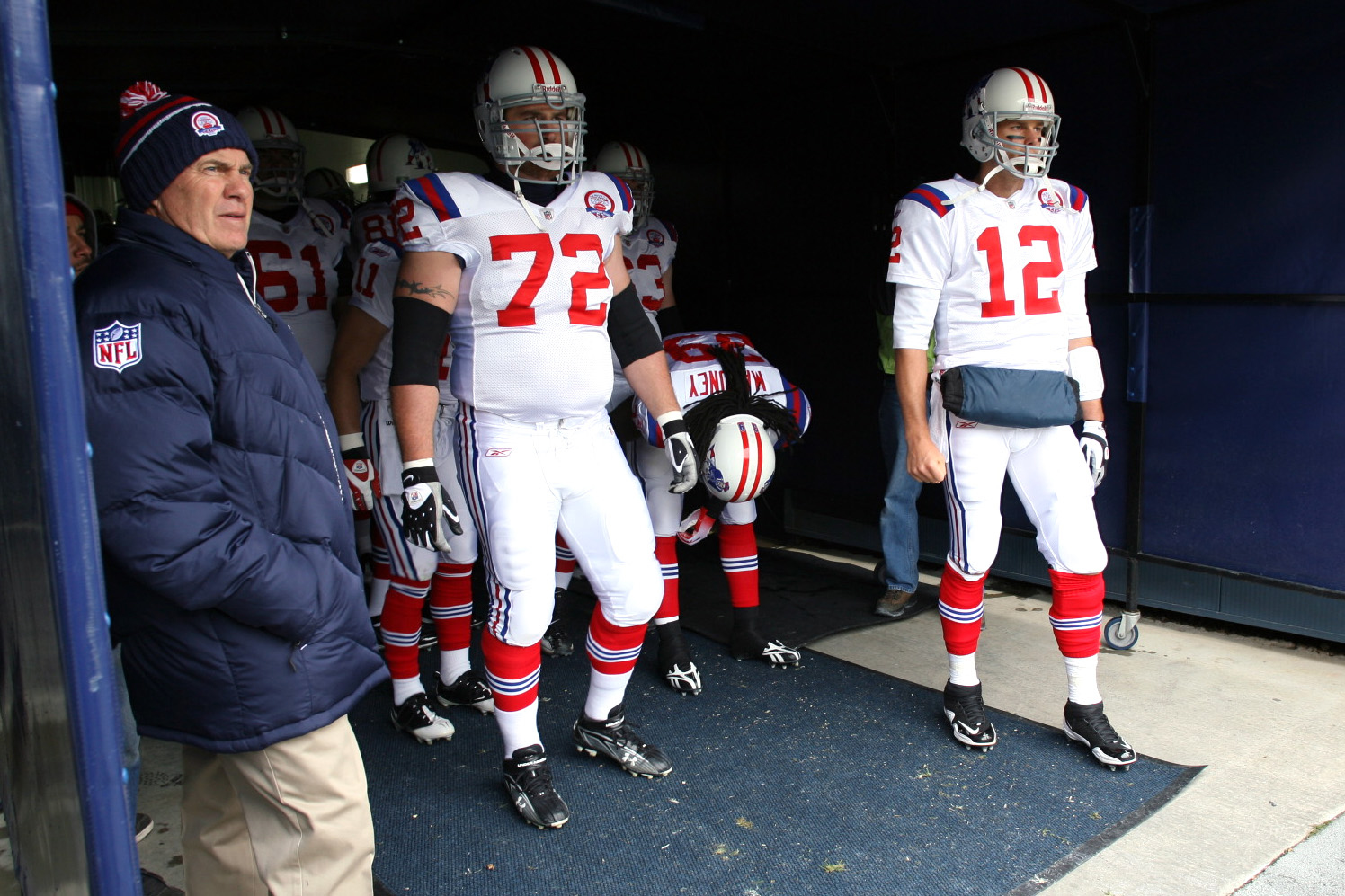 Bill Belichick Just Defeated Tom Brady in Former Patriots Star's Ultimate Scenario
Bill Belichick just earned the ultimate sign of respect from Matt Light, who spent his entire NFL career protecting Tom Brady.
Tom Brady and Bill Belichick won six Super Bowl titles together across two dominant decades. However, even diehard New England Patriots fans have struggled to make a decision in the Brady vs. Belichick debate. After all, it seems unfair to have to choose between the greatest quarterback and most successful coach in NFL history.
However, Matt Light, Brady's former protector, just settled the debate with an interesting take. And in doing so, he helped Belichick score a decisive win over his former quarterback.
Matt Light protected Tom Brady for his entire career
Matt Light will never earn a spot in Canton. However, he did get inducted into The Patriots Hall of Fame thanks to a stellar career as Tom Brady's blindside protector.
One of the best draft picks of the Bill Belichick era, Light quelled concerns about his size and earned the starting left tackle job as a rookie. The Patriots captured their first Super Bowl in franchise history with the second-round pick manning the most important position along the offensive line.
Light started all 16 games in each of the next three seasons. New England captured two more titles during that stretch. Though the 6-foot-4, 305-pounder never became a true superstar, he did garner three Pro Bowl selections and a first-team All-Pro nod in 2007.
By the time he retired after the 2011 season, Matt Light had started 153 games and made five Super Bowl appearances. A lifelong Patriot, he certainly had a firsthand look at the greatness of both Tom Brady and Bill Belichick.
Bill Belichick scores decisive win over Tom Brady
As the most successful quarterback-head coach combo to ever live, Tom Brady and Bill Belichick each contributed to the greatest dynasty in professional sports. But determining who deserves more credit remains a difficult debate. After all, how can you weigh each NFL legend's contributions?
Well, in the case of Matt Light, he settled the Brady vs. Belichick debate once and for all. The three-time Super Bowl champion recently made an appearance on The Greg Hill Show on Tuesday and answered which NFL legend he would choose for one season. Let's just say Belichick scored a decisive win over his former quarterback.
"I think you've got to go with Bill and here's why — and it took me awhile even in retirement to look back and really appreciate the job that a coaching staff has to do — trust me, I appreciated my coaches," Light explained.
He also expressed admiration for Belichick's consistent approach each and every day. That management style certainly played a significant role in the Patriots going 11-5 when Brady tore his ACL in the 2008 season opener. Matt Light specifically referenced that season as another tip of the hat to Belichick.
"And the fact I did play a season without Tommy. It wasn't a great season, but it was a good season and no disrespect to my man No. 12, but in Bill we trust, right? God love him."
The Brady vs. Belichick debate will be put to the test this season
While Matt Light made it clear that he would choose Bill Belichick over Tom Brady for one season, he may not share that same sentiment after the 2020 NFL season. While the Patriots transition to a new offense that will likely feature Cam Newton under center, Brady looks poised for a redemption tour in Tampa.
The 43-year-old may not have time on his side, but he does have one of the league's best set of weapons. In addition to the dynamic duo of Mike Evans and Chris Godwin, Brady also boasts an impressive tight end trio comprised of Rob Gronkowski, O.J. Howard, and Cameron Brate. Throw in LeSean McCoy and you have the makings of a Super Bowl-caliber offense.
The Buccaneers obviously play in a tough division headlined by the New Orleans Saints. But with Brady in the fold, Tampa absolutely has a legitimate shot at making a Super Bowl run this season. If the six-time champion adds a seventh ring to his collection in his first season without Belichick, that could swing the debate heavily in Brady's favor.
However, don't count out the architect of the most dominant dynasty the NFL has ever seen. Belichick did lose several key starters on defense, but he has some exciting young prospects who could ease that pain. Plus, the team added a pair of promising tight ends in the draft to add to a receiver group that includes Julian Edelman and N'Keal Harry.
Ultimately, the Brady vs. Belichick debate may never get settled. But Matt Light made it abundantly clear who he would choose with one season to play. And by selecting his former coach over his former quarterback, he paid Bill Belichick the ultimate sign of respect.