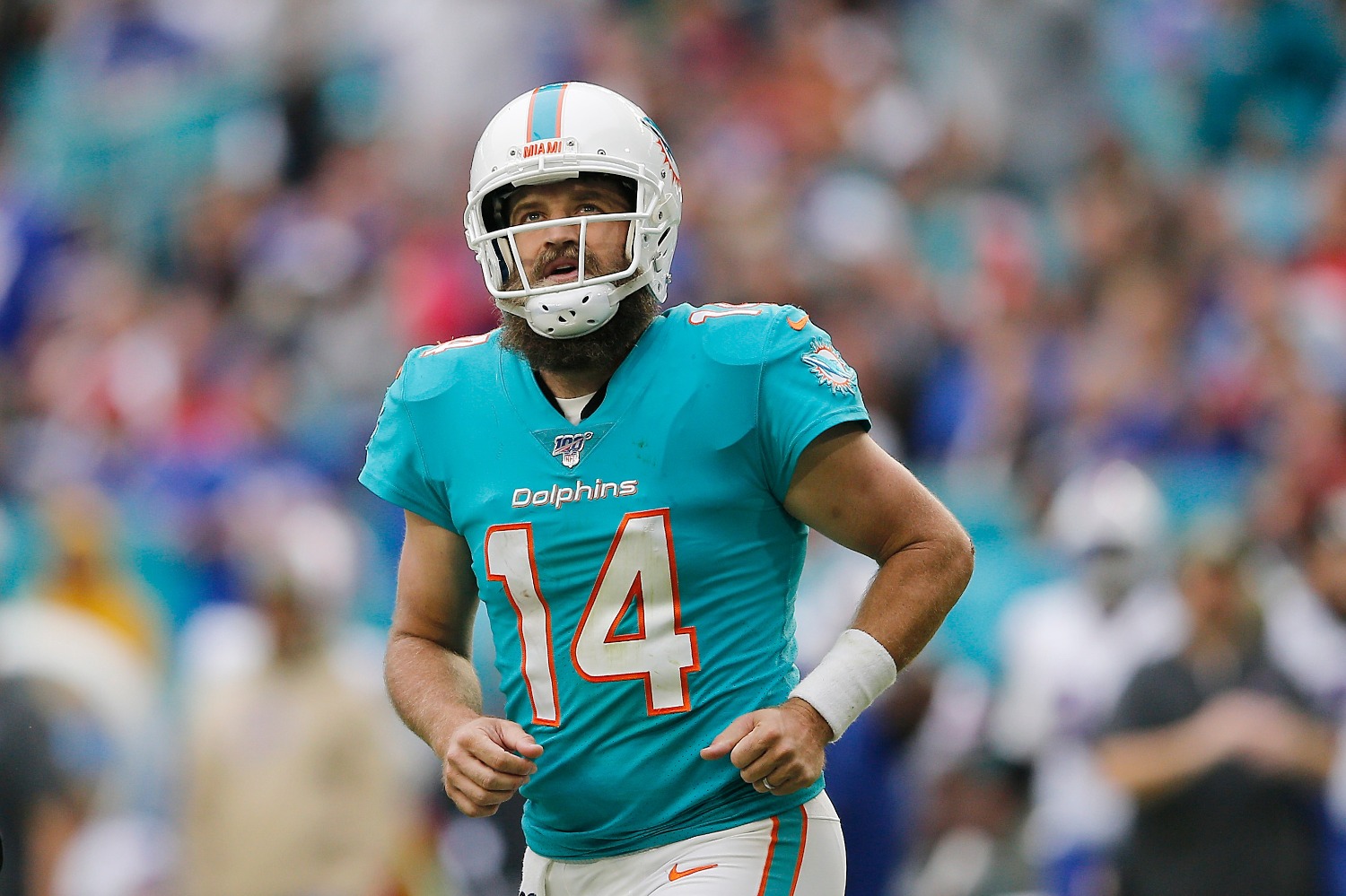 Dolphins QB Ryan Fitzpatrick Suffers Tragic Loss With Mom's Untimely Death
Miami Dolphins quarterback Ryan Fitzpatrick missed Saturday's scrimmage after suffering a tragic loss with his mom's untimely death.
Few NFL players garner as much respect as Ryan Fitzpatrick. The 37-year-old veteran has suited up for eight teams since entering the league in 2005. Now tasked with helping tutor Tua Tagovailoa, the Miami Dolphins quarterback suffered a tragic loss on Saturday with his mom's untimely death. As the father of seven mourns the loss of his mother, that could force the Dolphins to alter their plans at the most important position in football.
Ryan Fitzpatrick garners plenty of respect as an NFL veteran
Ryan Fitzpatrick took a unique path to the NFL. While many players star at powerhouse programs, the Arizona native played his college ball at Harvard. Renowned for his intelligence, Fitzpatrick parlayed a record-setting college career into a seventh-round draft selection.
The then-St. Louis Rams took a flyer on the former Ivy League star with the 250th overall pick. He spent just two years with the Rams and two years with the Cincinnati Bengals before getting his big break.
Fitzpatrick became a household name as the starting quarterback for the Buffalo Bills. Though he threw plenty of interceptions, he also dazzled with stretches of brilliant play. He threw 80 touchdowns in 53 starts before embarking on a true journeyman trail.
Since 2013, Fitzpatrick has played for five NFL teams. In 2018, he filled in for an injured Jameis Winston and threw 17 touchdowns in seven starts. Last year, he joined the Dolphins and went 5-8 as a starter with 20 touchdowns and 13 interceptions. His leadership played a large role in the team going 5-4 down the stretch after looking like the odds-on favorite to earn the No. 1 pick.
Fitzpatrick suffers a tragic loss with the death of his mother
Heading into the 2020 NFL season, Ryan Fitzpatrick looked like the favorite to start for Brian Flores. Obviously, though, he will serve as a bridge quarterback to Tua Tagovailoa, who Miami just drafted fifth overall in April. With training camp underway, the Dolphins scrimmaged at Hard Rock Stadium on Saturday morning.
What began as a normal day on the job turned out to be anything but for Fitzpatrick. As the team broke to begin individual drills, Flores approached his quarterback to have what Cameron Wolfe of ESPN described as "an intimate and emotional conversation."
After walking toward the stadium tunnel with his arm placed around Fitzpatrick, Flores returned alone. He then informed the team that the quarterback's mom died earlier Saturday morning.
While her death may have been untimely given Fitzpatrick's presence at practice, it did not come as a total surprise. According to Ian Rapoport, Fitzpatrick had recently left training camp to spend some final moments with his mom. That may explain why he did not attend practice last Friday. Flores had told reporters that Fitzpatrick's absence was due to "personal reasons."
Dolphins may have to alter their quarterback plans
As Flores tries to take down Bill Belichick and the rest of the AFC East, he may have to alter his plans at quarterback. The 39-year-old head coach said Fitzpatrick will take as much time as he needs to grieve. But with Week 1 just around the corner, the Dolphins must prepare for the possibility that he may not return in time to take on the Patriots on Sept. 13.
In that case, it will force Flores to go with Tagovailoa or fellow former first-round pick Josh Rosen. The former represents the future of the franchise, but Miami would be smart to exercise caution in playing him right away given the gruesome hip injury that ended his college career early.
Rosen enters his second year with the team, but he has done nothing to justify his top-10 pedigree. He made three starts in 2019 and looked overmatched. Rosen threw just one touchdown and five interceptions while completing 53.2% of his 109 attempts. According to Wolfe, both Rosen and Tagovailoa struggled in Saturday's scrimmage.
Ultimately, the Dolphins' best chance of success rests with Ryan Fitzpatrick. He garners tremendous respect from his teammates and boasts a wealth of experience and knowledge. He may not take the team to a Super Bowl, but he can serve as a bridge to the future. Only his mom's untimely death may result in a prolonged absence that would force Flores to alter his quarterback plans.
If so, don't be surprised to see #TuaTime trending sooner than later.
All statistics courtesy of Pro Football Reference.