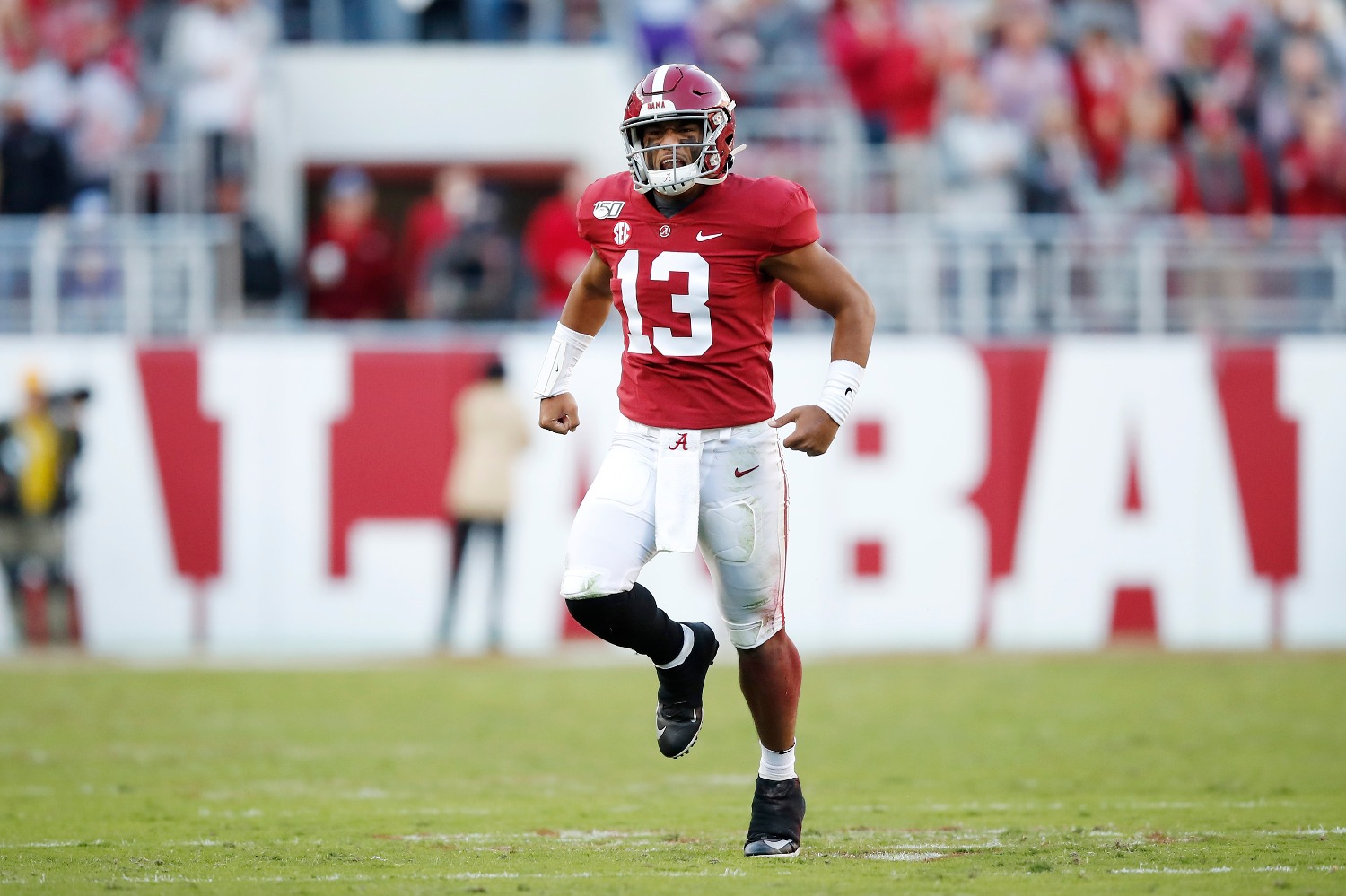 Tua Tagovailoa Just Injected Optimism into Dolphins' Playoff Dreams
Tua Tagovailoa has major durability concerns, but the former SEC star just gave Dolphins fans and Rick Ross a huge confidence boost.
Tua Tagovailoa entered the 2020 NFL draft facing an uncertain future. Would he slide down the board due to concerns about his surgically-repaired hip? Would a team trade precious draft picks to move up to secure his services? Ultimately, the Miami Dolphins didn't have to make a single move to land the former Alabama star.
Of course, once the Dolphins bet their future on the southpaw signal-caller, that led to many questions about his availability given his devastating injury. But luckily for Rick Ross and fellow diehard Dolphins fans, Tua Tagovailoa just injected optimism into their playoff dreams.
Tua Tagovailoa's journey to the Miami Dolphins
Before the 2019 college football season began, Tua Tagovailoa looked like a lock to go No. 1 overall in the 2020 NFL draft. The Hawaiian native took starting duties at Alabama from former Oklahoma transfer Jalen Hurts and put together a dominant 2018 campaign that included 43 touchdowns, 3,966 yards, and a ridiculous 69 percent completion percentage.
With national title aspirations, Alabama started the 2019 season off on a tear. Tagovailoa put himself firmly in the Heisman Trophy conversation with even more efficient quarterback play than his breakout season. However, Crimson Tide fans watched their championship dreams dissipate when their superstar leader suffered a brutal hip injury in November.
Some speculated that Tua's injury could effectively end his NFL dreams. And with Joe Burrow rising from a late-round prospect to the most dominant player in college football, Tagovailoa no longer had the No. 1 spot secured. In fact, it became clear that the Cincinnati Bengals would take Burrow with the first pick.
Heading into the first night of the draft, nobody knew exactly what would happen with Tagovailoa. But after months of speculation, trade rumors, and scenarios, his fate crystallized when the Dolphins stayed at home and took the talented quarterback with the fifth overall pick.
Rick Ross and Dolphins fans should be thrilled by Tua's words
Like most Dolphins fans, Rick Ross couldn't contain his excitement when Miami stole the next Drew Brees by standing pat. Considering the franchise has yet to find a legitimate quarterback since Dan Marino retired two decades ago, drafting Tua Tagovailoa rightfully gave Dolphins fans reason to celebrate.
In a recent appearance on ESPN's "First Take" on Tuesday, the legendary rapper with a $40 million net worth who ranks as one of the Dolphins' biggest fans relayed his excitement about the 22-year-old QB.
"We've been missing that feeling, that rush, and I feel that this is our first time back since Dan the Man left. So Tua, we're not putting pressure on Tua, we just want him to lace those cleats up and just feel good and wear that turquoise."
While the Dolphins have to exercise caution with their $30 million investment, Ross and the rest of Miami's fan base should be elated after hearing Tagovailoa's recent comments in a USA Today piece.
"I'd say I'm ready to go," he said. "It's kind of those things where you start getting the itch to get back out on the field, to be able to compete. It's going to be a new setting, so that's what's even more exciting."
Assuming his hip has healed properly and his body can withstand the physical toll of playing in the NFL, Tua Tagovailoa absolutely deserves a chance to start for the Dolphins in 2020. And if he does open the season as the team's starting quarterback, that has huge playoff implications.
A healthy Tua can lead the Dolphins to the playoffs this season
Head coach Brian Flores and general manager Chris Grier have done an outstanding job of rebuilding a roster that just a year ago looked like it would struggle against local high school powerhouses. Thanks to a combination of smart free-agent signings, savvy trades, and strong drafting, the Dolphins have positioned themselves to compete for a playoff spot.
Given Flores' strong defensive acumen, Miami should boast a top-10 unit in 2020. The front seven got a huge boost in talent and leadership with former New England Patriots linebacker Kyle Van Noy. Former Buffalo Bills first-round pick Shaq Lawson should help improve a paltry pass-rush.
Signing Byron Jones to a record-setting contract gives Flores a top-flight corner to pair with fellow highly-paid star Xavien Howard. Expect teams to find it difficult to throw against a much-improved secondary that also features first-round rookie Noah Igbinoghene.
Plus, the Dolphins have a much easier path to winning the division than ever before. With Tom Brady gone, the Patriots face an uncertain future. Will Cam Newton resurrect his career under Bill Belichick? Or will Jarrett Stidham win the starting job? Plus, the Patriots lost Van Noy and several other key defensive starters this offseason.
Ultimately, the Dolphins' playoff hopes rest on the left arm (and surgically-repaired hip) of Tua Tagovailoa. But given his recent proclamation about his health, Rick Ross and his fellow Dolphins fans should have reason to celebrate now. Let's just see if their playoff dreams come true by season's end.