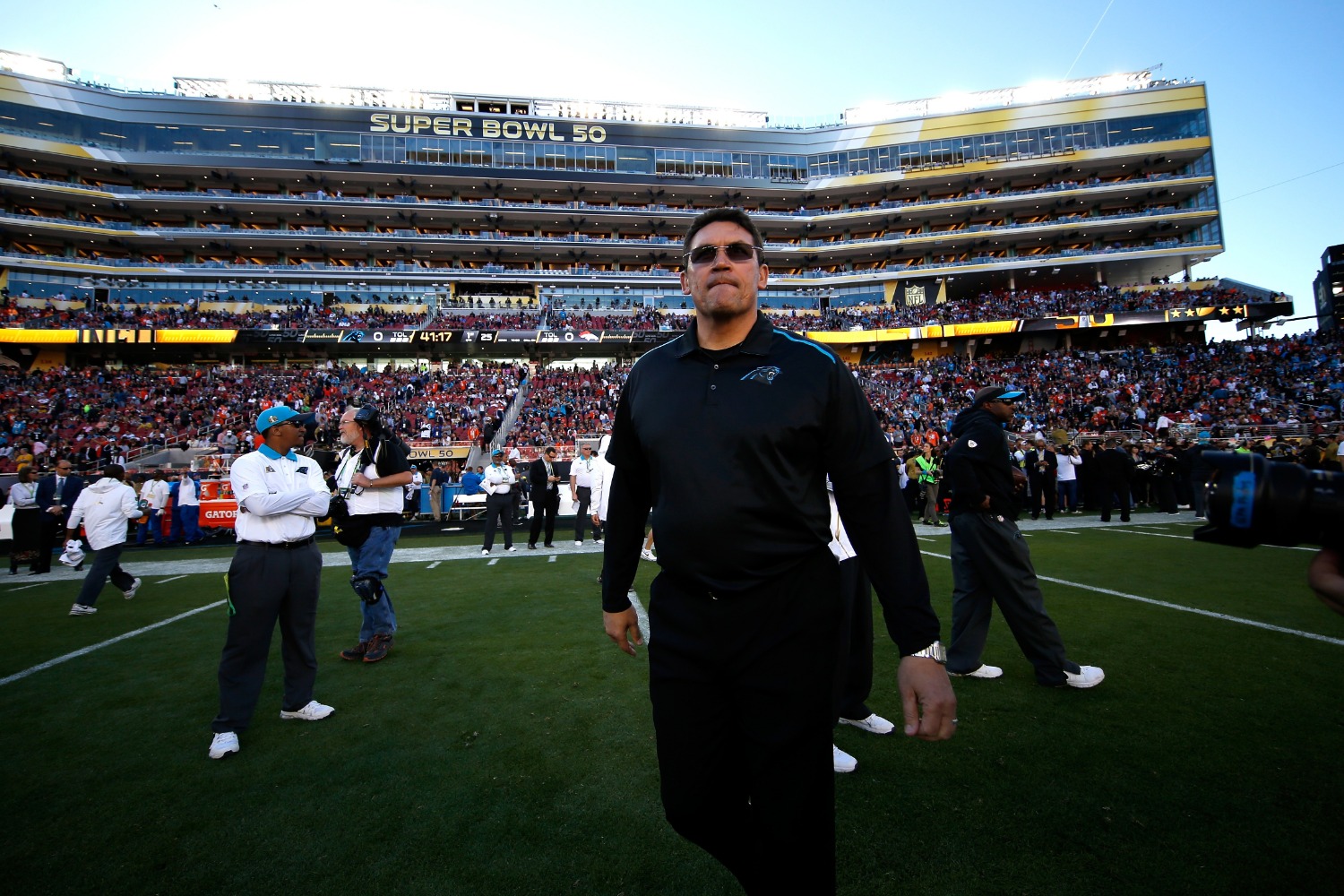 The Tragic Death of Ron Rivera's Brother Inspired the Best Season of His Career
Washington Football Team head coach Ron Rivera suffered a tragic loss when his older brother, Mickey, died of pancreatic cancer in 2015.
As a former NFL player himself, Ron Rivera understands that circumstances away from football can distract from a team's mission. On Thursday, the Washington Football Team head coach revealed he has been diagnosed with cancer. Rivera's impending battle with cancer adds another layer to an unforgettable offseason for the historic NFL franchise. However, this isn't his first encounter with cancer.
Just five years ago, the longtime NFL head coach suffered a devastating loss to the disease with the tragic death of his older brother. Yet, that did not stop Ron Rivera from leading the Carolina Panthers to the most successful season in franchise history.
Ron Rivera just got diagnosed with cancer
Ron Rivera has dealt with plenty of adversity since becoming the head coach of the Washington Football Team. From the team changing its name to the sexual harassment scandal to Derrius Guice's legal troubles, the 58-year-old has been forced to confront issues that have nothing to do with formulating a game plan or scouting an opponent.
On Thursday, Rivera confronted another hurdle by revealing he has been diagnosed with cancer. ESPN's Adam Schefter first broke the news on Twitter. He added that the squamous cell carcinoma in Rivera's lymph node is considered "very treatable and curable."
Despite the cancer diagnosis, the veteran head coach has no plans on giving up his day job.
"I'm planning to go on coaching," Rivera told Schefter. "Doctors encouraged me to do it. They said, 'If you feel strongly, do it. Don't slow down, do your physical activities.' But everyone keeps telling me by week three or four, you'll start feeling it."
Washington's head coach deserves praise for his determination to carry on with his job duties. After all, cancer can turn a person's world upside down. In fact, nobody understands that better than Ron Rivera himself.
Rivera suffered a loss to cancer with his brother's tragic death
Like his younger brother, Mickey Rivera came face-to-face with cancer. Unfortunately for the Rivera family, Ron's older brother did not defeat the disease. After a two-year fight with pancreatic cancer, Mickey Rivera died on July 28, 2015.
The husband and father owned three pizza stores in Reno, Nev. According to The Charlotte Observer, he watched every Panthers game on television once his brother got hired in 2011.
Just six months before his death, Ron Rivera gave his brother the game ball from Carolina's playoff victory against the Arizona Cardinals. The gesture inspired a powerful message from Mickey Rivera.
"You can't live your life like you're dying every day. Then you have no quality of life at all. Things are going to work out one way or the other, and you enjoy your life," he said.
Ultimately, Ron Rivera experienced a tremendous loss with his brother's tragic death at the age of 57. However, that painful summer led to the most successful season of Rivera's coaching career.
Turning tragedy into a Super Bowl run
Ron Rivera entered the 2015 season with a heavy heart. He could have let his brother's death distract him from his duties. Instead, the former Chicago Bears linebacker led the Panthers to the best record in franchise history.
Thanks in large part to Cam Newton's MVP play, Carolina went 15-1 during the regular season. The former No. 1 pick destroyed defenses with his dual-threat skill set. Carolina led the NFL in scoring while surrendering just 19.3 points per game—good for sixth in the league.
Rivera's Panthers toppled the Seattle Seahawks in the divisional round. In the NFC championship game, Newton accounted for four touchdowns in a 49-15 drubbing of the Cardinals—the same team the Panthers defeated a year ago when Rivera gave the game ball to his brother.
That set up a Super Bowl showdown against Peyton Manning and the Denver Broncos. Carolina ultimately came up short in its quest to hoist the Lombardi Trophy. However, Ron Rivera showed incredible resolve to lead his team to a 15-1 record, the No. 1 seed in the NFC, and a Super Bowl berth following his brother's tragic death.
It is that type of determination and focus that should inspire optimism for fans of the Washington Football Team in the first year of the Ron Rivera era.