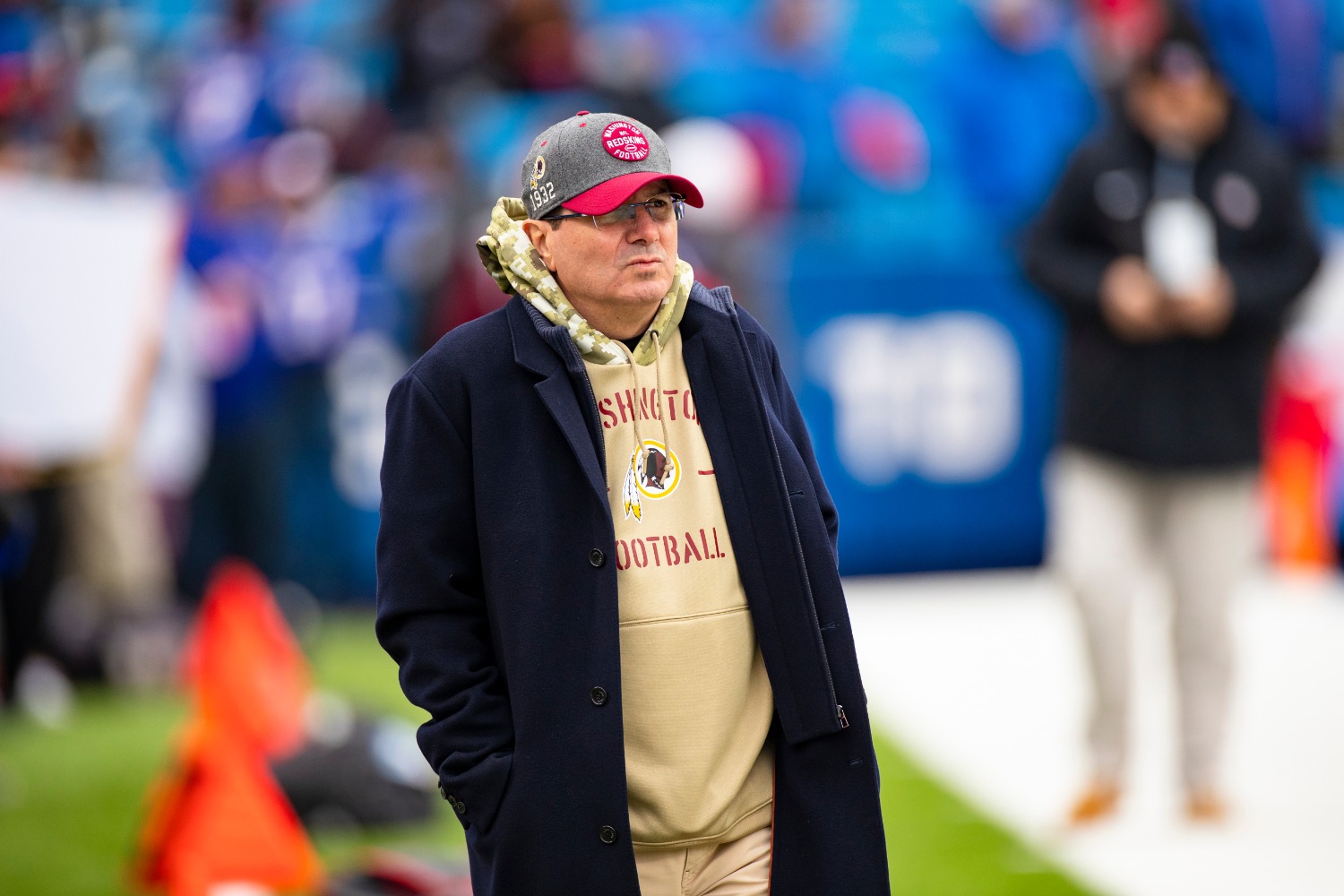 Dan Snyder Should Follow Advice From Billionaire With Scandal Experience
Mark Cuban is no stranger to dealing with controversy, so it makes sense he delivered some powerful advice to Redskins owner Dan Snyder.
When it comes to pro sports owners, Mark Cuban ranks right near the top. He has carved out a reputation as an outspoken, but insightful leader since purchasing the Dallas Mavericks 20 years ago. Of course, his ownership tenure has included a similar sexual harassment scandal that Dan Snyder and the Washington Redskins now must deal with.
And if Snyder wants to start earning any semblance of respect from fans and the public at large, he should pay attention to Cuban's powerful advice.
Dan Snyder and the Washington Redskins are in crisis mode
To put it lightly, it's been a bad offseason if you're a Washington Redskins fan. Besides the fact that the on-field product continues to disappoint, fans of the historic NFL franchise have had to endure a truly ugly last few weeks.
The crisis started with continued controversy over the team's offensive name. Of course, that mattered little to Dan Snyder initially since he has long refused to make any changes to the franchise he invested in back in 1999. But once FedEx and other sponsors and investors began to distance themselves from the organization, it forced Snyder to reconsider.
While the name-change issue has raised question marks about the future of the Washington NFL franchise, crisis mode truly went into effect on Thursday when a Washington Post story revealed a toxic culture of sexual harassment that has existed within the organization for years. Ultimately, Snyder's name did not get connected to any specific wrongdoings.
However, that doesn't excuse him from culpability. As the owner of the franchise, he holds the responsibility of ensuring a safe, respectful work environment for all employees. Clearly that hasn't been the case. But if Dan Snyder is smart, he will listen intently to the advice Mark Cuban just gave him. After all, the Dallas Mavericks owner has experience in this area.
Mark Cuban has dealt with a similar controversy in Dallas
Mark Cuban transformed the Mavericks into a championship-caliber team. Yet, he faced a similar scandal that Dan Snyder is now going through. In February 2018, Jon Wertheim and Jessica Luther of Sports Illustrated published an investigative story that delved into the Mavericks' hostile work environment that included sexual harassment and domestic violence.
The story contained stunning details about top Mavericks executive Terderma Ussery and his alleged misconduct that included making inappropriate remarks to requesting sex from female employees.
In response to the story, Mark Cuban said, "I want to deal with this issue. I mean, this is, obviously there's a problem in the Mavericks organization and we've got to fix it. That's it. And we're going to take every step. It's not something we tolerate. I don't want it. It's not something that's acceptable. I'm embarrassed, to be honest with you, that it happened under my ownership, and it needs to be fixed. Period. End of story."
He ultimately donated $10 million to women's causes and has managed to navigate the organization out of that controversy.
Cuban later told ESPN, "This is not something that just is an incident and then it's over. It stays with people. It stays with families. I'm just sorry to see it. I'm just sorry I didn't recognize it, and I just hope that out of this we'll be better, and we can avoid it, and we can help everybody just be smarter about the whole thing."
Mavericks owner delivers powerful advice to Snyder
Given his own experience in handling a sexual harassment scandal, Mark Cuban certainly can provide Dan Snyder with a first-hand perspective on how to best address the issues at hand and ensure history does not repeat itself. Then again, it would take a leap of faith to think that Snyder will listen to anyone.
But if he does open his eyes and pay attention, he'll take notice of the words Cuban delivered on a recent appearance on his SiriusXM Radio show. The powerful billionaire put the onus on Snyder and his top executives to show accountability and take responsibility for their actions, or in some cases, inactions.
"If you know Dan Snyder, if you're involved with the Redskins, if you connect to them, tell Dan and tell his senior management you've got to just recognize what you did right and what you did wrong," Cuban said. "You have to accept the mistakes you made. That's painful. I made a lot of mistakes. And that's the only way this is going to get resolved."
Ultimately, Dan Snyder needs to follow Cuban's advice. Changing the toxic culture that exists in Washington necessitates leadership from the top. Until Snyder shows any sense of remorse and makes meaningful steps to ensure this never happens again, it will be nearly impossible to ever have faith that the Washington NFL franchise will protect its employees.