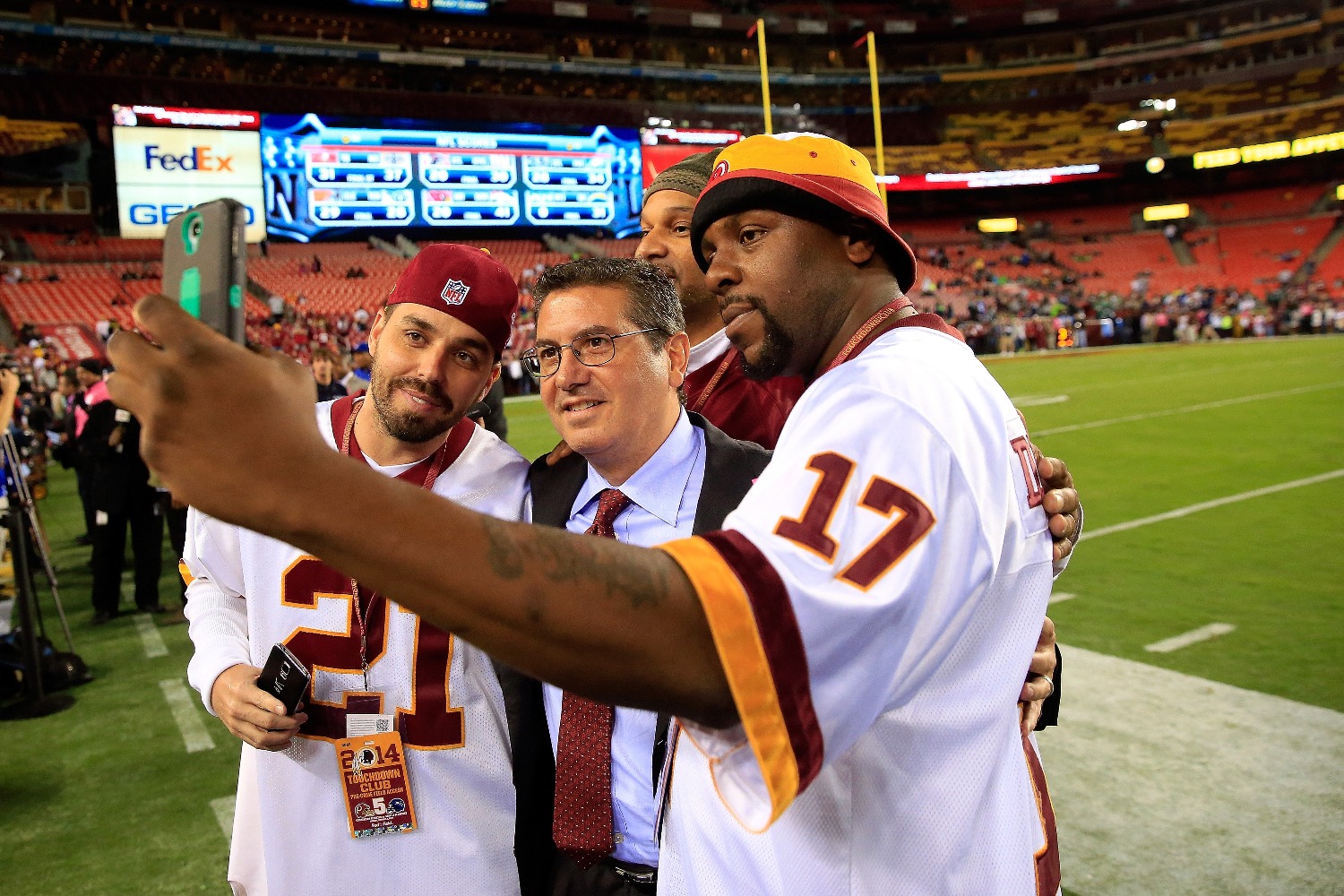 Washington Redskins Just Revealed Their New Name
The Washington Redskins will now be referred to as the Washington Football Team after the franchise made a historic decision on Thursday.
Dan Snyder said he would never do it. Yet, after weeks of speculation and pressure from a number of stakeholders, the Washington Redskins officially made a historic decision about their controversial and offensive name. Now, the franchise that must also deal with a sexual harassment scandal will move forward with a new one…sort of.
But for Snyder, the real work to change has just begun. While the name-change controversy certainly deserves plenty of attention, the Washington Football Team must do more than get rid of its offensive name to truly transform a culture that clearly has significant issues.
Dan Snyder faced tremendous pressure to change his team's name
Fans of the Washington NFL franchise have had to endure years of disappointment courtesy of Dan Snyder. But beyond their atrocious on-field results, the owner has always drawn plenty of warranted criticism for his refusal to get rid of the "Redskins" nickname that clearly carries offensive overtones toward Native Americans.
For years, the much-vilified owner has steadfastly refused to acquiesce to pressure from protesters and other groups determined to change the NFL franchise's controversial name. Despite digging his heels in, Snyder had no choice but to accept the reality that the Redskins could not exist any longer.
Facing pressure from investors, sponsors, and other stakeholders, Snyder gave in. Of course, different alternatives got thrown around. Dwayne Haskins got on board the Redtails train. The Harlem Globetrotters presented a potential solution. Ultimately, the franchise made a historic decision on Thursday to move forward with a new name.
Washington NFL franchise makes a historic decision about "Redskins" name
Weeks of speculation surrounding the future of the Washington NFL franchise came to a halt on Thursday. ESPN's Adam Schefter dropped a bombshell series of tweets that outlined a historic decision by Dan Snyder and the organization.
Schefter reported that, effective immediately, Washington will call itself the "Washington Football Team" until it adopts a permanent new name. He clarified that the renaming and rebranding process will continue as the organization searches for a new name in the future.
In addition, the franchise will not feature any changes to its color scheme. Players' helmets will no longer feature the "Redskins" logo. Instead, their helmets will feature their number in gold.
Schefter also added that the franchise plans on retiring all physical and digital representations of the "Redskins" name within the next 50 days in order to complete the process by the team's season-opener against the Philadelphia Eagles on Sept. 13.
Obviously this represents a massive a step in the right direction for a franchise that can't seem to stay out of the news lately. But while the name-change issue has been addressed, Dan Snyder still has more work to do.
Washington Football Team still has other issues to address
The Washington Football Team faces a challenging road ahead. And it has nothing to do with finding a new name to replace "Redskins." The organization must also make a concerted effort to change a toxic culture of sexual harassment that got exposed recently by The Washington Post.
Snyder did make a smart move by bringing in Julie Donaldson to replace Larry Michael. After 16 years as the team's lead play-by-play announcer, Michael abruptly resigned from his position just a day before the sexual harassment story dropped. He released the following statement in light of his abrupt retirement:
"After 16 great years my time with the organization is over. As of today I'll be retiring from my position with the team. As a lifelong Washingtonian I was blessed to work with a lot of great people. I want to thank everyone who contributed over the years. I'm especially grateful to [team owner] Dan Snyder for giving me the opportunity. On to the next chapter."
Hiring Donaldson looks like a home-run move for a franchise in desperate need of a new direction. She brings a wealth of experience and credibility to the table. Plus, she's now a trailblazer as the first woman to be a regular member of an NFL team's radio broadcast booth.
Moving forward, the Washington Football Team still needs to find a new name. More importantly, Snyder needs to empower the right people within the organization, including Ron Rivera, to ensure that the persistent culture problems cease to exist. He already turned the page to a new chapter by getting rid of the "Redskins" name that has generated controversy for years.
Now, the real work begins.