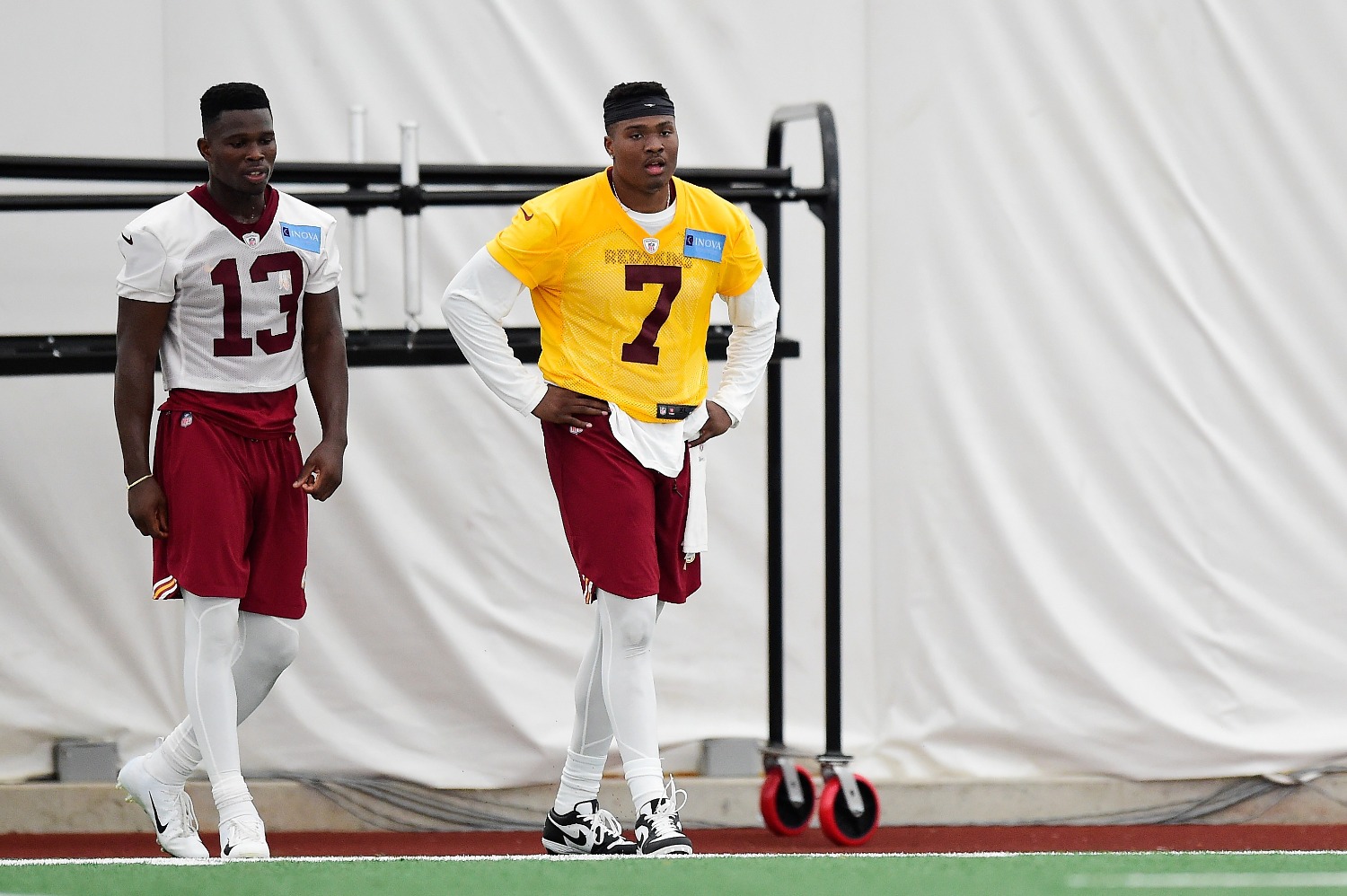 The Washington Redskins Face a Potential Disaster Other Than Dan Snyder
The Washington Redskins have a potential disaster on their hands other than Dan Snyder, and it has everything to do with Dwayne Haskins.
Dan Snyder may not be around much longer, but either way, the Washington Redskins face a potential disaster that has nothing to do with their owner or controversial name. Instead, it has everything to do with second-year quarterback Dwayne Haskins.
As the rumors swirl about what might go down in Washington, that shouldn't distract fans from the harsh reality that the 2019 first-round pick may never live up to expectations based on some unfortunate events this summer.
A tumultuous time in Washington
To call Dan Snyder "vilified" would be an understatement. Roundly detested by former players, employees, and fans, he certainly hasn't garnered any sympathy over the last few weeks. Of course, the story in Washington has centered on the team's controversial name. After maintaining he would never replace the Redskins with another mascot, Snyder finally acquiesced.
However, that only represents part of the problem with the Washington NFL franchise. Besides the name-change issue, Snyder could also lose out on millions of dollars from sponsors. Plus, minority shareholders appear poised to sell their stakes and distance themselves from the highly-criticized owner.
In addition, rumors started to swirl Wednesday night about a possible earth-shattering story that will put Snyder and some of his current and former employees in hot water. But for Redskins fans, another potential disaster looms. And it has nothing to do with Snyder or the name change. Instead, it has everything to do with Dwayne Haskins.
Dwayne Haskins enters pivotal second season
In no uncertain terms, Haskins had a horrific rookie season. He entered the 2019 NFL draft after a fantastic year at Ohio State in which he threw 50 touchdowns and led the Buckeyes to a 13-1 record. Some scouts knocked him as a one-year wonder. Others saw tremendous upside due to his powerful right arm.
Ultimately, he made his supporters look wrong in year one. The 6-foot-4, 230-pound signal-caller went just 2-5 with seven touchdowns and seven interceptions. Haskins also completed just 58.6 percent of his attempts—a far cry from the 70 percent mark he posted in 2018 at Ohio State.
To make matters worse, it seemed like nobody could get on the same page as far as when Haskins should take over as the team's starter. At the end of the day, he showed little to give Redskins fans hope about his future. And unfortunately, the second-year pro's chances at living up to his potential suffered several setbacks this summer through no fault of his own.
Redskins face a potential disaster on the field
In order for Dwayne Haskins to make good on his first-round pedigree, he needs weapons. Last year, the Redskins got terrific contributions from the rookie duo of Terry McLaurin and Kelvin Harmon. The former posted 58 catches for 919 yards and seven touchdowns. The latter racked up 365 yards on 30 catches after joining the team as a sixth-round pick.
However, the Redskins suffered a brutal blow recently when Harmon tore his ACL. The injury will sideline the promising wideout for the entire 2020 season. That removes a key target for Haskins, who quickly developed chemistry with Harmon.
Moreover, free-agent addition Cody Latimer may not see the field at all after getting arrested in May on multiple felony charges stemming from an incident in which he was accused of threatening a friend with a gun and discharging the weapon. According to ESPN, Latimer will appear at a court hearing on July 24.
While nobody would confuse Latimer as a superstar, he did set career-highs in catches (24) and receiving yards (300) last season for the New York Giants. But if his legal troubles prevent him from playing, that takes away two receivers from Haskins before the season even starts.
McLaurin should take a step forward after a highlight-reel-filled rookie campaign. But other than his former Buckeyes teammate, Haskins has little to work with. Washington did draft Antonio Gandy-Golden in the fourth round. Yet, the rest of the depth chart features a seventh-rounder in Trey Quinn and a long list of undrafted free agents.
The tight end spot doesn't offer much help, either. Ultimately, the Redskins need to make a major move at receiver to help Dwayne Haskins reach his ceiling. But does anyone trust Dan Snyder and his staff to do the right thing? At the end of the day, it looks like the Washington NFL franchise will be a disaster on and off the field.