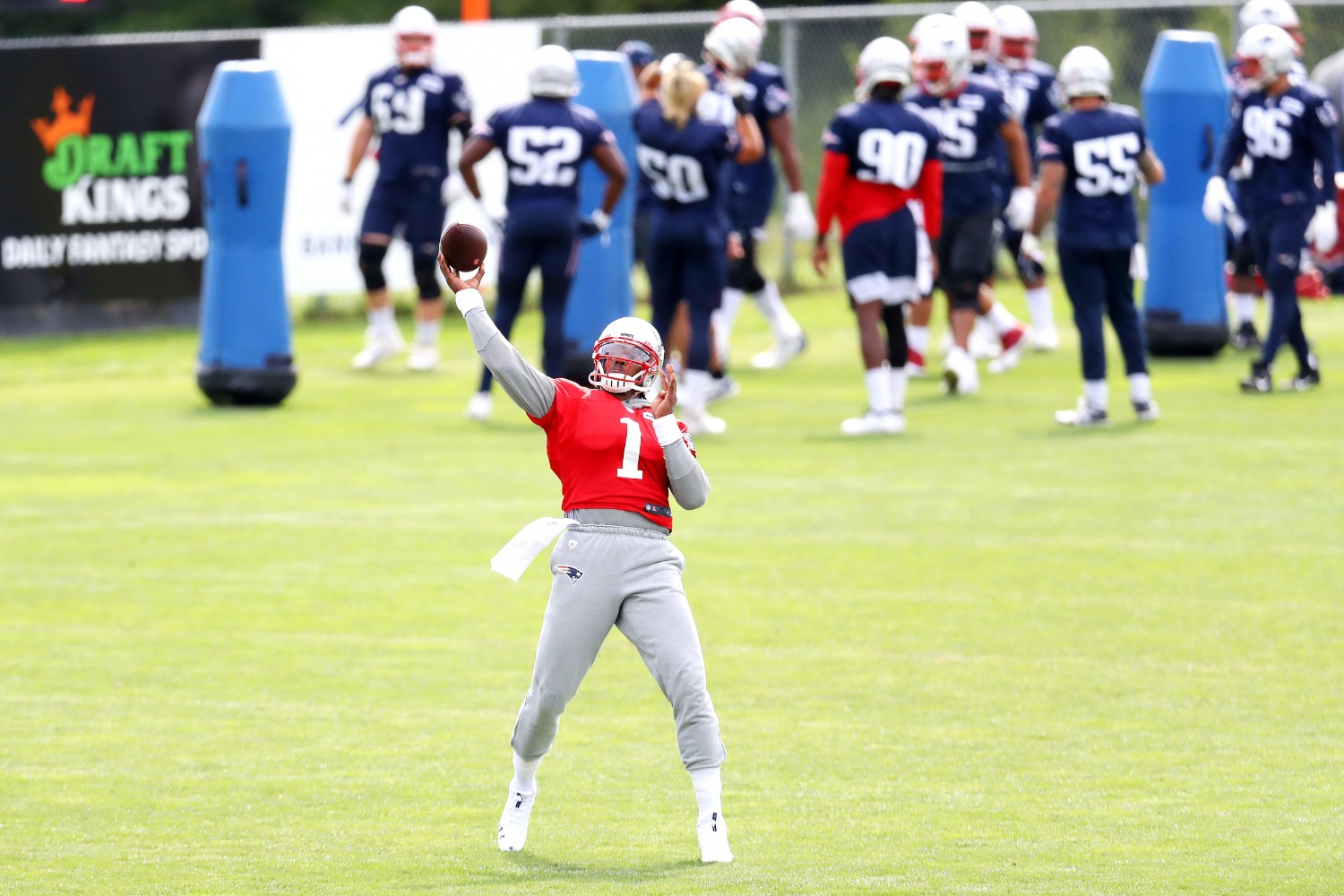 Bill Belichick Sends Encouraging Message About Cam Newton's Most Important Weapon
N'Keal Harry may have dissappointed as a rookie, but Bill Belichick sent an encouraging message about Cam Newton's most important weapon.
When Bill Belichick made N'Keal Harry the 32nd overall pick of the 2019 NFL draft, it represented a massive investment. After all, Belichick had never used a first-round pick on a receiver during his tenure with the New England Patriots until he took Harry. Due to a combination of factors, the former Arizona State star failed to impress as a rookie. However, with Cam Newton on board, Harry has a chance to redeem himself.
And on Friday, Belichick sent an encouraging message about Newton's most important weapon. But will Harry deliver on the field in 2020?
N'Keal Harry failed to deliver as a rookie
Following back-to-back 1,000-yard campaigns for the Sun Devils, N'Keal Harry entered the 2019 NFL draft. The 6-foot-4, 225-pounder became the final pick of the first round. Expected to contribute immediately, those plans got thrown for a loop when Harry suffered an ankle injury in training camp and landed on injured reserve.
He did not get activated off IR until November. Due to his unavailability, Harry could not build much-needed chemistry with Tom Brady. That showed on the field. New England's top draft pick caught just 12 passes for 105 yards and two touchdowns in seven regular-season games.
Despite getting targeted seven times, Harry caught just two passes for 21 yards in the Patriots' first-round playoff loss to the Tennessee Titans. To call his rookie season a disappointment would be a massive understatement.
Given his physical gifts and first-round pedigree, N'Keal Harry still has an opportunity to make an impact and avoid earning the "draft bust" label. And while Brady may not have had the patience to work with his young weapon, Cam Newton has fully embraced Belichick's first-ever first-round receiver.
Bill Belichick sends an encouraging message about Newton's most important weapon
Bill Belichick routinely preaches about players making the year-two leap. No Patriot needs to make that jump more than N'Keal Harry. While he has already missed some time in training camp, the second-year wideout has apparently still made a good impression on his head coach.
On Friday, Belichick spoke to reporters about a number of topics, including how his team has handled the aftermath of the Jacob Blake shooting. When the conversation shifted to football and that all-important year-two leap for Harry, Belichick sent an encouraging message about Cam Newton's most important weapon.
"He's much more comfortable—has a much better understanding this year than what he did last year," Belichick said. "He's been productive for us on the field. He still has a lot of football in front of him and a lot of growth, and he works hard every day."
However, the praise for Harry did not stop there. In fact, it's hard to not be encouraged about the 22-year-old receiver based on Belichick's own words.
"He's a physical, tough kid that likes to compete. You can see his competitiveness out there on the field and that allows him to get better," he explained. "I think those are all good qualities for players to improve and that's really where all players are in their second year. They're not where they're going to be; they're on the way up. If they work hard and continue to work on the skills and techniques of their craft, they'll be able to get closer to achieve their potential."
The Patriots need Harry to make a substantial leap in 2020
The 2020 NFL season represents a fresh start for both Cam Newton and N'Keal Harry. For Newton, he must prove he can stay healthy and acclimate to a new offense. Harry needs to put his disappointing rookie season behind him and stay healthy, too.
Julian Edelman ranks as the team's top wideout and should have no problem putting up big numbers once again. He and Newton have been working diligently this offseason to build chemistry. Plus, Edelman's route-running and ability to break tackles makes him a near-lock for another 1,000-yard campaign with Newton on board.
However, the Patriots need Harry to take a significant leap this season. New England desperately needs a big-bodied receiver who can stretch the field and make plays in the red zone. While Edelman excels as a possession receiver, Harry's big-play ability can transform the offense. Assuming Newton's shoulder is healthy, he and Harry could do serious damage on deep passes—an element of the offense that Brady did not excel at.
If Harry fails to deliver, Newton will be left with Edelman and a collection of uninspiring fallback options. Defenses can simply double-team the dynamic slot receiver and essentially eliminate him from the game. However, if Harry lives up to his potential, he will add an entirely new dynamic to an offense in search of playmakers.
Let's see if Cam Newton and N'Keal Harry can make magic, or if Bill Belichick will have to alter his plans at the receiver spot in order to put the Patriots in a position to succeed.
Like Sportscasting on Facebook. Follow us on Twitter @sportscasting19.