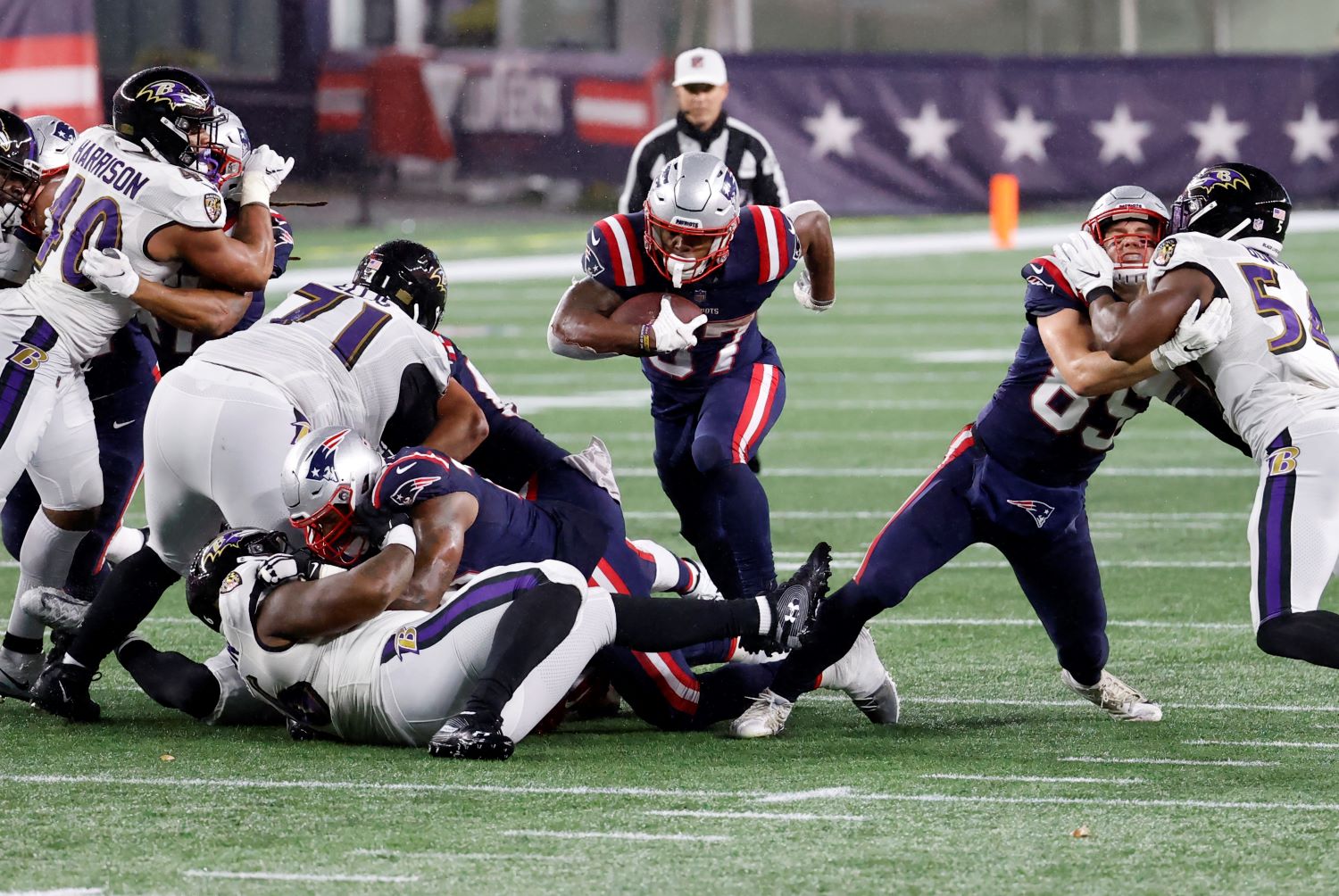 Damien Harris Has Officially Sealed Sony Michel's Fate With the Patriots
Bill Belichick shouldn't have a difficult time determining Sony Michel's fate now that Damien Harris has emerged as a star for the Patriots.
Bill Belichick deserves credit for constructing the greatest dynasty in pro sports. However, he made a massive mistake in the 2018 NFL draft when he passed over Lamar Jackson for Sony Michel.
While he did help the New England Patriots win their sixth Super Bowl title, Michel has failed to become a star. Luckily for Belichick, he landed a stud running back the following year by selecting Damien Harris.
And by emerging as the clear-cut RB1 in New England, Harris has already sealed the fate of Belichick's biggest draft mistake.
Bill Belichick made a massive mistake in drafting Sony Michel
After taking Isaiah Wynn with the 23rd overall pick of the 2018 NFL draft, the Patriots had an opportunity to select their quarterback of the future with the 31st pick. Yet, Bill Belichick passed on the chance to bring Lamar Jackson to New England in order to draft Sony Michel.
That decision will haunt the Patriots for years to come.
Although Michel played a key role in New England's 2018 title run, he has certainly not lived up to his first-round pedigree. Injuries have kept the former Georgia star on the sidelines far too often since he entered the NFL.
Meanwhile, Jackson won league MVP honors in his first full season as a starter. The dynamic dual-threat quarterback could have succeeded Tom Brady. Instead, he will be a thorn in Belichick's side for years to come.
To rub salt in the wound, Nick Chubb, Michel's former college teammate, went off the board at pick 35. The Cleveland Browns running back earned Pro Bowl honors last season after racking up 1,498 yards and eight touchdowns on the ground. Chubb also caught 36 passes for 278 yards.
Michel totaled just 912 rushing yards (3.7 yard per carry) and caught 12 passes for 94 yards in his second year in the league.
Ultimately, Belichick passed over Jackson and Chubb for a slow, one-dimensional back who seems to find the trainer's room more often than the end zone.
Damien Harris continues to dominate
Bill Belichick committed a major blunder by drafting Sony Michel. On the other hand, he nailed the Damien Harris selection.
The 2019 third-rounder played just two games as a rookie. But since taking over starting duties in Week 4, the 23-year-old has looked like one of the best backs in the NFL.
In his first-ever start, Harris ran for 100 yards on just 17 carries against the Kansas City Chiefs. The 5-foot-11, 213-pounder had another dominant day against the Buffalo Bills when he ran for 102 yards and a touchdown.
On Sunday, though, Harris took his game to another level.
Playing in wet, windy conditions, the Patriots' young running back looked like the best player on the field. Harris showcased tremendous explosion and physicality against the Baltimore Ravens and finished the night with a career-high 121 rushing yards in a hard-fought 23-17 victory.
Although he has scored just one rushing touchdown through six games, Harris has averaged a robust 5.5 yards per carry. His ability to break tackles and gain tough yards makes him a much more effective player than Michel.
In fact, by running away with the starting job, Harris has already sealed his teammate's fate in New England.
Harris has sealed Michel's fate with the Patriots
As a former first-round pick, Sony Michel has one year remaining on his rookie deal. However, the Patriots can exercise his fifth-year option to keep him around through the 2022 season.
But with Damien Harris emerging as a legitimate star, Michel's fate has already been sealed. Because at this point, it makes zero sense for Bill Belichick to even consider making Michel a long-term fixture in Foxborough.
Harris has already shown dominant ability in limited opportunities. Meanwhile, Michel has barely seen the field this season due to yet another injury setback. And when he has been on the field, he has failed to reproduce the big plays that made him a star at Georgia.
Michel has a cap hit of just $3 million next season, so perhaps Belichick will bring him back as a rotational piece. However, the 25-year-old shouldn't expect to be around New England much longer.
And if Belichick had made the right call on draft day, Michel would have never become a Patriot in the first place.
All statistics courtesy of Pro Football Reference.