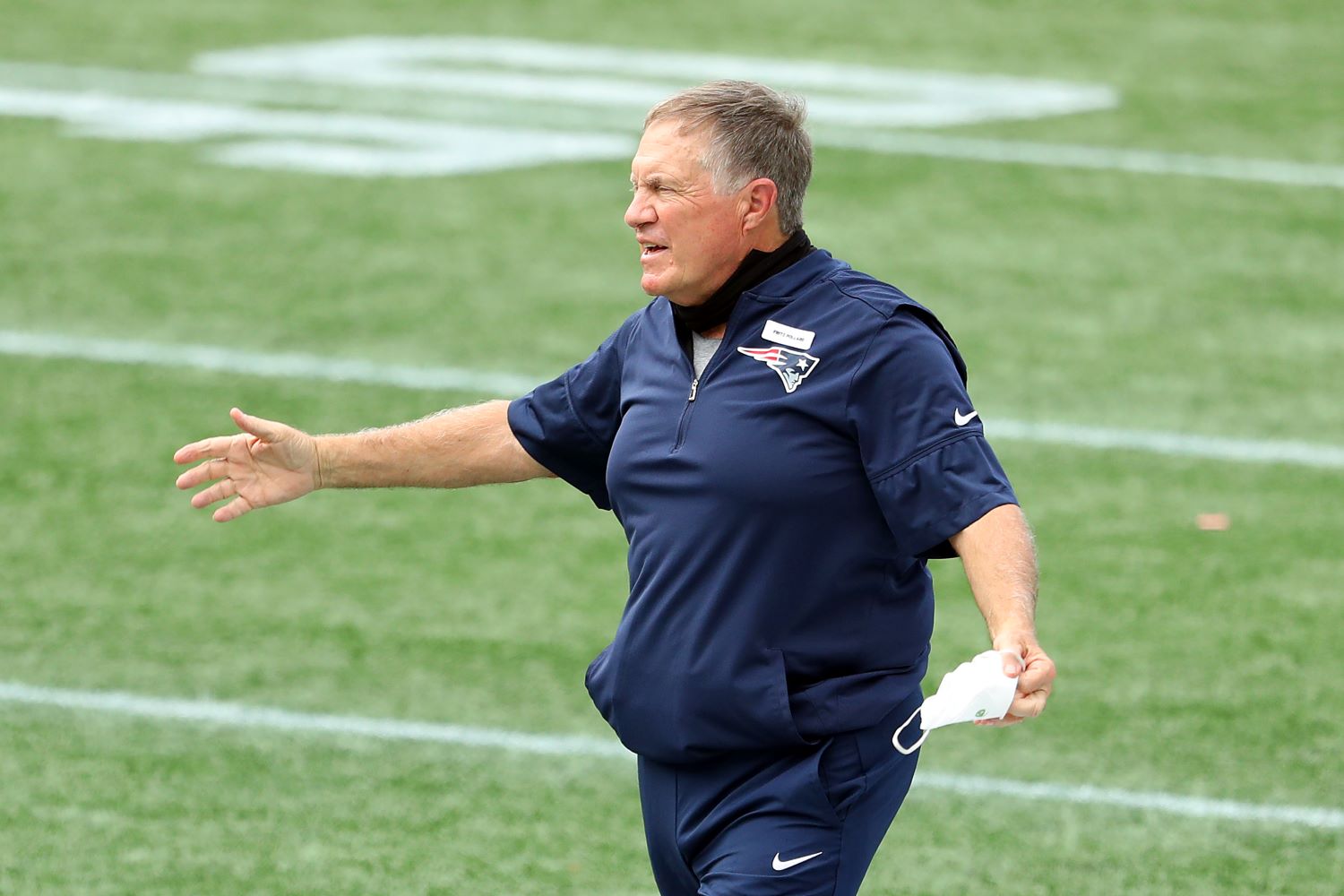 Bill Belichick Uses False 'We Sold Out' Claim to Excuse His Egregious Mistakes
Bill Belichick says the Patriots "sold out" to win three Super Bowls, but his incompetence as a GM has ruined New England's roster.
For the last 20 years, Bill Belichick has preached about never making excuses. Of course, the New England Patriots won six Super Bowl titles during that span and established a reputation as the greatest dynasty in pro sports.
But without Tom Brady as his quarterback, Belichick has failed to keep his team atop the AFC East. And while he may want Patriots fans to believe that the franchise "sold out" to win three championships since 2014, don't believe what Belichick is selling.
Because the reason New England has one of the worst rosters in the NFL has nothing to do with mortgaging the future to win a few rings. Instead, it has everything to do with Belichick's failures as a general manager.
Bill Belichick has an interesting explanation for the Patriots' cap problems
In the midst of a 2-5 campaign, the Patriots look like they will miss the playoffs for the first time since 2008. From their struggles on offense to their inability to stop the run, the Patriots have been outplayed on both sides of the ball through the first seven games of the 2020 season.
While the downgrade from Brady to Cam Newton certainly has played a factor in the team's uncharacteristically slow start, New England's overall roster has taken a sizable step back from a talent and experience perspective. Many have pointed to the team's salary-cap issues, which explains why the Patriots did not make many moves in free agency.
In his weekly radio spot on WEEI, Belichick made it clear that New England's salary-cap situation isn't an excuse for the team's poor start. Rather, according to him, it's just reality.
"Look, we paid Cam Newton $1 million. I mean it's obvious we didn't have any money. It's nobody's fault," he said. "That's what we did the last five years. We sold out and won three Super Bowls, played in a fourth and played in an AFC championship game. This year we had less to work with. It's not an excuse, it's just a fact."
Belichick may believe what he's saying, but Patriots fans shouldn't. In fact, the main reason for New England's weak roster and early-season struggles boils down to one factor: William Stephen Belichick.
Belichick deserves all the blame for the current state of the roster
For years, the Patriots excelled at restocking their roster through the NFL draft. Some of the best players in the history of the franchise came via the draft, including Tom Brady, Richard Seymour, Asante Samuel, Vince Wilfork, Logan Mankins, Julian Edelman, Devin McCourty, Rob Gronkowski, and Dont'a Hightower.
However, the reason New England's current roster ranks as one of the worst in football can be traced back to Bill Belichick's incompetence in the draft in recent years. To put it into perspective, here are the Patriots' early-round picks since 2014:
Dominique Easley (1st round, 2014)
Jimmy Garoppolo (2nd round, 2014)
Malcom Brown (1st, round 2015)
Jordan Richards (2nd round, 2015)
Cyrus Jones (2nd round, 2016)
Derek Rivers (3rd round, 2017)
Antonio Garcia (3rd round, 2017)
Isaiah Wynn (1st round, 2018)
Sony Michel (1st round, 2018)
Duke Dawson (2nd round, 2018)
N'Keal Harry (1st round, 2019)
Joejuan Williams (2nd round, 2019)
Out of all those players, Wynn is the only full-time starter who plays for the Patriots. Richards, Jones, and Dawson were massive reaches who flopped in New England. Garcia never played a down due to health issues. Michel has failed to produce big plays like he did at Georgia.
Meanwhile, Harry—the only first-round receiver Belichick has ever taken—has been a massive disappointment. New England passed over Deebo Samuel, A.J. Brown, and D.K. Metcalf for the former Arizona State star. While Harry has made little impact, those three have become instant stars for their respective franchises.
Overall, Belichick has simply blown far too many early-round picks on players who have never become cornerstone pieces. As a result, New England has had to rely on pricier veterans to fill out the roster. And considering every decision runs through Belichick, he deserves full blame for the abysmal draft results over the last five or so years.
The only solution is to hit the reset button
Ultimately, Bill Belichick's "we sold out" excuse is really just a cover-up for his failures as a GM. Aside from his poor drafting, he has also missed wildly on veteran acquisitions. Antonio Brown and Josh Gordon couldn't last in New England. Other than the Garoppolo fiasco, sending a second-round pick for Mohamed Sanu might go down as the worst trade of Belichick's career.
All of that has left the Patriots in an unenviable position. The roster has little star power other than Stephon Gilmore and Joe Thuney—both of whom will likely play elsewhere in 2021. Plus, the quarterback situation remains a complete mystery given Cam Newton's one-year contract and Jarrett Stidham's uninspiring play.
Ultimately, New England's best plan of attack is to execute a full rebuild. Trading Gilmore and Thuney for premium draft picks will at least give Belichick valuable capital for the 2021 NFL draft. The team could even look to unload other veterans such as Julian Edelman and Jason McCourty in an effort to get younger.
But even with a boatload of draft picks and a ton of cap space coming in 2021, Patriots fans should still have concerns about the future of the franchise.
After all, until Bill Belichick leaves, every decision runs through him.
And based on his personnel blunders over the last few years, he may not have many members of the #InBillWeTrust crowd left.
Like Sportscasting on Facebook. Follow us on Twitter @sportscasting19.