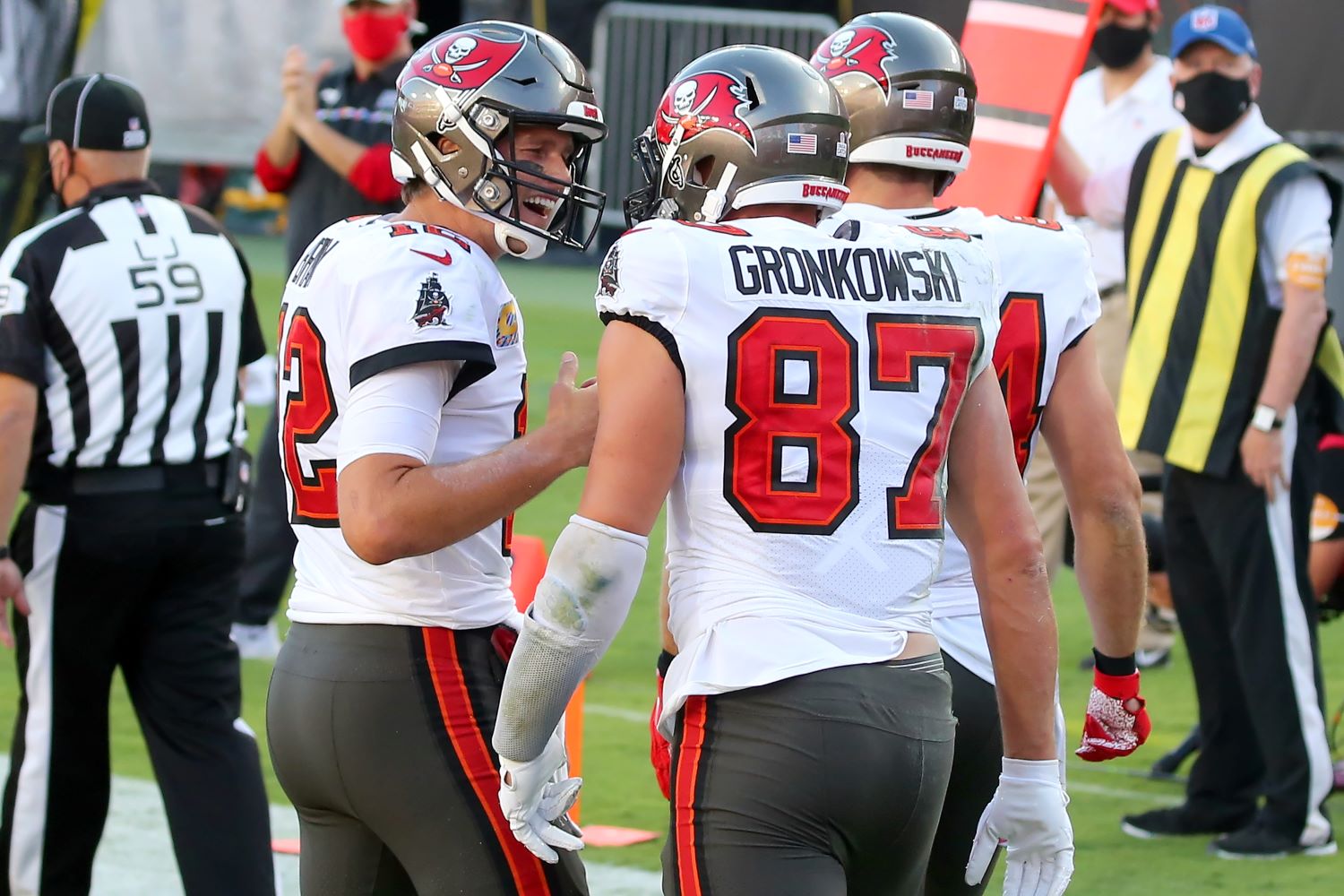 Tom Brady and Rob Gronkowski Just Proved Bill Belichick Made a Massive Mistake
Tom Brady and Rob Gronkowski just proved Bill Belichick made a massive mistake by letting them go by delivering a vintage performance.
On a day where the Tampa Bay Buccaneers scored 38 points, the New England Patriots mustered only 12 in a six-point loss to the Denver Broncos. Meanwhile, the Buccaneers look like a legitimate Super Bowl contender thanks in large part to Tom Brady.
And after watching Rob Gronkowski storm back with a vintage performance, one thing has become clear: Belichick made a massive mistake in letting his two biggest stars go.
Bill Belichick let his two biggest stars go
Over the last decade, Tom Brady and Rob Gronkowski dominated defenses unlike any other quarterback-tight end combo in league history. The two NFL icons formed a nearly unstoppable tandem. In fact, if Gronkowski had managed to stay healthy, he very well could have shattered every receiving record for tight ends.
However, despite their contributions, neither Brady nor Gronkowski received the long-term financial security they sought. Belichick's business-minded approach left the two future Hall of Famers without multi-year deals that would have tied them to the Patriots permanently.
Gronkowski ended up retiring after winning his third Super Bowl ring. And in his first season without his talented tight end, Brady struggled mightily. Still, it seemed as though New England had a decent shot at retaining the six-time champion in Foxborough, especially given his close relationship with Robert Kraft.
Ultimately, though, Belichick did not meet Brady's asking price. Instead, the greatest quarterback of all time departed for Tampa. And once Brady arrived, Gronkowski suddenly found the itch to play football again. That led the Patriots to trade the four-time All-Pro to the Buccaneers for a fourth-round pick.
Of course, Belichick stuck to his strict financial principles and signed Cam Newton to a one-year, incentive-laden deal. To replace Gronkowski, he traded up twice in the third round of the 2020 NFL draft to take Devin Asiasi and Dalton Keene.
Tom Brady and Rob Gronkowski just proved Belichick made a massive mistake
Instead of having Tom Brady and Rob Gronkowski finish their Hall of Fame careers in Foxborough, Bill Belichick's refusal to meet their contract demands essentially led both superstars to force their way out. While some viewed Brady and Gronk as finished, it has become quite clear that both players have something left in the tank.
After throwing just 24 touchdowns in 2019, Brady has already thrown 14 through six games. His 64.1% completion percentage and 97.8 quarterback rating are actually slightly above his career averages. Plus, he has accomplished all of this despite not having the benefit of a full offseason because of COVID-19.
Gronkowski has overcome a slow start and put together two strong performances. In Week 5, he caught three passes for 52 yards. On Sunday, he hauled in his first touchdown as a Buccaneer and finished the day with 78 yards on five catches.
Meanwhile, Belichick's team has gotten next to nothing out of the tight end position. Asiasi hasn't been targeted once on 81 offensive snaps. Keene has been a healthy scratch for most of the season. Ryan Izzo has caught a grand total of six passes for 82 yards.
At quarterback, Newton has been a mixed bag. His bout with COVID-19 certainly didn't help, but so far, he has yet to turn around an offense that looked awful in 2019. The former MVP has thrown four interceptions in four starts. His 81.5 quarterback rating falls short of his career average of 85.9.
Ultimately, Belichick's faith in his ability to find replacements for the two NFL legends has not paid off. Instead of retaining the dominant duo of Brady and Gronk, he treated them as replaceable commodities and did not show them the respect they earned in the form of a long-term financial commitment. Now, the Patriots appear to have no direction on offense while the Buccaneers rank 10th in scoring and should only improve as the season progresses.
Can the Patriots turn their offense around?
At the end of the day, Bill Belichick cannot go back and change history. Unfortunately for Patriots fans, they will have to watch Tom Brady and Rob Gronkowski continue making magic together in Tampa.
So what does this mean for New England's offense moving forward?
The main issue in Foxborough is the lack of proven pass-catchers. Julian Edelman looks like he needs a heavy dose of the TB12 method to rejuvenate his career. The 34-year-old has totaled just seven catches in his last three games and does not look nearly as explosive as he has throughout the course of his career.
Meanwhile, N'Keal Harry has yet to show why Belichick selected him 32nd overall a year ago. Though he has made a few tough catches in traffic, his lack of separation continues to be a significant issue. The 2019 first-round pick has totaled just 18 catches for 166 yards after totaling 12 for 105 as a rookie.
Belichick may need to explore the trade market to find an upgrade at both wide receiver and tight end. Perhaps he could give the Cleveland Browns a call about David Njoku, who possesses intriguing physical skills and upside.
However, at the end of the day, Belichick would not be in this predicament if he had taken care of Brady and Gronk years ago. If he had signed the two to multi-year extensions, the Patriots would be in a much better place offensively. Instead, they're left with Newton on a one-year deal, an aging Edelman, and a cast of unproven pass-catchers.
Having Belichick at head coach always gives New England a chance to win. But the arhitect of the greatest dynasty in professional sports should have never let it come to this. If he had kept Brady and Gronk around, the narrative about the Patriots' 2020 season would be much, much different.
All statistics courtesy of Pro Football Reference.