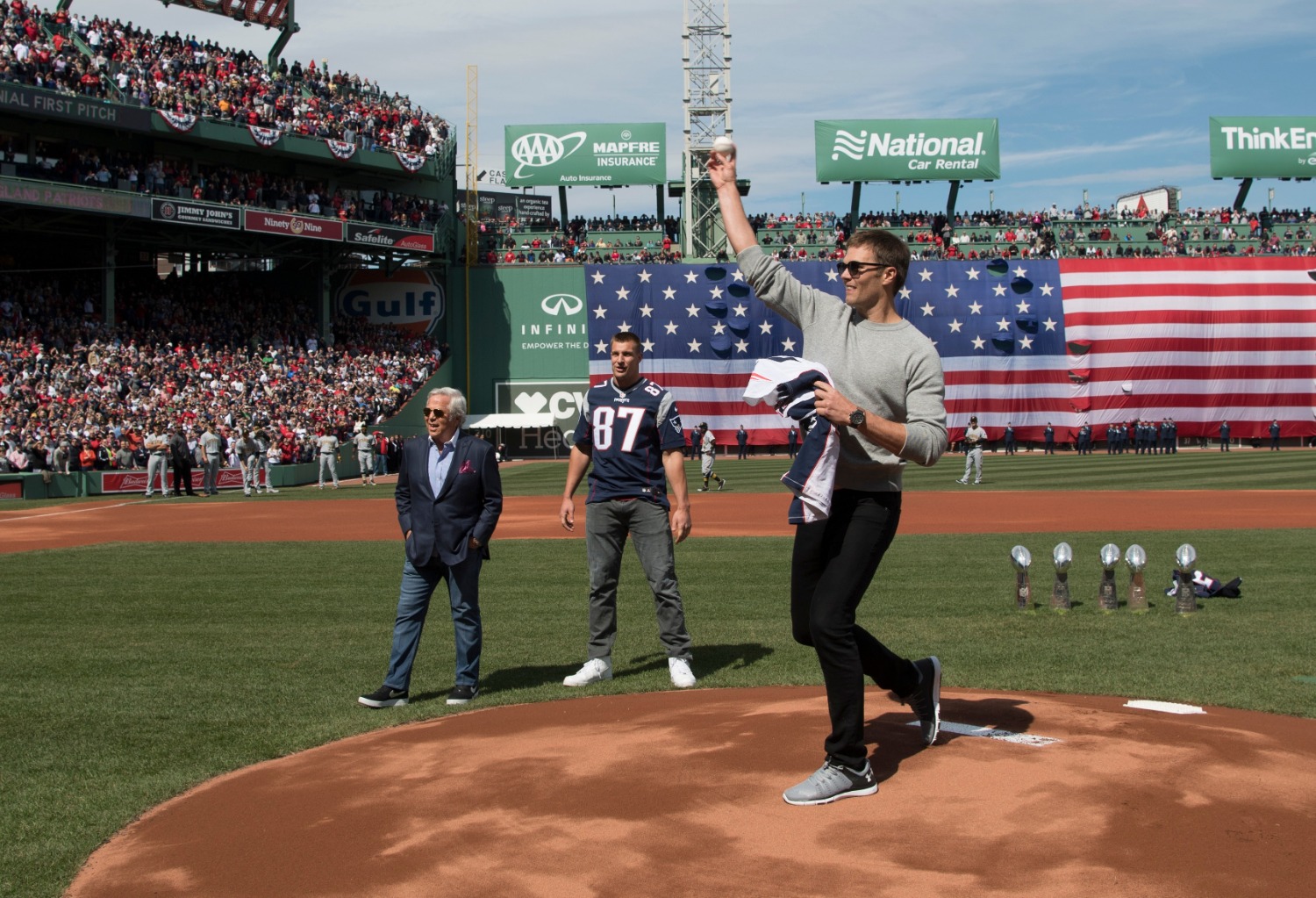 Tom Brady's Twin is Married to a $52 Million Former Red Sox Star
Tom Brady has a twin sister, Julie, who just so happens to be married to a former member of the Boston Red Sox in Kevin Youkilis.
Tom Brady just turned 43 on Monday. It just so happens another member of his family celebrated her birthday, too. The Tampa Bay Buccaneers quarterback has a twin sister, Julie, who has her own unique connection to pro sports. No, she doesn't have a secret career as a quarterback coach. Actually, Tom Brady's twin calls a former Boston Red Sox star her husband.
Tom Brady hails from an athletic family
Even non-football fans have heard of Tom Brady before. When you're married to one of the most famous supermodels in the world, that comes with the territory. But long before TB12 became a brand and Brady starting collecting Super Bowl rings like baseball cards, he grew up in the shadow of his star sisters.
As the youngest of four children, the son of Galynn and Tom Sr. surprisingly didn't stand out athletically growing up. Instead, his sisters dominated in their respective sports.
Maureen, the eldest of the Brady children, made the U.S. Junior Olympic softball team at the age of 17. She took her talents to Fresno State, where she captured All-America honors. In fitting fashion, her daughter, Maya, has also developed into a star on the softball field. She currently plays for UCLA and could carve out a pro sports career like her famous uncle.
The second-youngest Brady child, Nancy, also showcased her skills on the diamond. She earned a scholarship to the University of California-Berkley.
The NFL legend has a twin…sort of
Tom Brady also has another sister named Julie. Sandwiched between Maureen and Nancy, she too excelled as an athlete early in life. While her sisters stuck with softball, Julie spent her time on the soccer pitch. Like her siblings, her talent helped her earn a college scholarship to St. Mary's.
Interestingly, the former New England Patriots quarterback and Julie happen to be twins…sort of. Both were born on August 3. However, the "twins" have a three-year age gap between them. Julie just celebrated her 46th birthday on the same day her younger brother turned 43.
The similarities don't stop there. As fate would have it, Julie's life would also revolve around sports just like her younger brother. While her brother starred for the Patriots, her husband became a local legend in his own right as a member of the Boston Red Sox.
Brady's twin sister is married to former Red Sox star Kevin Youkilis
Tom Brady's twin sister married former Red Sox star Kevin Youkilis in 2012. Though the Cincinnati native didn't finish his career in Boston, he still remains one of the most respected players to put on a Red Sox uniform.
Youkilis earned the starting first base job in his third MLB season in 2006. He hit .279 with 13 home runs and 100 runs scored. Over the next four years, he became one of the team's most well-rounded players. A highly proficient defender with terrific plate discipline, Youkilis won a Gold Glove and made three American League All-Star teams.
His best season came in 2008. Youkilis finished third in MVP voting after setting career-highs across the board in batting average (.312), home runs (29), RBIs (115), doubles (43), and hits (168). He finished sixth in MVP voting the following year after slashing .305/27/94.
By the time his nine-year run in Boston ended, Tom Brady's brother-in-law racked up nearly 1,000 hits and earned two World Series rings. Kevin Youkilis played two more seasons after leaving the Red Sox. He retired after earning nearly $52 million during his 10-year MLB career.