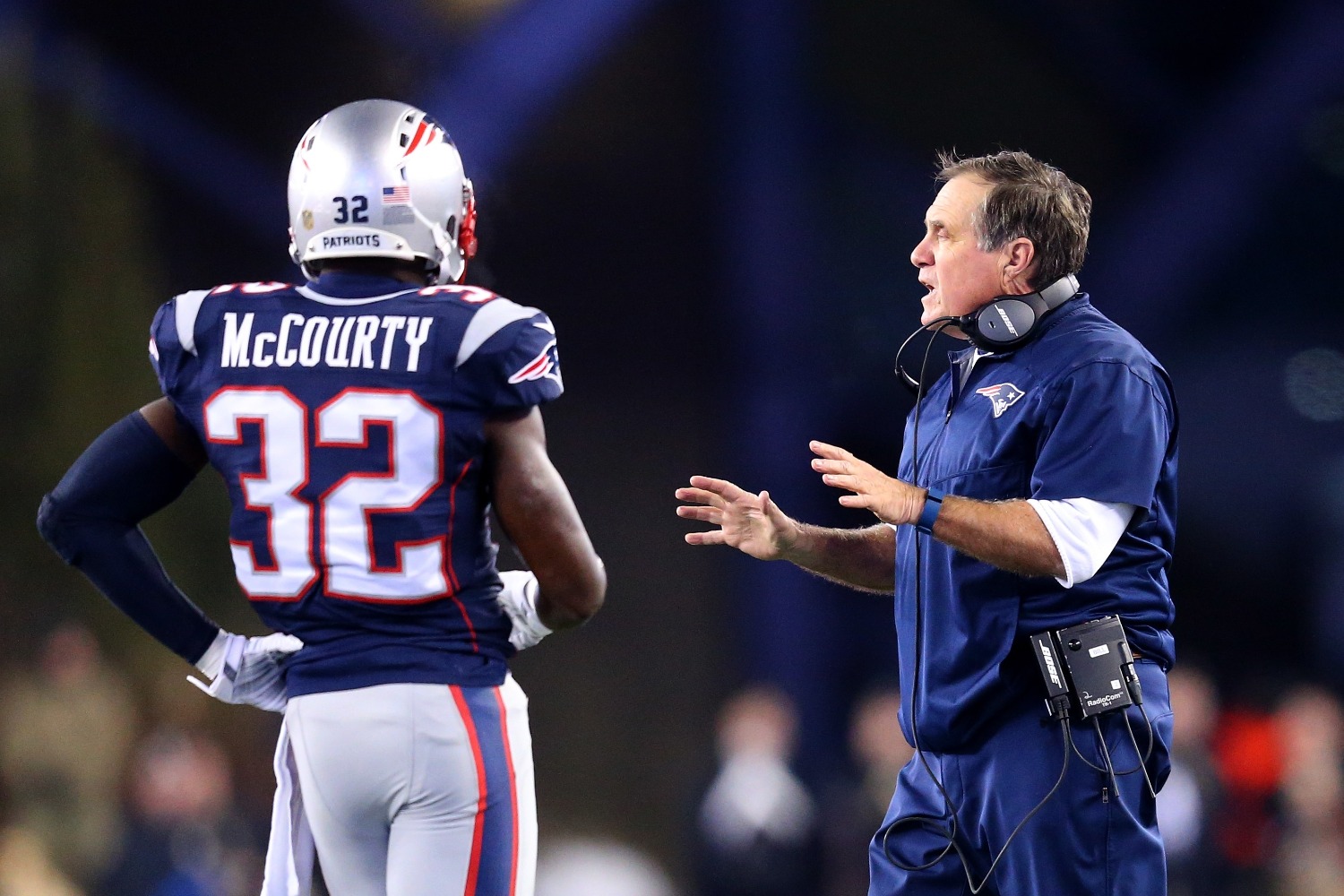 Devin McCourty Just Proved Why Bill Belichick Has Paid Him $60 Million
Patriots safety Devin McCourty just proved why Bill Belichick has paid him $60 million with his strong stance about the NFL's opt-out policy.
Bill Belichick rarely spends big money on free agents. And when it comes to his own players, he almost never pays top dollar to retain their services. However, the architect of the New England Patriots has made exceptions for special players over the years, particularly with Devin McCourty.
New England's longtime free safety has accomplished everything possible since joining the Patriots in 2010. And recently, the three-time Super Bowl champion demonstrated why Belichick has paid him $60 million by ripping the NFL.
Devin McCourty has been a star for the Patriots
A decade ago, Bill Belichick stunned Patriots fans by taking a safety out of Rutgers in the first round. The pick got widely panned at the time, especially since New England could have drafted Dez Bryant. But by landing Devin McCourty with the 27th overall pick, Belichick found one of the most critical pieces to the Patriots' dynasty.
A cornerback by trade, the 5-foot-10, 195-pounder started all 16 games as a rookie. McCourty proved his critics wrong by snagging seven interceptions and earning a Pro Bowl berth. However, with the Patriots in need of a boost on the back end, McCourty switched to free safety in 2013.
The position switch coincided with New England's defense transforming into a dominant unit. With McCourty patrolling the back end next to Pat Chung, the Patriots have enjoyed tremendous continuity at the safety position for the last half-decade.
Along the way, the twin brother of Jason McCourty has remained a steady force in the secondary. McCourty has missed just five games in his 10-year NFL career. His reliability, durability, and leadership have been highly valuable for Belichick.
Bill Belichick has broken the bank twice to keep his star safety
As a three-time Super Bowl champion and three-time second-team All-Pro, Devin McCourty has enjoyed incredible success from both a team and individual standpoint. He also serves as an excellent role model for New England's younger players and has become a staple within the Boston community.
All of that has led the 32-year-old to score some massive paydays from the Patriots—a rarity in the Bill Belichick era. Players like Chandler Jones, Jamie Collins, and Malcolm Butler never earned second contracts from the Patriots despite their elite production. However, in McCourty's case, he has earned not one but two contract extensions.
In 2015, he drew a heavy interest in free agency. But at the last moment, Belichick retained McCourty on a five-year, $47.5 million deal.
This offseason, the two-time Pro Bowler once again had the chance to cash in after a stellar 2019 campaign. Belichick showed his loyalty to his star safety and defensive leader yet again by signing McCourty to a two-year, $23 million deal.
McCourty just proved why Belichick keeps investing in him
With just north of $60 million career earnings, Devin McCourty certainly has been treated differently by Bill Belichick compared to most Patriots players. While his value on the field deserves praise, his work within the community and the locker room makes him such an irreplaceable member of the franchise.
Never afraid to speak up for what he believes in, the longtime captain proved why Belichick keeps investing in him by ripping the NFL for trying to change the COVID-19 opt-out deadline (H/T ESPN).
"I think it is an absolute joke that the NFL is changing the opt-out period, mainly because they don't want to continue to see guys opt out. I'm sure they're shocked about how many guys have opted out," McCourty said in a video conference with Patriots reporters. "I think it's terrible. I think it's B.S. that the league has changed that date."
For McCourty to call out the NFL in such blunt fashion seems like a move that Belichick might quibble with. However, the Patriots head coach has invested in McCourty over and over again precisely because of his maturity and ability to deliver the right message.
In this case, New England's star safety brings up a valid point about the NFL attempting to backtrack on the agreement it came to with the NFLPA. Players have much more at stake than just a paycheck. Some have family considerations. Others have legitimate health problems that could turn fatal if they contract COVID-19.
Changing the opt-out deadline does not help NFL players in the least bit. If anything, it could spurn some players to make irrational decisions. The league should respect that players have many factors to consider, including potentially giving up millions of dollars by opting-out.
Bill Belichick would never come out and say it, but he should be proud of how Devin McCourty handled himself in this situation. After all, it's times like these where true leaders need to emerge.
All contract data courtesy of Spotrac.