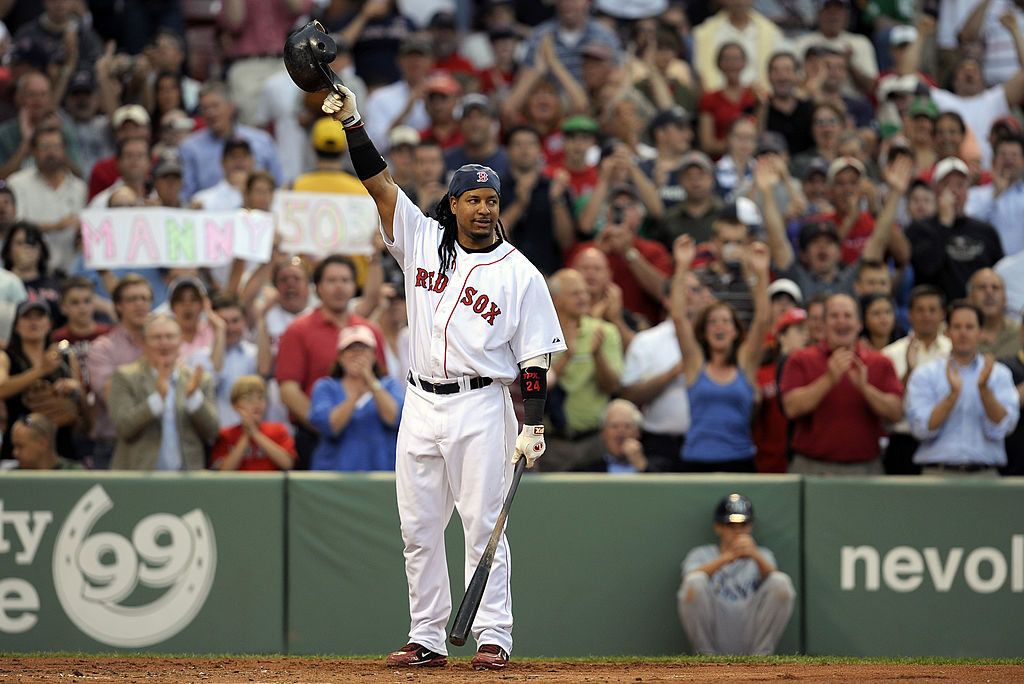 Red Sox Will Keep Paying Manny Ramirez Until He Turns 54
Manny Ramirez won two World Series championships with the Boston Red Sox before his career took a turn due to positive PED tests. Where is the former All-Star now?
Manny Ramirez won two World series titles with the Boston Red Sox. He hit nearly 300 home runs, drove in almost 900 runs and became a franchise icon. Of course, he also managed to mystify with his outfield defense, and his attitude later played a role in Boston shipping him out of town in 2008.
Yet, 12 years later, the Red Sox are still paying their former star. And those paychecks won't stop anytime soon. In fact, Ramirez will keep collecting paychecks from his former team until 2026, when he'll be 54 years old.
Red Sox signed Manny Ramirez to eight-year, $160 million deal in 2001
Nearly two decades ago, the Red Sox plunged headfirst into the free-agent waters and came up with the biggest catch. By signing Ramirez to a massive $160 contract, Boston signaled it was ready to compete for a World Series title. Adding a hitter of Ramirez's caliber represented a major upgrade for a Red Sox team that had one hitter (Carl Everett) surpass 21 home runs in 2000.
Ramirez arrived in Boston following eight monstrous seasons in Cleveland. After breaking into the lineup as a 21-year-old, the Dominican native made his first All-Star team in 1995. By the time he wrapped up his Indians career, he had established himself as one of the best run producers in baseball. He recorded 165 RBIs in 1999—a mark that may never be touched again.
Manny Ramirez helped Red Sox snap 86-year World Series drought
From the moment he made his debut at Fenway Park, Ramirez showed why he was one of the best hitters of his generation. His first season in Boston included 41 home runs, 125 RBIs and his first of eight straight All-Star selections in a Boston uniform.
In his second season, the power-hitting savant led the league with a .349 batting average. He also led all players with a .450 on-base percentage despite playing just 120 games.
However, the emergence of David Ortiz gave Boston two incredibly skilled power hitters in the middle of the lineup. The Dominican duo punished pitchers in both the regular season and postseason play. In 2004, Ramirez led the league in OPS (1.009) and home runs (43) and saved his best performances for October. He hit .385 in the American League Division Series before Boston made an unprecedented comeback against the New York Yankees in the AL Championship.
In fitting fashion, Ramirez took home World Series MVP honors after slashing .412/.400/.588. Boston won its first title since 1918 and added another in 2007 before Ramirez got traded the following season.
Red Sox and Ramirez agreed to 16-year deferred payment plan
Baseball is no stranger to deferred contracts. After all, that's the only reason we still talk about Bobby Bonilla. And in the case of Ramirez, he's still on Boston's books for another six years despite last donning a Red Sox uniform more than a decade ago.
Originally reported by the late Nick Cafardo, Ramirez and the Red Sox agreed to a 16-year, $32 million deferred payment plan that began in 2011. Ramirez collects roughly $2 million every July 1st despite last playing in Boston in 2008. That's a lucrative deal for a player who earned more than $200 million in MLB contracts. Plus, he also spent time in Japan and had a very unique contract that included unlimited sushi, expensive road hotel suites and a Mercedes complete with its own driver.
The Red Sox haven't exactly practiced financial responsibility in the post-Ramirez era. A number of prominent free agents and trade acquisitions failed to live up to expectations, including David Price, Carl Crawford and Pablo Sandoval. Boston still owes a lot of money to players not on the roster, but no one is banking in his post-Boston career better than Manny Ramirez.