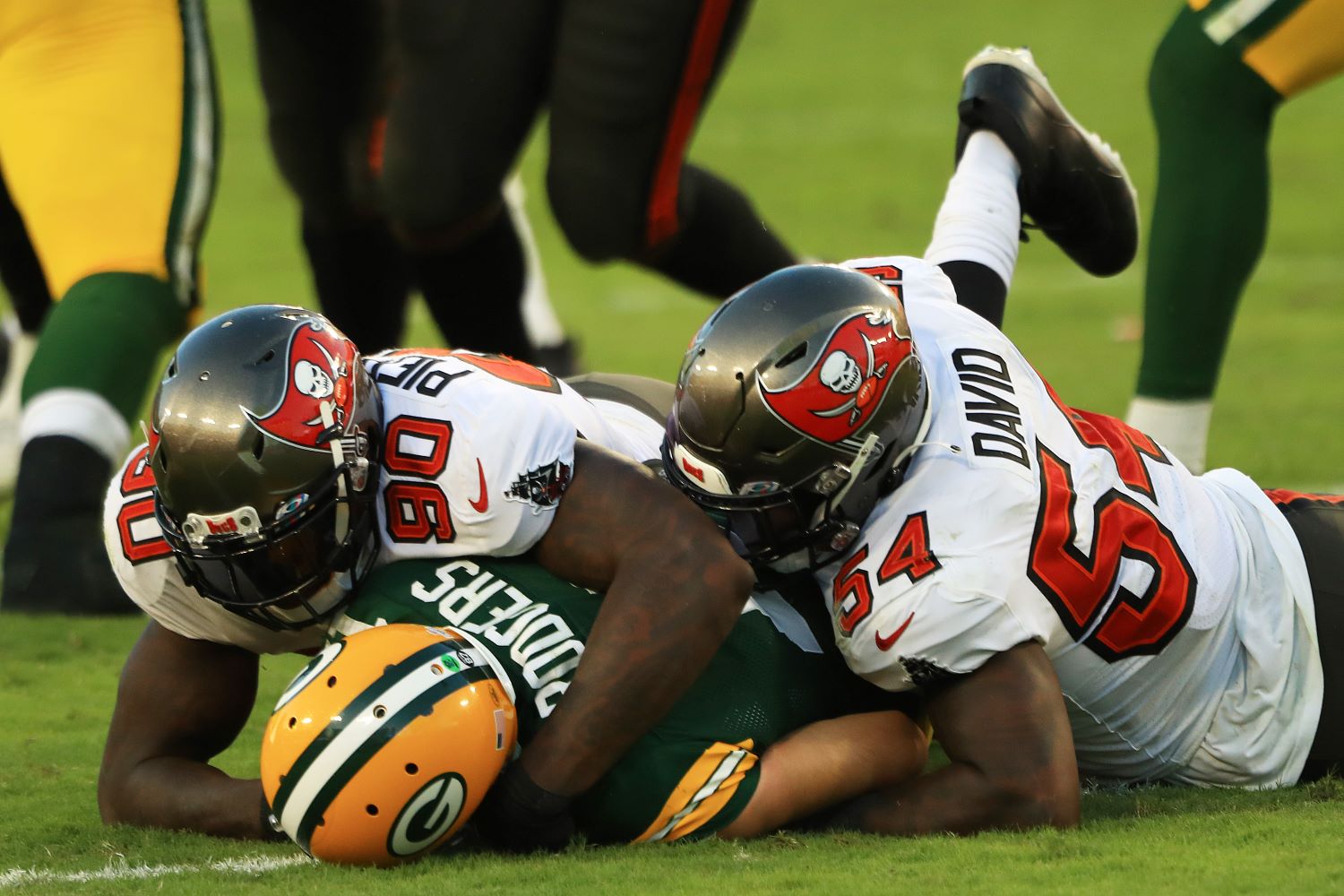 The Buccaneers Just Sent a Scary Message About Tom Brady's Importance to Super Bowl Run
While Tom Brady put together another excellent performance, the Tampa Bay Buccaneers just proved he isn't their most lethal weapon.
There's no doubt that Tom Brady still has enough left in the tank to make another Super Bowl run. But on Sunday, the Tampa Bay Buccaneers just sent a scary message that the future Hall of Famer isn't their key to a Super Bowl title.
Sure, Brady will have to continue playing at a high level if Tampa plans on making a run at the Lombardi Trophy. However, the Buccaneers' biggest strength isn't their quarterback. Rather, Tampa's elite defense will be the key to whether Brady wins a seventh Super Bowl ring.
Tom Brady continues to play at a high level
Coming off arguably the least effective season of his career, Tom Brady joined the Buccaneers with a point to prove. So far, the 43-year-old has quieted critics who pointed to his final year in Foxborough as evidence that his days as an elite quarterback are over.
While Brady's first two games as a Buccaneer did not live up to the hype, he has stormed back with some excellent performances. In Tampa's Week 3 win against the Denver Broncos, the three-time NFL MVP completed 25-of-38 passes for 287 yards and three touchdowns.
He followed up with a sensational day against the Los Angeles Chargers. In a 38-31 comeback win, Brady finished the day with 369 yards and five TD passes.
However, his mental error against the Chicago Bears thwarted Tampa's comeback bid. Still, Brady made up for that mistake with an efficient day at the office on Sunday. In the Buccaneers' dominant 38-10 win against the Green Bay Packers, he completed 17-of-27 attempts for 166 yards and two TD.
After finishing the 2019 season with a dismal quarterback rating of 88.0, Brady currently boasts a rating of 97.8, which would be his best mark since he won league MVP honors in 2017.
Buccaneers send a scary message about Brady's importance to Super Bowl run
While a rejuvenated Tom Brady has certainly helped the Buccaneers get off to a 3-2 start, he isn't Tampa's most lethal weapon. Instead, Sunday's victory proved that the Buccaneers' elite defense is the team's biggest strength, and as long as Brady and the offense don't commit costly turnovers or penalties, they can win a title thanks to their scary defense.
Facing the NFL's No. 1 offense, Tampa responded by completely shutting down Aaron Rodgers. After jumping out to a 10-0 first-quarter lead, the Packers never scored again.
The Buccaneers held the MVP candidate to just 160 yards in what amounted to Rodgers' worst performance of the season. Tampa intercepted the 36-year-old QB twice in the 28-point victory.
Plus, in their first game without Vita Vea, the Buccaneers still dominated the line of scrimmage. Lavonte David (1.5 sacks, two quarterback hits), Jason Pierre-Paul (1.5 sacks, three QBH), and Devin White (10 tackles, one sack, two QBH) terrorized Green Bay's offensive line and held the Packers to just 201 total yards.
While Tampa's offense did its job with 324 total yards and zero turnovers, Sunday's victory proved that the defense is the team's most lethal weapon. The Buccaneers' front seven features a number of former first-round picks who can completely take over a game at any moment.
In addition, the secondary has seen Jamel Dean and Carlton Davis make tremendous strides in their second NFL seasons. That duo has helped shut down opposing passing attacks, as Tampa has allowed the fifth-fewest passing yards per game. The Bucs also rank seventh in points allowed through six weeks of the season.
Tampa's elite defense will be put to the test in the coming weeks
Through six weeks, the Buccaneers look like a top Super Bowl contender. But can their elite defense continue playing at a high level moving forward?
This week, Tampa travels to Las Vegas to take on a 3-2 Raiders team that recently beat the Chiefs in Kansas City. After shutting down the league's top-ranked scoring offense, the Buccaneers face another tough test on Sunday. Las Vegas ranks seventh in scoring (30.2 points per game) and features some intriguing players playmakers in Josh Jacobs, Darren Waller, and Henry Ruggs.
While Tampa's Week 8 matchup against the New York Giants should not be difficult, the defense will have to be at its best in the month of November. The Buccaneers have a four-game stretch in which they will face the New Orleans Saints, Carolina Panthers, Los Angeles Rams, and Kansas City Chiefs. Can Tampa shut down Drew Brees, Teddy Bridgewater, Jared Goff, and Patrick Mahomes before December hits? If so, that will speak volumes about just how talented the Buccaneers' defense truly is.
Ultimately, as long as their front seven continues to win the line of scrimmage and put pressure on opposing quarterbacks, the Buccaneers should remain atop the NFC South. Tom Brady and the offense will have to do their part, too.
But at the end of the day, Tampa's defense is the team's most lethal weapon and the key to a Super Bowl run. And as long as Brady plays the game manager role well, the Buccaneers could very well win their first title since 2002.
All statistics courtesy of Pro Football Reference.