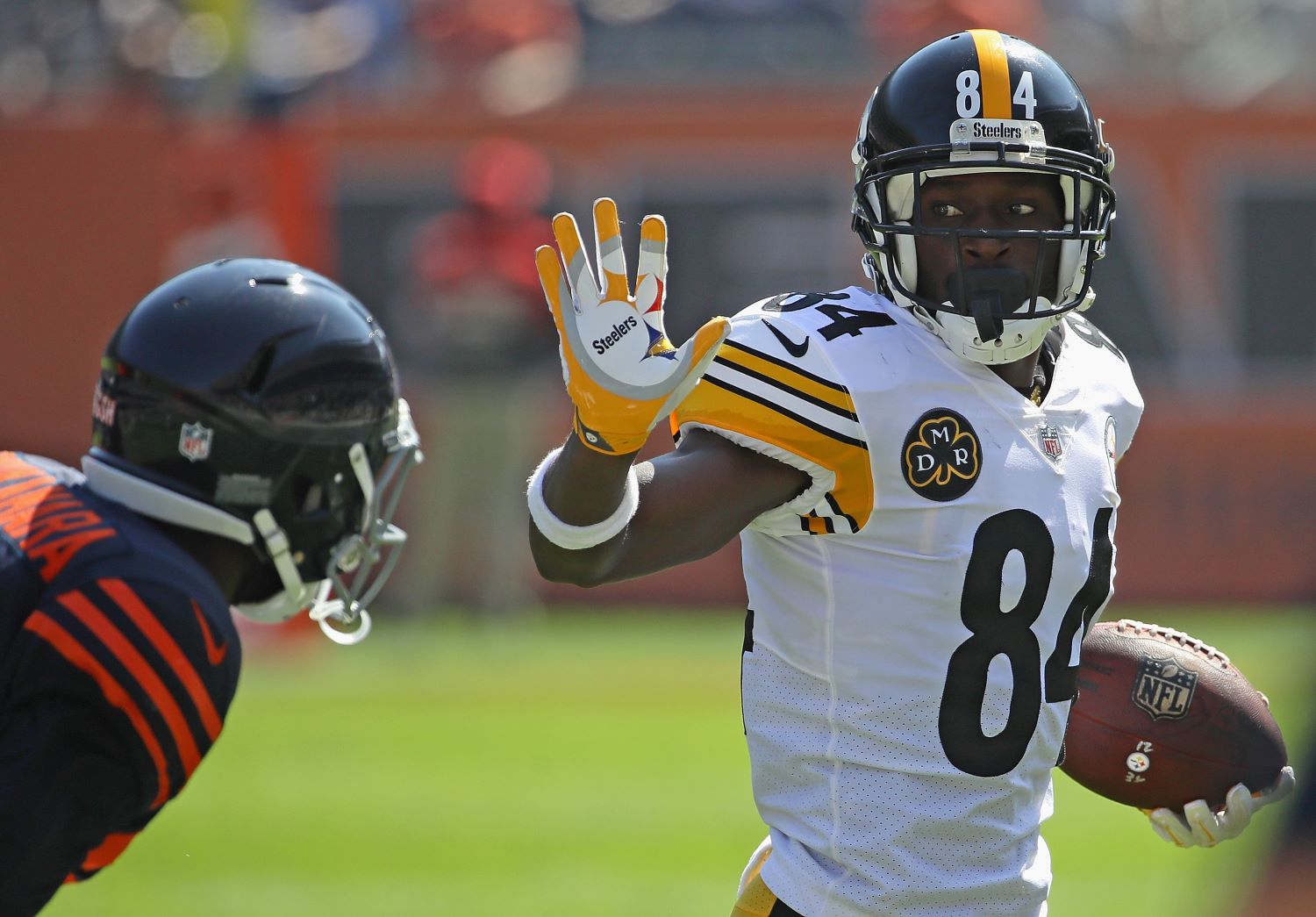 Antonio Brown Just Sent a Brutally Honest Message About Joining the Chicago Bears
Antonio Brown just sent a clear message about joining the Chicago Bears. Which NFL team will eventually take a chance on the All-Pro WR?
While he still has to finish serving his suspension, Antonio Brown can contribute to an NFL team later this season. But based on his recent message, don't expect the All-Pro wideout to suit up for the Chicago Bears anytime soon.
But given Brown's game-changing talent, one NFL team has to take a flyer on him at some point. And looking at the landscape of the league, a few potential suitors stand out.
Nick Foles has taken over as Chicago's starting quarterback
Off to a somewhat surprising 4-1 start, the Bears didn't take long to pull the plug on Mitchell Trubisky. Matt Nagy elected to bench the former No. 2 overall pick for Nick Foles. The veteran journeyman has gone 1-1 since taking over as Chicago's starting quarterback.
However, Foles doesn't exactly have a great cast of weapons. Allen Robinson continues to play at a high level and leads the team in catches (35) and receiving yards (421). However, tight end Jimmy Graham and running back David Montgomery have caught more passes than Chicago's next leading wide receiver, fifth-round rookie Darnell Mooney.
While the Bears do have intriguing athletes at the position, they would do well to add a veteran to the group. Of course, Antonio Brown remains unsigned and would certainly give Chicago a massive talent upgrade at wide receiver.
Antonio Brown sends a brutally honest message about joining the Bears
With his suspension coming to an end in a few weeks, Antonio Brown has a chance to resurrect his career after a turbulent 2019 season. Of course, the 32-year-old quickly wore out his welcome with the New England Patriots shortly after orchestrating his way out of Las Vegas.
Still, given his track record of elite production, Brown remains an intriguing name to watch on the free-agent market. However, Bears fans shouldn't plan on seeing Brown step foot on Soldier Field anytime soon.
During a FaceTime call with Deion Sanders, Big Cat of Barstool Sports asked the future Hall of Fame candidate whether he would join the Bears, who need help at wideout. Brown responded with a brutally honest message that left little room for interpretation.
"Nah, not with Nick Foles," he said.
Brown's direct reply essentially eliminates the Bears from being a potential suitor for his services. Chicago already sent Trubisky to the bench in favor of Foles, so another quarterback change does not seem likely at this point. Still, even with the Bears out of the picture, several NFL teams could entice Brown to sign on the dotted line.
Which NFL team will ultimately take a chance on Brown?
Antonio Brown clearly has no interest in playing with Nick Foles. However, he could be swayed to join forces with far more talented quarterbacks.
The Baltimore Ravens may hold a 4-1 record, but their passing attack has shown some struggles this season. Lamar Jackson's numbers have taken a slight dip after he completely dominated the league in his first full year as a starter. Part of that has to do with a young receiver group that could use a veteran leader.
Jackson and Brown worked out this summer, so the two at least have familiarity with one another. Plus, Baltimore has a strong head coach and locker room that could accommodate a player who can be difficult to manage.
If the Ravens don't sign Brown, the Texans could be an intriguing fit. Thanks to Bill O'Brien trading away his best receiver, Deshaun Watson has been forced to rely upon the likes of Randall Cobb, Brandin Cooks, and Will Fuller. Adding Brown would instantly give Houston's $160 million quarterback a legitimate No. 1 WR again.
Ultimately, one NFL team will take a leap of faith and sign Antonio Brown. But based on his stern message, don't expect Chicago to be the next city AB calls home.
Like Sportscasting on Facebook. Follow us on Twitter @sportscasting19.