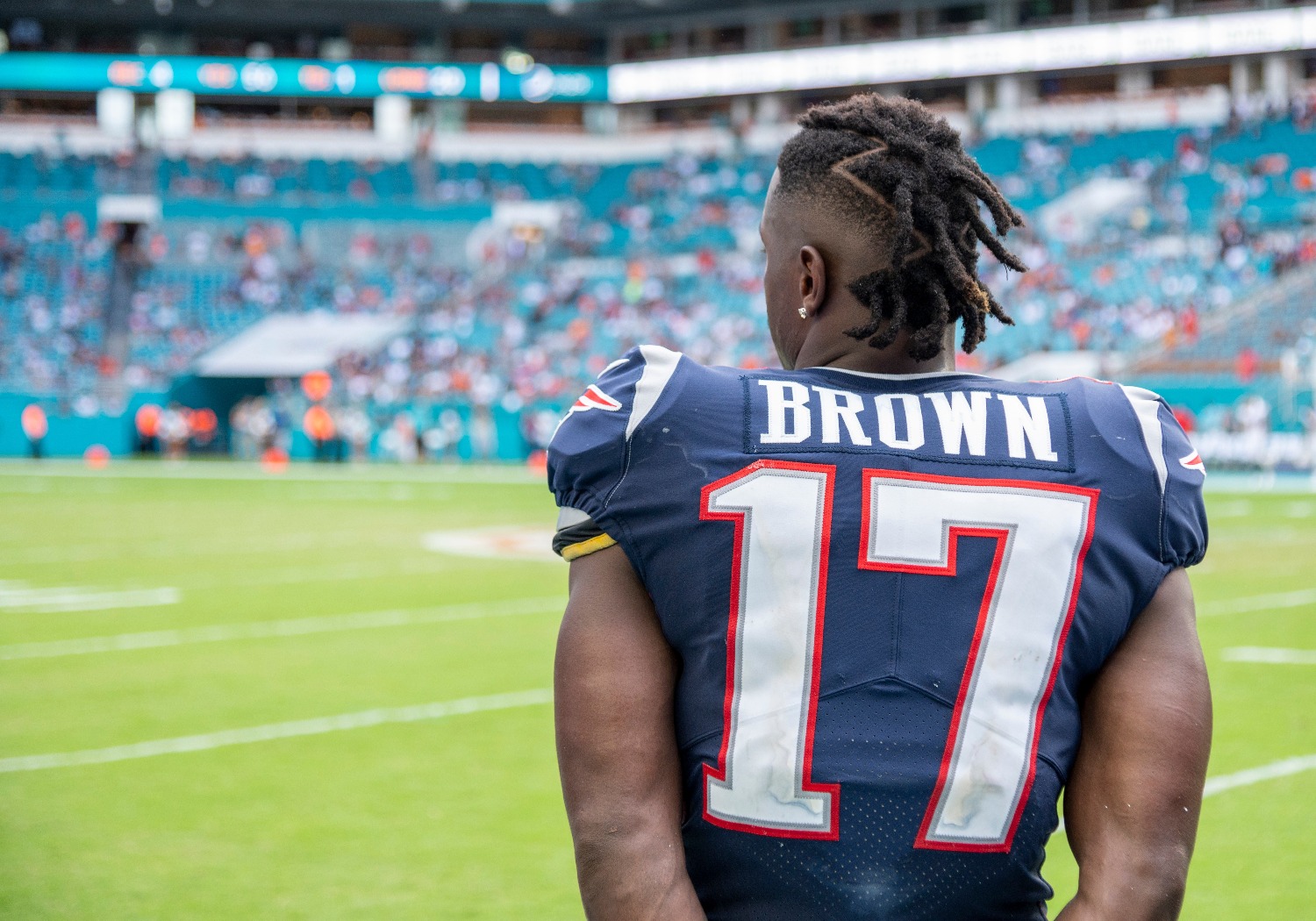 Antonio Brown Just Suffered a Potential Setback to His NFL Comeback
Antonio Brown just suffered a potential setback to his NFL comeback thanks to another legal-related matter for the former NFL star.
Despite not playing football since September, Antonio Brown just can't stay out of the headlines. From his workouts with current NFL stars to his legal battles, Brown remains in the news cycle one way or another. Seeking a fresh start with a new team, the former Pittsburgh Steelers star just suffered a potential setback to his NFL comeback.
Antonio Brown still wants to make an NFL comeback
Once considered one of the NFL's biggest stars, Antonio Brown has been reduced to a walking, talking meme. From his fallout with the Steelers to his bizarre stint with the Raiders to his brief cameo with the Patriots, the 2019 season could not have gone worse for Brown.
Off the field, he has been a disaster. Brown got charged with felony burglary conveyance, misdemeanor battery, and misdemeanor criminal mischief as a result of an incident with a delivery truck driver. However, he managed to score a victory by pleading no contest to the charges. As a result, he did not receive jail time.
Still, Brown's off-field issues did little to help his chances of an NFL return. On July 31, the league imposed an eight-game suspension on the 32-year-old. Even though he has vacillated between retiring and wanting to make an NFL comeback, the decision at least put a clear timeline on when Antonio Brown will be able to play.
Brown suffers a potential setback to his comeback story
Antonio Brown's NFL comeback bid just suffered a potential setback on Thursday. According to Tom Pelissero, attorneys for Britney Taylor, the woman who accused Brown of rape and sexual assault, asked a Florida judge to order him to undergo a psychiatric evaluation.
While the NFL suspended Brown for two other personal conduct issues, that does not mean the league cannot extend the suspension. In fact, Pelissero reported that if new info emerges from this case (or any other one), that could lead the NFL to tack on more time to Brown's eight-game suspension.
The former NFL star filed a counterclaim against Taylor that suggests her lawsuit has resulted in personal, professional, and financial harm. Ultimately, we will have to wait to see what happens in the court system. But based on Brown's actions and social media posts, it will be interesting to see if he responds to the psychiatric evaluation request.
Overall, this definitely represents a potential setback to his comeback. As the case continues, new information could arise that will damage Brown's reputation and standing with the league. If that does happen, Roger Goodell will have no choice but to impose a lengthier suspension.
Is AB even worth the trouble?
As the 2020 NFL season inches closer, Antonio Brown still remains on the market. In all likelihood, he will remain there for quite some time. After all, he cannot contribute to a team for the first half of the season. Plus, is he even worth the trouble?
At 32 years old, Brown's best days are behind him. He already exhibited some signs of decline before he essentially shot his way out of the league. If he could not make it work in New England, that should send up red flags about his ability to fit within a winning culture.
Teams with young quarterbacks would take on a huge risk by signing the seven-time Pro Bowler. Though he dominates on the field, Brown's personality and me-first attitude could derail a promising prospect's confidence and approach to the game. His talent may not be enough to convince a team to take a chance given his recent history of instability.
Still, even Bill Belichick took a flyer on AB last season. In a league where talent seems to trump everything, it only takes one team to help Antonio Brown complete his comeback. Let's see if a general manager pulls the trigger on the All-Pro receiver.
Like Sportscasting on Facebook. Follow us on Twitter @sportscasting19.