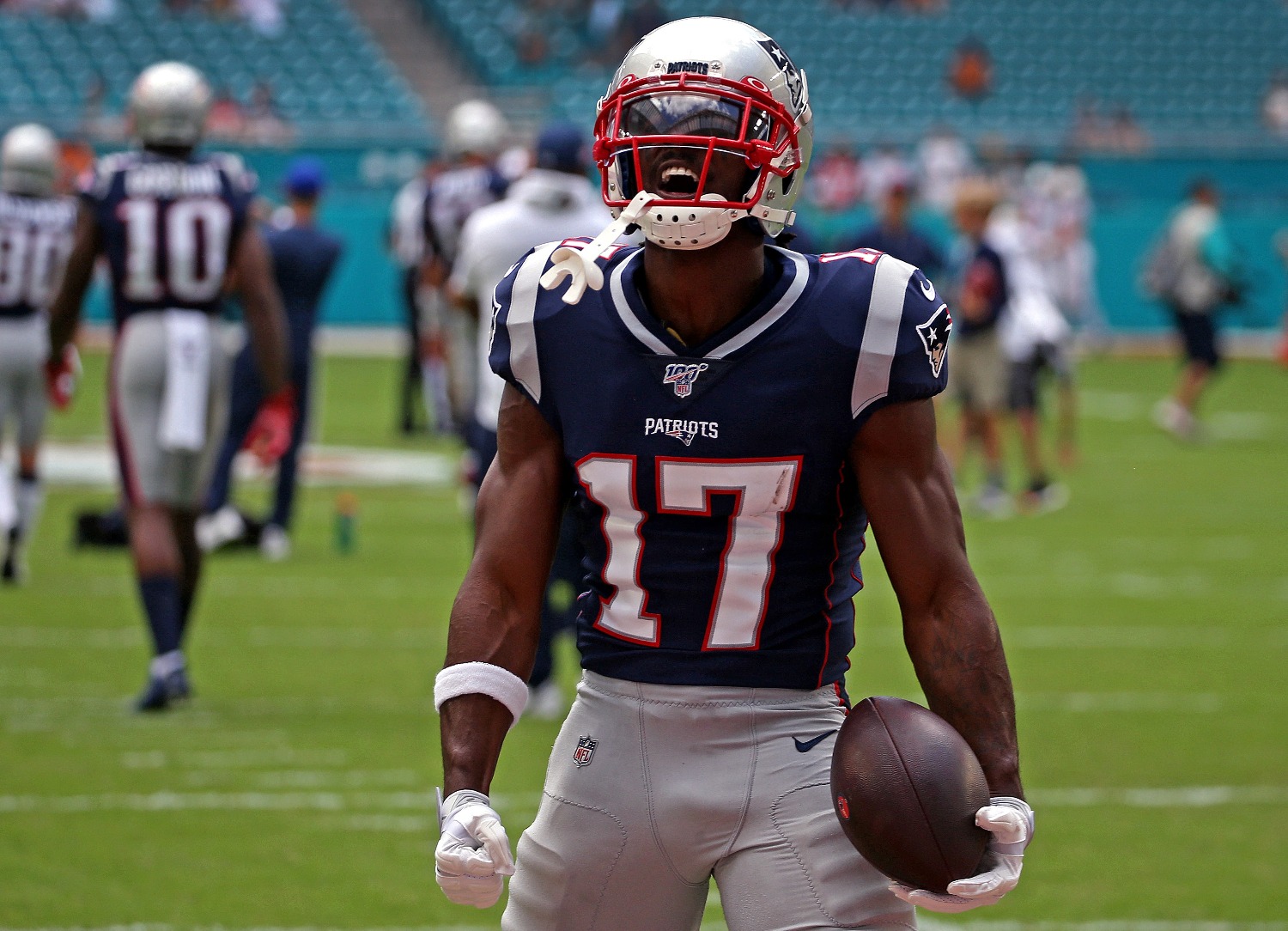 Antonio Brown Just Sacrificed Any Shred of Credibility With Latest Declaration
Antonio Brown just announced that he's retiring from the NFL, and nobody should care given his history of making retirement claims.
Antonio Brown talks a big game. And for a long stretch, his outstanding play backed up his trash-talking, controversial ways. But the former Pittsburgh Steelers star has derailed his own NFL career through bad decisions and bizarre behavior. Brown has gone from the league's best wide receiver to a walking, talking meme.
Still without an NFL team, Brown surprisingly announced his retirement on Monday. And guess what? Nobody should care. Because based on AB's history, his word means absolutely nothing. Now, he's frankly an embarrassment.
Antonio Brown was a disaster in his last NFL season
To put it lightly, Antonio Brown had a bad year in 2019. After shooting his way out of Pittsburgh, he landed a lucrative deal and a fresh start with the Oakland Raiders. Of course, his brief time in California included a bizarre cryotherapy incident that destroyed his feet and left him unable to practice. Plus, he refused to wear a new helmet and got into a verbal altercation with Mike Mayock.
Luckily for AB, Bill Belichick pounced at the opportunity to give Tom Brady a No. 1 target. Unfortunately for New England Patriots fans, the Brady-Brown era lasted about as long as a Belichick smile. The four-time first-team All-Pro suited up in one game before the Patriots cut him following allegations of sexual and personal misconduct.
That left the NFL's most dangerous wideout without a job. More legal troubles ensued, and it became clear that Brown wouldn't play again in 2019. This offseason, speculation has swirled about where he could resurrect his NFL career. On Monday, the 32-year-old made his future clear.
Brown announces his retirement (again)
Despite rumors about a possible union with Russell Wilson in Seattle, it looks like the $140 million QB won't get a chance to toss touchdowns to one of the top playmakers to ever grace an NFL field. On Monday afternoon, Antonio Brown took to Twitter to announce that he is done with football. He specifically referenced that "the risk is greater than the reward."
On the surface, the news may seem shocking. After all, a week or two ago, it wouldn't have been shocking to see Brown land with a new team. He has posted numerous workout videos, including one with Lamar Jackson.
Yet, by calling it quits via Twitter, it appears Brown has played his final NFL snap. And while he may expect sympathy or want people to beg for him to come back, he needs to wake up. Because based on his history of making bold claims, nobody should care what Antonio Brown says anymore.
Nobody should care what AB says given his history
For all of his prolific on-field accomplishments, it's difficult to root for AB. He mostly toed the line in Pittsburgh until his final few years. Even after getting the raise he wanted in Oakland, he still became a massive headache. Heck, he couldn't even last in New England—an organization that has employed questionable characters.
AB's self-destruction has rendered him a shell of himself. When you think about his name, rarely do you conjure up images of him catching a 75-yard touchdown or celebrating in the end zone. Instead, his disastrous final season and subsequent legal troubles have reduced him to a running joke.
Plus, his retirement announcement means very little given his history of making bold claims. In fact, he made a similar "announcement" in September when he expressed displeasure about having guaranteed money voided on his deal and said he would not be playing in the NFL anymore.
Let's face it. Brown simply isn't worth the headache for any NFL franchise. His greatness on the field doesn't outweigh the risks of bringing him on board. If you want stability and consistency, he embodies the exact opposite. If you want leadership and respectability, he is most certainly the wrong choice.
At the end of the day, Antonio Brown's words mean nothing. He has said too much and delivered far too little. Whether he wants to call himself "retired" or whether NFL teams just didn't want to commit to the mercurial receiver, one thing is clear: Nobody should care about what he does any longer.
Farwell, AB.
It was fun while it lasted.