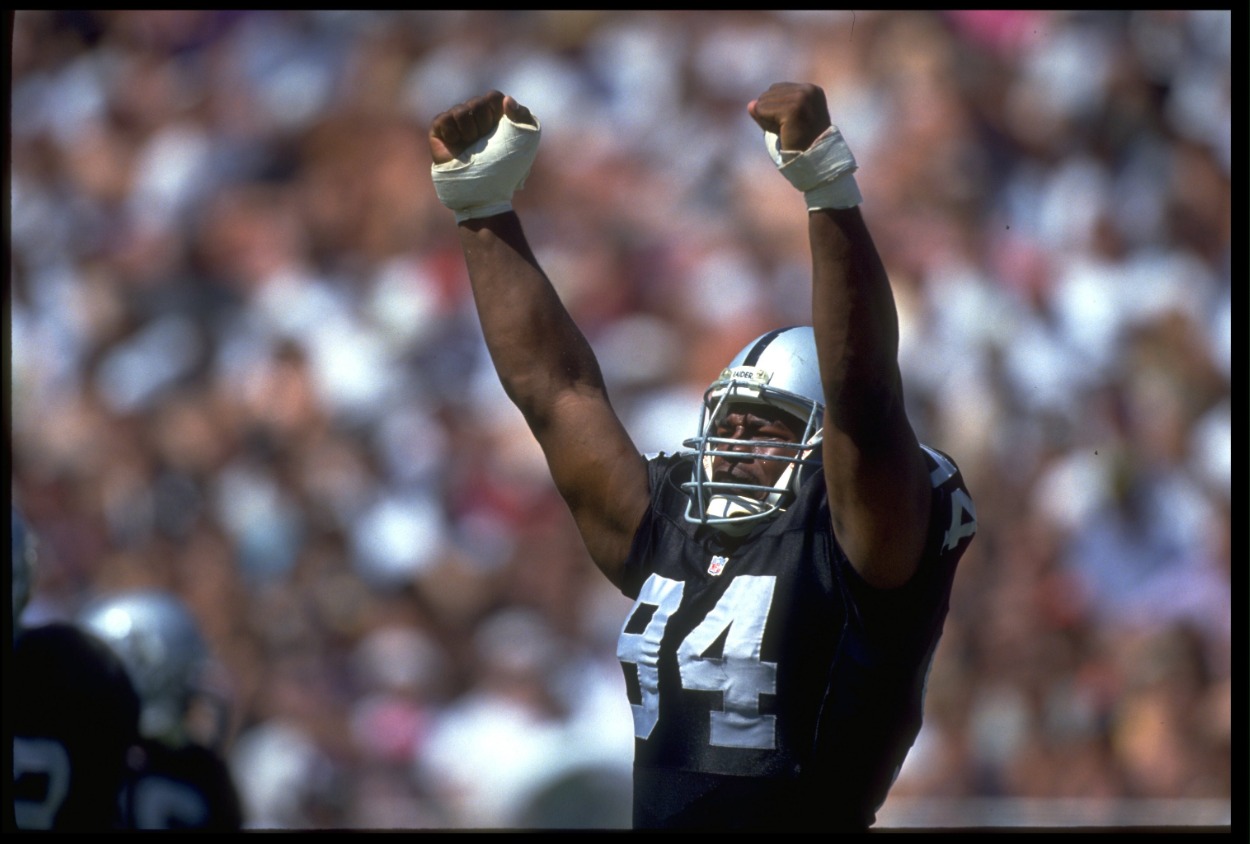 Former Raiders Star Anthony Smith Got 3 Life Sentences for a Brutal Murder Spree
Anthony Smith went from being a star defensive end for the Raiders to earning three life sentences for a spree of disturbing murders.
Long before Khalil Mack arrived, Anthony Smith set the standard for Raiders pass-rushers. The defensive end got off to a hot start after entering the NFL as a first-round pick. Yet, his success on the field rarely gets discussed. That's what happens when you go from being a star for one of the NFL's biggest franchises to serving three life sentences for murder.
Anthony Smith quickly emerged as a star for the Raiders
Anthony Smith played his college ball at the University of Alabama and the University of Arizona. The 6-foot-3, 265-pound defensive end entered the 1990 NFL draft as a top prospect. Of course, that class featured a number of future defensive stars, including Junior Seau, Cortez Kennedy, and LeRoy Butler.
The then-Las Vegas Raiders selected Smith 11th overall. He joined a squad that already featured a star sack artist in Greg Townsend. The versatile front-seven defender had enjoyed six double-digit sack campaigns by the time Smith broke into the lineup in 1991.
That season turned out to be a terrific one for the dynamic defensive end duo. Townsend racked up a career-high 13 sacks while Smith totaled 10.5. He followed up with 13 of his own in 1992 despite starting just one game. Smith recorded 12.5 sacks in 1993 and seemed poised to become a long-term fixture in Las Vegas.
However, he never matched that same level of production. And eventually, the world would discover that Anthony Smith the NFL star led a different life away from the football field.
From playing in the NFL to facing four murder charges
After a torrid start to his Raiders career, Smith regressed mightily. He recorded just 18.5 sacks in the final four years of his NFL career. Still, with 57.5 sacks in 98 career games, he more than lived up to his first-round draft status.
But as his NFL career came to a close, so too would Anthony Smith's days as a free man. In March 2011, Smith and two other people were charged with murdering Maurilio Ponce. He had been beaten and shot in October 2008 in California. According to an AP report, prosecutors said Ponce's death occurred after a business deal went bad.
The Ponce murder charge represented just one of four brought against Smith. And while jurors failed to reach a verdict in the Ponce murder case, they did come to an agreement on the other charges.
Smith got sentenced to three consecutive life terms in 2016
On January 22, 2016, Anthony Smith got sentenced to three consecutive life terms in prison without the possibility of parole. Just a few months earlier, an LA County jury convicted him on three counts of murder with special circumstances of torturing, kidnapping, and multiple murders.
Prosecutors provided details of the murders. Smith reportedly posed as a police officer before kidnapping Ricky and Kevin Nettles in November 1999. The two brothers had been kidnapped from their car wash business.
The Nettles brothers' bodies were found about eight miles apart. Both had U-shaped branding burns on their cheeks, and Ricky Nettles had numerous burns across his abdomen and feet.

Less than two years later, Smith kidnapped Dennis Henderson before beating and stabbing him to death. Henderson's body was found in a rental car with more than 40 stab wounds. He had been kidnapped on June 24, 2001, from the Mar Vista section of LA.
Prosecutors also said that Anthony Smith had multiple books on how to kill people in his possession. At the time of his sentencing, he was 48 years old.