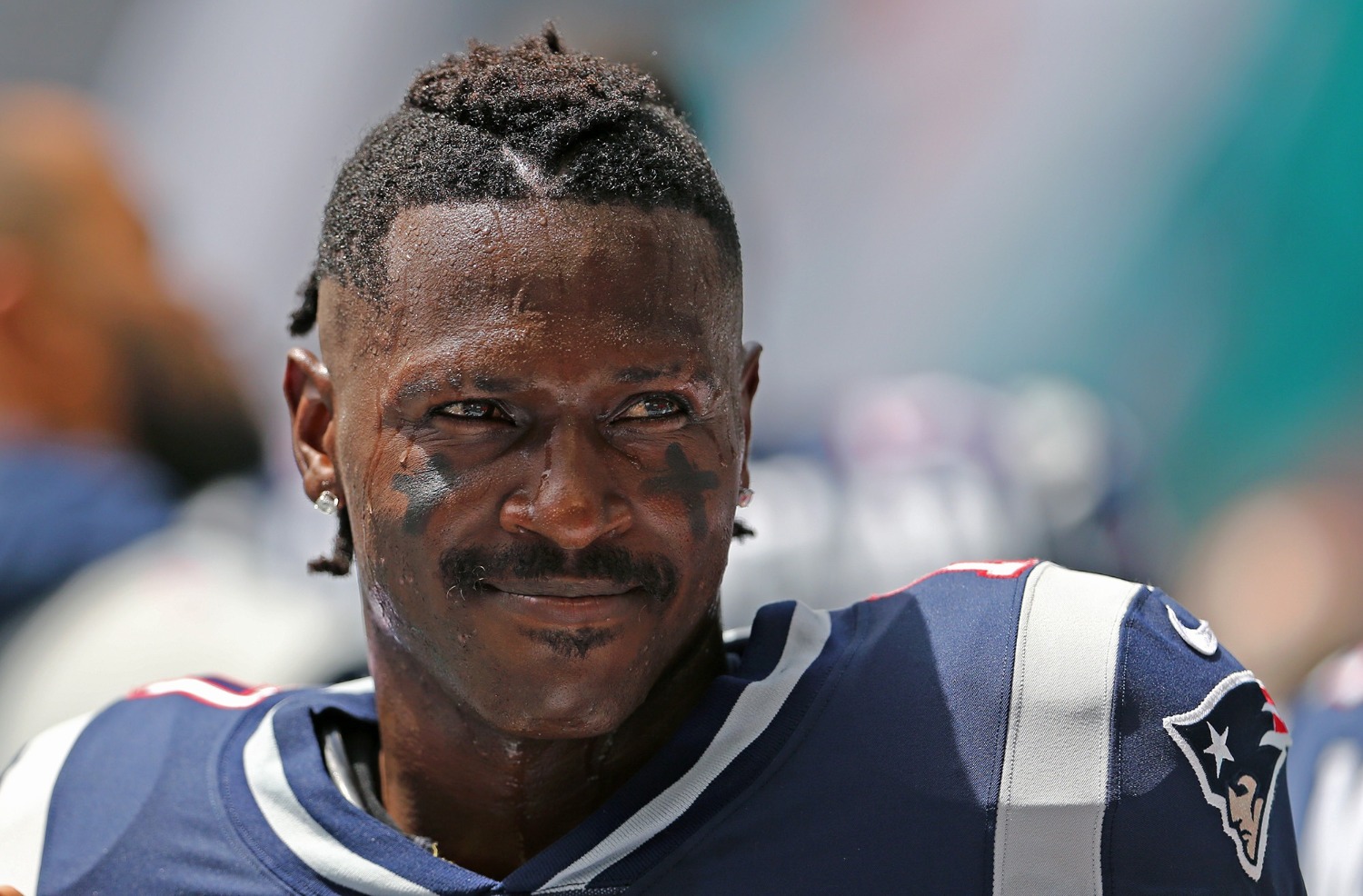 Antonio Brown Just Set Himself Up for Failure With Bold 2020 Prediction
Antonio Brown officially got suspended by the NFL for eight games, and he responded with a strong message about his plans for 2020.
Just call Antonio Brown the gift that keeps on giving. For years, he gave Pittsburgh Steelers fans plenty to cheer about with his prolific run of production. For one game, he gave Tom Brady the premium weapon he desperately desired. And of course, he gave the world plenty to talk about with his legal troubles and multiple retirement declarations.
Now that the NFL has officially suspended Brown for eight games, the wideout knows exactly where he stands. Even though he remains a free agent and could very well struggle to find an NFL home, the 32-year-old made a bold prediction about the 2020 NFL season that he will fail to deliver on.
Antonio Brown went from an All-Pro to out of the NFL
No NFL star has experienced such a dramatic fall in recent years quite like Antonio Brown. He went from dominating on Sundays as the league's most electric receiver to watching games from home. It's certainly been quite the tumble for the four-time first-team All-Pro.
Brown's 2019 season can best be described as an abject disaster. Following a historic run in Pittsburgh, he shot his way out of town. He still scored a huge raise from Jon Gruden, yet he never even made a single catch with the Raiders. Instead, a bizarre string of incidents, which included freezing his feet in a cryotherapy chamber, led to Brown getting released.
He found a soft landing spot in New England. And given the Patriots' problems at wide receiver, Brown represented a massive upgrade for Brady. But after one game, he once again found himself without a job due to allegations of sexual and personal misconduct.
Since he last suited up in an NFL game in September, Brown's downfall has continued with legal troubles. That obviously put his football career on hold. Though he has been loosely connected to a few franchises, no team has pulled the trigger on the talented but enigmatic wideout due in large part to concerns about whether he will even be eligible to play in 2020.
Brown makes bold prediction after accepting suspension
Watching and listening to Antonio Brown over the last few months qualifies as a roller coaster ride. He has vacillated between pleading for the NFL to let him play to saying he's done with football. Along the way, teams like the Baltimore Ravens and Seattle Seahawks have been discussed as possible landing spots for the former Steelers superstar.
Of course, the possibility that Brown could get suspended loomed. On Friday, the NFL officially suspended AB for eight games. That knocks him out for half of the 2020 season, but it does give NFL teams a clear idea of his fate.
Interestingly, for someone who seems to fight back against just about everything, Brown did not appeal the suspension. In fact, he took to Instagram to share his thoughts on his NFL future while making a bold prediction that he's destined to fail to deliver on.
"I look forward to new beginnings. I want to be the best version of myself on and off the field, and I will do my best to be a great teammate. I appreciate the NFL giving me the opportunity to continue to work on myself and improve.
I am thankful and grateful for this opportunity to play a game that I truly love and I look forward to joining a new team soon. Thank you to my family and all those that have supported me. I will show the fans my appreciation for this second chance by having the best season of my career. #AB2.0 #Himmothy
The talented wideout will fail to deliver on his statement
Two factors stand in the way of Antonio Brown living up to his bold prediction. First, both Baltimore and Seattle employ run-based offenses. The Ravens may have led the league in scoring, but they ranked just 27th in passing yards per game.
The Seahawks offer more passing upside, but the team already has two productive receivers in Tyler Lockett and D.K. Metcalf. That duo combined for 140 catches for 1,957 yards and 15 touchdowns last year. Even with Russell Wilson under center, the Seahawks still live and die by the ground game. It's tough to see Pete Carroll taking away opportunities from two long-term building blocks just to appease Brown.
Even if AB lands with a team that loves throwing the ball, he still has zero shot at having the best season of his career. He already will miss eight games, and after spending so much time away from football, it's fair to wonder whether he can stay healthy if he does make a comeback. Plus, not even the prime version of AB could produce at a pace to surpass his previous career-highs in just eight games.
At this point, Antonio Brown can believe what he wants to believe. But until he signs with a team, earns a starting spot, and actually suits up in an NFL game, he will continue to be a source of entertainment rather than production.