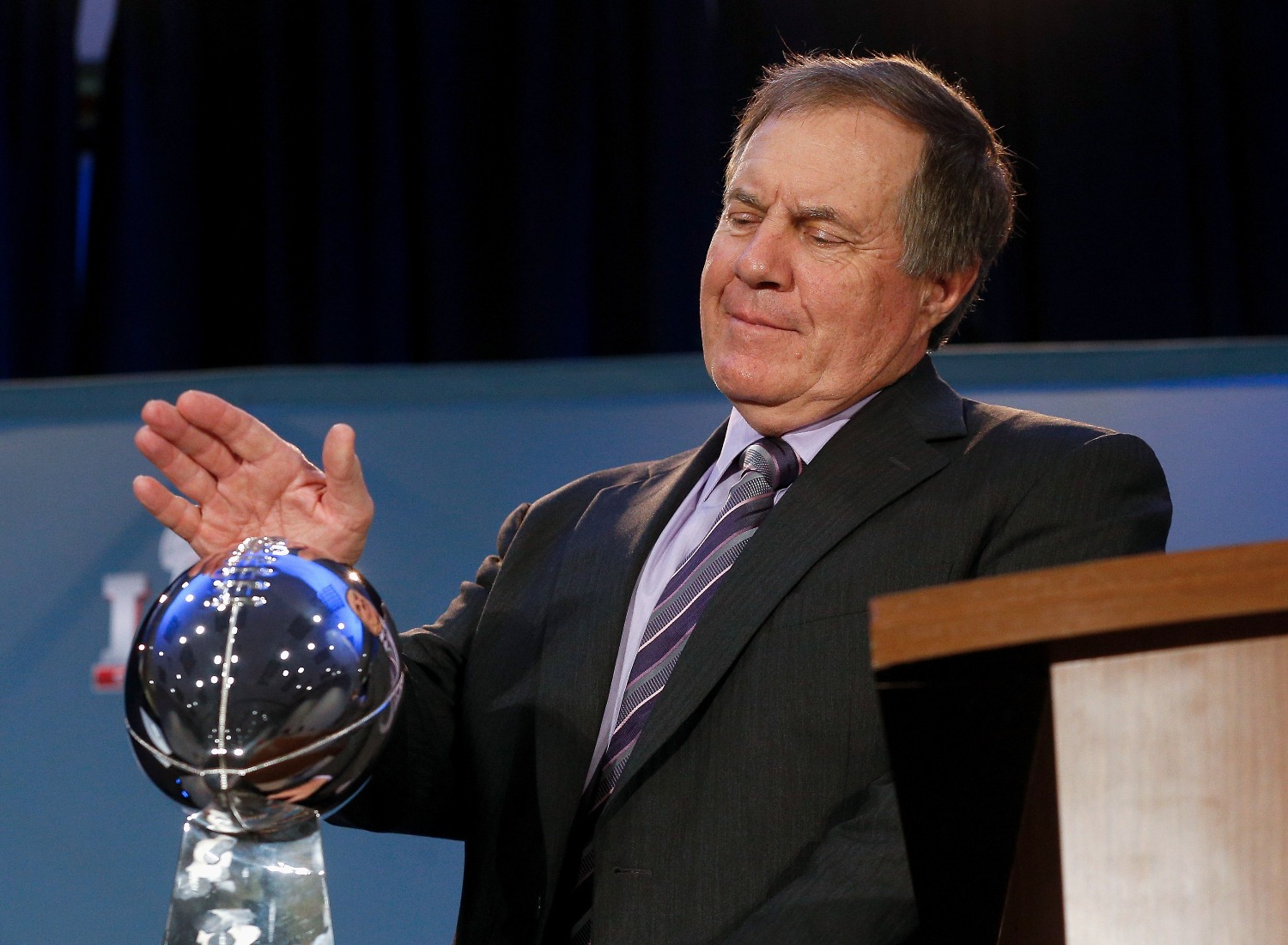 Allen Robinson Just Gave Bill Belichick a $10 Million Path to Extend Patriots' Dynasty
Bill Belichick can extend the New England Patriots' dynasty for $10 million. Will Belichick pull of a trade for Bears WR Allen Robinson?
As he ushers in a new era of football with Cam Newton as his quarterback, Bill Belichick still has work to do. After all, the New England Patriots have little in the form of proven playmakers not named Julian Edelman or James White. And if Belichick plans on extending the Patriots' dynasty without Tom Brady, he needs to take advantage of the $10 million path Allen Robinson just gave him.
The Patriots' dynasty hangs in the balance
Bill Belichick and Tom Brady made magic together for two decades. The notoriously demanding head coach and the hyper-competitive quarterback formed the most dominant QB-coach duo in NFL history. Thanks to their combined brilliance, Belichick and Brady turned the Patriots into the most successful dynasty in professional sports.
Of course, that era had to come to an end. Brady left New England in the spring and took his talents to Tampa. Meanwhile, Belichick let several key defensive players leave in free agency. The Patriots' top-ranked scoring defense lost Kyle Van Noy, Jamie Collins, Danny Shelton, and Elandon Roberts to new teams.
In addition, New England lost a league-high eight players to COVID-19 opt-outs. Clutch playoff performers Dont'a Hightower and Pat Chung elected to sit out the 2020 NFL season rather than put their families at risk.
While Belichick did well to land Newton on a cheap contract, the 31-year-old quarterback could leave as a free agent after the season. To put it simply: The Patriots face an uncertain future given their quarterback situation and the overall makeup of their roster.
Allen Robinson gives Bill Belichick a $10 Million Path to extend New England's dynasty
Bill Belichick has had his share of personnel misfires while building the Patriots' dynasty. In particular, he has struggled to find reliable receivers. While Edelman turned into a star, many receivers who joined the Patriots via the NFL draft have failed to live up to expectations. In fact, New England's uninspiring group of receivers played a significant role in Brady's dissatisfaction in recent years and subsequent departure.
However with TB12 throwing passes to Mike Evans and Chris Godwin, his opinion no longer matters. What does matter is Belichick's ability to help Newton succeed in New England. And if the Patriots want to remain a dynasty, Belichick has a $10 million path to follow.
On Tuesday, Chicago Bears wideout Allen Robinson erased all mentions of the team's name from his social media. The star receiver is in the final year of a three-year, $42 million deal. Naturally, his decision to remove the Bears from his social media has sparked rumors about a possible trade.
Set to make $10.9 million this season, Robinson actually looks like a bargain compared to the NFL's top-paid wideouts. A prolific downfield threat, he would instantly become the Patriots' most talented receiver since Randy Moss. Of course, it would take at least a high draft pick or two to pry the former Jacksonville Jaguars star away from Chicago.
But if anyone can pull off a dynasty-extending move, it's Bill Belichick. And with Robinson available, he has a chance to once again steal a potential star just like he did with Newton.
Robinson and Cam Newton could form a dangerous duo for years to come
(probably nothing happens here but)

If Cam Newton is still rolling in a couple of weeks and the Patriots trade for Allen Robinson…screw it, just buy me a jersey now.

— Matt Harmon (@MattHarmon_BYB) September 15, 2020
Based on his Week 1 performance, Cam Newton looks healthy and rejuvenated playing in Josh McDaniels' offense. However, the former league MVP needs better weapons as he attempts to resurrect his career. Edelman turned 34 in May and could be gone after this season, which only increases the need for a long-term answer at wide receiver.
If Bill Belichick can bring Allen Robinson to New England, he and Newton could become a dominant duo. Both players certainly have plenty of motivation to shine this season given their impending free agency.
Rather than hit the open market, though, Robinson and Newton could become long-term fixtures in New England. Belichick did not commit significant resources to any free agents this offseason, which puts the Patriots in a prime position to spend big in 2021.
In that case, Belichick could utilize New England's wealth of cap space to sign Robinson and Newton to multi-year contracts. In doing so, the Patriots would have two established stars to lead an offense that features intriguing prospects in N'Keal Harry, Devin Asiasi, and Damien Harris.
New England's offense would obviously look much different than it has over the last 20 years. But if Bill Belichick can swing a trade for Allen Robinson, he can extend his team's dynasty.
Let's see if he can get Ryan Pace on the line.
Like Sportscasting on Facebook. Follow us on Twitter @sportscasting19.