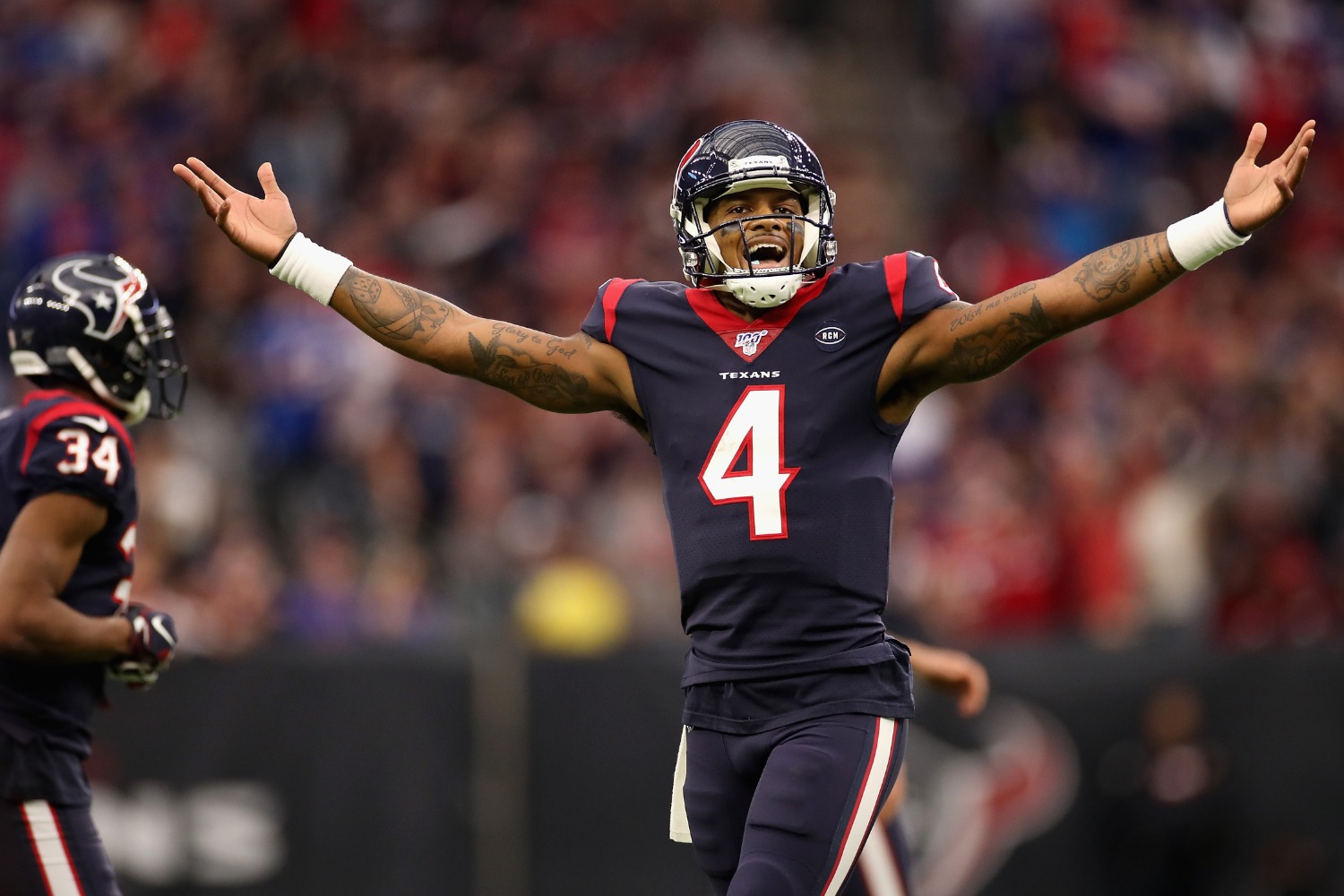 Deshaun Watson Sends Clear Message About His Future Plans With the Texans
Deshaun Watson sent a powerful message on Friday about his Texans future. Will the dynamic QB lead Houston to a Super Bowl title?
Deshaun Watson may not boast Patrick Mahomes' Super Bowl hardware or record-setting contract, but he certainly ranks as one of the most exciting young quarterbacks in the NFL. The fourth-year pro should score a monster payday of his own sooner than later. Ultimately, though, the Houston Texans QB knows his legacy comes down to delivering Super Bowl titles.
Despite Bill O'Brien's bizarre personnel moves, that has not stopped Watson from achieving incredible success. And on Friday, the two-time Pro Bowler sent a clear message about his future in Houston. While his words should excite Texans fans, Watson faces an uphill battle to achieve his lofty career goal.
Deshaun Watson has been a superstar in Houston
Bill O'Brien hit a home run in the 2017 NFL draft by trading up to select Deshaun Watson. Since entering the NFL as the 12th overall pick, the former Clemson star has terrorized defenses with his dual-threat skill set.
Watson started his rookie year off on a tear. But after throwing 19 touchdowns in less than half a season, he suffered a major setback by tearing his ACL. After getting back to full health, he returned with a vengeance in 2018.
The two-time Heisman Trophy finalist earned his first Pro Bowl berth after throwing for 4,164 yards and 26 touchdowns. Watson also added 551 yards and five rushing touchdowns. Houston won the AFC South but fell in the first round of the playoffs to the Indianapolis Colts.
Last season, the dynamic QB followed up with another rock-solid campaign. The Texans claimed another division title before toppling the Buffalo Bills in the wild card round. However, after jumping out to a commanding lead, Houston watched Mahomes and Co. stage a furious comeback that ended Watson's Super Bowl quest.
With back-to-back Pro Bowl campaigns under his belt, that has positioned Deshaun Watson for a lucrative contract extension. But the 24-year-old also knows that money does not mean everything. After all, quarterbacks get judged on what they do in the postseason.
Pro Bowl QB sends a clear message about his future plans
Nobody would dispute Deshaun Watson's talent. After all, you don't take down Alabama in the national championship game by getting lucky. Ultimately, though, he still has a rather empty playoff resume. Watson has gone just 1-2 in the postseason and has never advanced past the divisional round.
In fact, the Texans have never made an appearance in the AFC title game since they became a franchise in 2002. Houston has been a perennial playoff team for essentially a decade. Yet, that lack of postseason success cannot be ignored.
For Watson, that has to change if he wants to establish a legacy as an all-time great. In a press conference on Friday, he sent a clear message about his future in Houston that should excite Texans fans.
"For me to be that I have to win a Super Bowl and definitely win it with the Houston Texans," Watson said. "We never won one here before—hadn't even come on the brink of winning one. We got to get to that game before that and then we can think about that."
As if Texans fans needed more reason to get behind their star quarterback, Watson outlined an even loftier goal than just capturing a single Super Bowl ring.
"I'm trying to create history and make it a dynasty."
Watson faces an uphill battle in making his dynasty dream come true
Deshaun Watson may have a dynasty dream on his mind, but he faces an uphill battle to achieve that goal. Ironically, Bill O'Brien represents the biggest roadblock to starting a dynasty in Houston.
The Texans head coach/general manager has made a series of questionable moves over the last year or so. He overpaid in both draft capital and money to acquire and retain Laremy Tunsil. O'Brien earned widespread criticism for trading DeAndre Hopkins. The trade took away Watson's top target and brought back a running back with a bloated contract and poor production.
O'Brien also acquired Brandin Cooks—a receiver who has now been traded by Sean Payton, Bill Belichick, and Sean McVay. Given his extensive concussion history, it seems likely that Cooks will miss at least a few games and ultimately disappoint from a production standpoint.
How O'Brien has managed his roster could have a long-term detrimental effect on Deshaun Watson's ability to make his dynasty dream come true. He no longer has a bonafide No. 1 wideout. Houston's backfield tandem of David Johnson and Duke Johnson does not strike fear into opposing defenses. Even with Tunsil aboard, Watson still got sacked 44 times in 2019.
The Texans also failed to make any appreciable upgrades to a defense that ranked 19th in points allowed last season. While the AFC South does not boast dominant offenses, Mahomes and Lamar Jackson should lead their respective teams deep into the playoffs. Can Houston slow down either young QB?
At the end of the day, Deshaun Watson deserves a raise and a shot at making his dynasty dream come true. But if Bill O'Brien continues his string of strange personnel moves, Watson does not stand a chance of establishing a dynasty in Houston.
All statistics courtesy of Pro Football Reference.