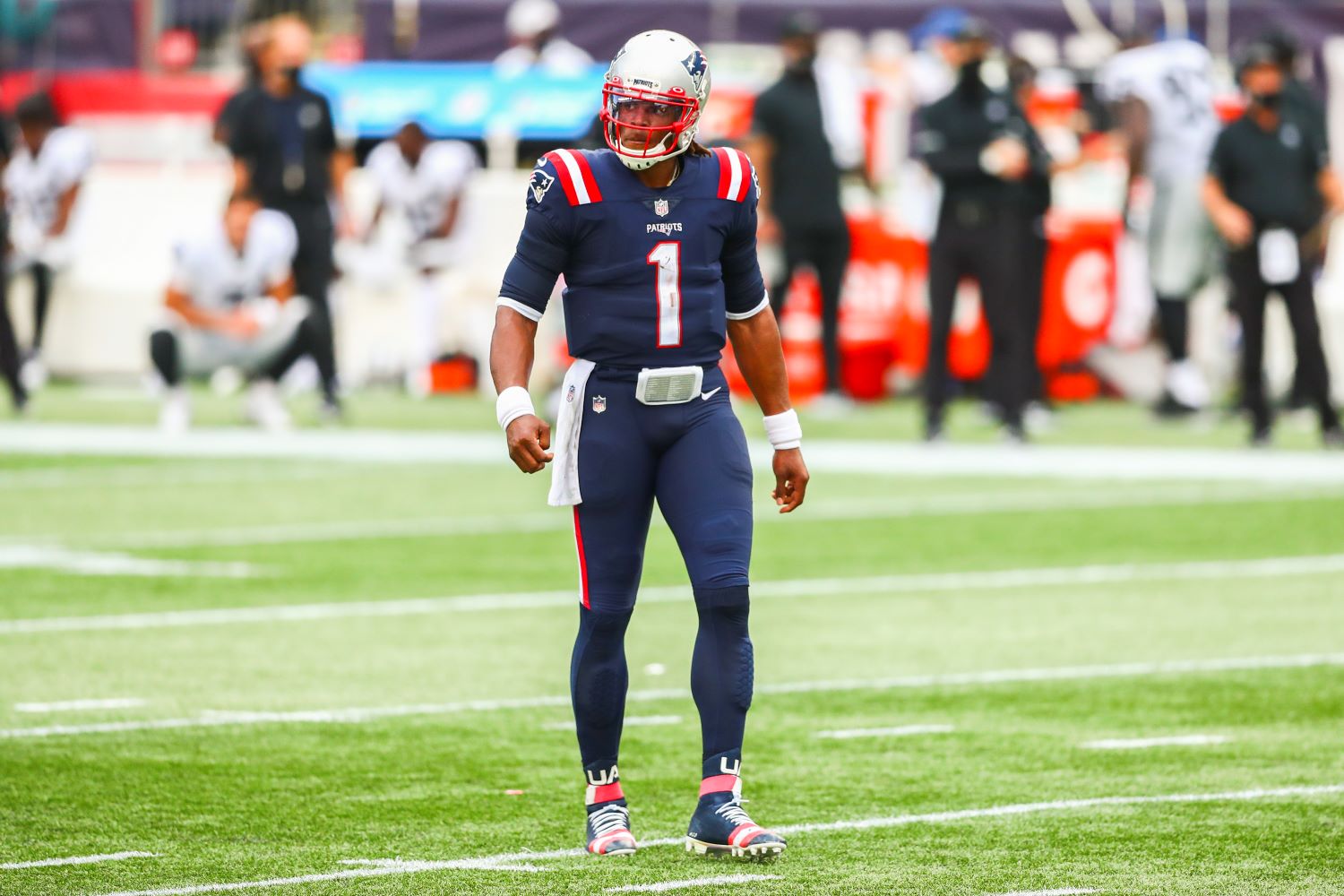 Cam Newton Just Lost a Key Patriots Teammate to COVID-19
Cam Newton just lost his key Patriots teammate to COVID-19. Who will start at center on Sunday now that James Ferentz is unavailable?
Having already dealt with COVID-19 himself, Cam Newton just lost a key teammate to the coronavirus. With James Ferentz getting placed on the reserve/COVID-19 list, the New England Patriots will have to find a short-term solution at center.
But if any coach has proven how to overcome personnel losses, it's Bill Belichick. And once again, the Patriots' roster depth will be put to the test because of COVID-19.
COVID-19 continues to play a major role in the Patriots' season
Bill Belichick preaches about preparation, but not even he could have totally prepared to deal with the effects of COVID-19. He first had to deal with the Patriots losing a number of key starters before the season even began. Donta' Hightower, Pat Chung, and Marcus Cannon headlined an eight-man group that opted-out of playing this season.
Still, the Patriots started off on a strong note thanks to Cam Newton. In Week 1, he torched the Miami Dolphins on the ground to the tune of 75 yards and two touchdowns. He followed up with a brilliant performance against the Seattle Seahawks in which he completed 30-of-44 passes for 397 yards in a 35-30 defeat.
However, Newton suffered an early setback when he tested positive for COVID-19. That news broke just hours before the Patriots were set to travel to take on the Chiefs. New England ended up starting Brian Hoyer at quarterback. Plus, the team also had to start James Ferentz at center due to David Andrews landing on injured reserve.
Just two days after they lost in Kansas City, the Patriots had to place Stephon Gilmore on the reserve/COVID-19 list after the reigning Defensive Player of the Year tested positive for the coronavirus. Both Newton and Gilmore returned to practice on Thursday, which seemingly should have put the Patriots in an excellent position to get back on track against the Broncos.
Cam Newton loses a key teammate to COVID-19
Patriots fans got a dose of bad news on Friday when ESPN's Mike Reiss (along with Field Yates) reported that New England canceled practice due to a positive COVID-19 test. Later in the day, Tom Pelissero of the NFL Network reported via Twitter that the Patriots placed offensive lineman James Ferentz on the reserve/COVID-19 list.
The 31-year-old has suited up in 39 games since entering the league as an undrafted free agent in 2014. Last year, Ferentz played in 15 games (two starts) with the Patriots, who had to shuffle through different options at center due to health issues.
This season, New England has had to deal with more injury issues at the pivot position. Starting center David Andrews landed on IR on Sept. 26 after undergoing surgery to repair his broken thumb.
That forced the Patriots to slide left guard Joe Thuney over to center in Week 3. However, against the Chiefs, Ferentz drew the start, as Thuney moved back to his more familiar spot. But after playing all 75 offensive snaps against Kansas City, Ferentz will no longer be available to man a critical position along the offensive line.
Though Newton's return boosts New England's chances of beating Denver, the loss of a projected starter just days before kickoff certainly doesn't help.
Who will start at center with James Ferentz out?
With James Ferentz getting placed on the reserve/COVID-19 list, the Patriots will have to reshuffle their offensive line. But thanks to Bill Belichick's most recent draft class, New England should be able to survive its latest personnel loss.
The Patriots could easily slide Thuney back over to center this week. The fifth-year pro played well against the Raiders and ranks as New England's best overall offensive lineman.
Normally, moving a star player from one position to another would be a risky bet. However, the Patriots have the luxury of having a starting-caliber replacement in the form of Michael Onwenu.
Tipping the scales at 6-foot-3, 350 pounds, the sixth-round rookie has quickly become a household name in New England. After starting the season as a depth piece, Onwenu has played every offensive snap in each of the last two games. His power provides the Patriots with a devastating run-blocking force at guard.
Overall, the loss of James Ferentz certainly hurts New England's depth. But as long as Onwenu continues to play at a high level, the team should still be in a good position to beat Denver on Sunday.
Once again, though, COVID-19 has presented another challenge for the Patriots to overcome. Let's see if New England can earn its third victory of the season despite losing another player to the coronavirus.
All statistics courtesy of Pro Football Reference.