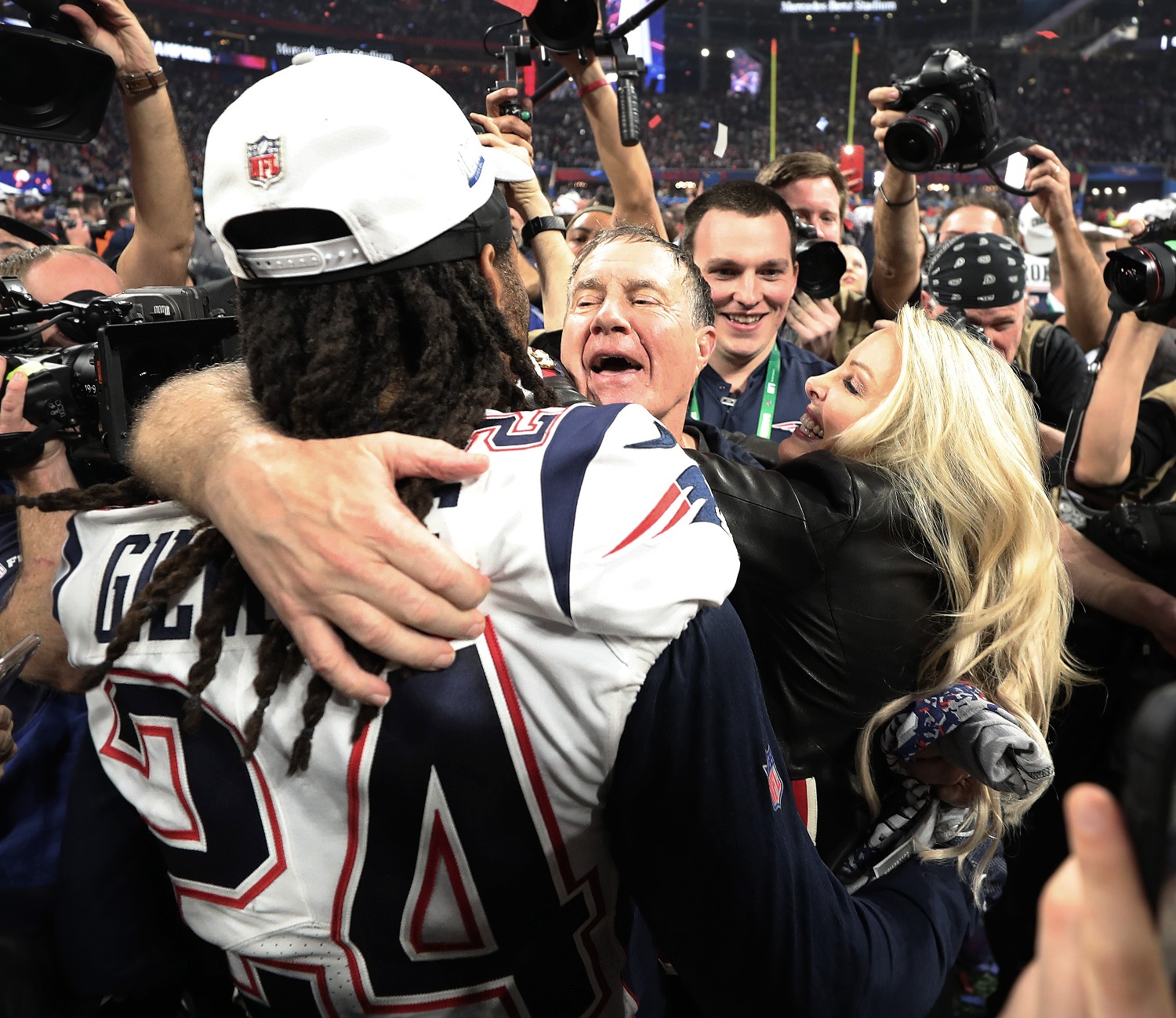 Bill Belichick Just Showed Stephon Gilmore a $5 Million Sign of Respect
Bill Belichick may be known for cutting costs, but he just showed Patriots corner Stephon Gilmore a $5 million sign of respect.
Bill Belichick failed to lure Aqib Talib for $6 million, but he can still sleep soundly knowing he has Stephon Gilmore anchoring his secondary. Since joining the New England Patriots in 2017, Gilmore has gone from a fringe Pro Bowler to the NFL Defensive Player of the Year. And on Friday, Belichick showed his best player a $5 million sign of respect that illustrates just how valuable Gilmore is to the Patriots' success.
Stephon Gilmore has been a star for the Patriots
Bill Belichick rarely spends big in free agency. During his two-decade tenure in New England, he has often built his team through savvy bargain buys rather than expensive long-term contracts. However, Belichick broke that mold when he signed Stephon Gilmore to a five-year, $65 million contract.
Having played against the talented corner for years, the Patriots did well to steal Gilmore away from the Buffalo Bills. Yet, his first year in New England did not go exactly as planned. Gilmore recorded just two interceptions in 13 games and struggled to acclimate to the defense early in the season. He did turn things around by the time the playoffs rolled around.
Entering the 2018 season, Gilmore faced a ton of pressure to justify his lucrative contract. He responded by earning first-team All-Pro honors after swatting away 20 passes. Gilmore's sticky coverage skills helped the Patriots shut down opposing passing attacks en route to their sixth Super Bowl title.
Last season, the 6-foot-1, 202-pound corner took his game to another level. As part of a star-studded secondary, Gilmore thoroughly dominated by leading the NFL in interceptions (six) and passes defended (20). Though New England failed to defend its Super Bowl title, Belichick's $65 million corner earned NFL Defensive Player of the Year honors.
Bill Belichick shows his best player a $5 million sign of respect
Bill Belichick often gets criticized for letting talented players leave New England over money. After all, he traded long-term fixtures such as Richard Seymour, Logan Mankins, Chandler Jones, and Jamie Collins due in large part to contractual issues.
However, on Friday, Belichick did the complete opposite. With several corners recently scoring massive contracts, the Patriots head coach showed Stephon Gilmore a $5 million sign of respect by bumping his 2020 salary from $10.5 million to $15.5 million. According to Adam Schefter, the two-time first-team All-Pro can earn another $2 million this season if he wins the NFL Defensive Player of the Year Award again.
By giving his best player a significant raise, Belichick ensured that Gilmore's salary reflects his standing as one of the league's best players. Jalen Ramsey just reset the cornerback market with a five-year deal averaging $20 million per year. Tre'Davious White and Byron Jones also scored huge contracts this offseason that put them well above Gilmore's 2020 payday.
However, thanks to a $5 million raise from Belichick, Gilmore's $15.5 million salary vaults him back into the top-five highest-paid corners in the league this season.
Gilmore anchors a strong secondary that will be tested in 2020
Bill Belichick did right by Stephon Gilmore to give him a $5 million raise. Now it will be up to the soon-to-be 30-year-old to prove his coach correct for that expensive sign of respect. As the Patriots play their first season without Tom Brady, their playoff hopes rest largely on a secondary teeming with talent.
Gilmore headlines a star-studded group that features both proven veterans and young players with significant upside. Third-year pro J.C. Jackson could earn a raise himself if he continues to shut down receivers like his highly-paid teammate. The former undrafted free agent has quietly become one of the NFL's premier corners thanks to his aggressive, physical style of play.
New England's secondary also features the McCourty twins, star slot corner Jonathan Jones, and a pair of intriguing prospects in Joejuan Williams and Kyle Dugger. And based on their schedule, the Patriots will need everyone on the back end to step up this season.
While the Patriots have a favorable matchup in Week 1 against Ryan Fitzpatrick and the Miami Dolphins, they will face a bevy of talented quarterbacks the rest of the season:
Russell Wilson (Week 2)
Patrick Mahomes (Week 4)
Jimmy Garoppolo (Week 7)
Lamar Jackson (Week 10)
Deshaun Watson (Week 11)
Kyler Murray (Week 12)
It will take another All-Pro effort from Stephon Gilmore to combat some of those electrifying dual-threat quarterbacks. But based on his first three years in New England, he should have no trouble living up to expectations.
After all, Bill Belichick doesn't just hand $5 million to anybody.
All statistics courtesy of Pro Football Reference.