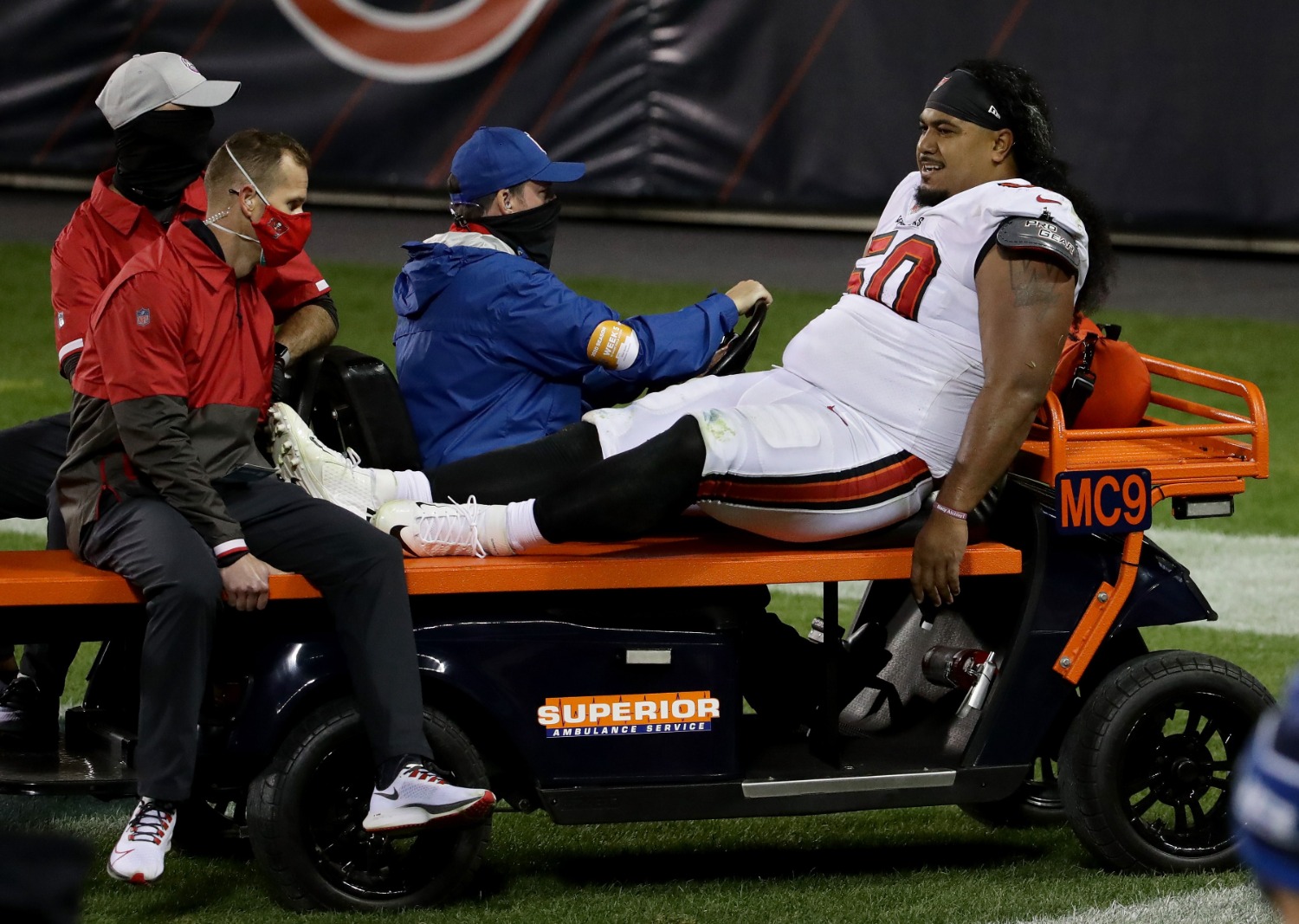 The Tampa Bay Buccaneers Just Lost Their $14 Million Breakout Star
The Tampa Bay Buccaneers suffered a brutal injury blow on Thursday. Breakout star Vita Vea fractured his ankle and is done for the season.
The Tampa Bay Buccaneers suffered more than just a loss on the field on Thursday night. The team also lost one of its biggest breakout stars to a season-ending injury. Can Bruce Arians find a way to replace Vita Vea in the lineup? Or will his absence result in a steep drop-off from the Buccaneers' top-10 defense?
Vita Vea has quickly developed into an elite defensive tackle
Following a dominant three-year career at the University of Washington, Vita Vea entered the 2018 NFL draft as one of the top defensive prospects. The Buccaneers selected the 6-foot-4, 347-pound nose tackle with the 12th overall pick and signed Vea to a four-year, $14.8 million contract that included a signing bonus of nearly $9 million.
Though a calf injury forced him to miss the first three games of his rookie season, Vea returned to start eight games. Thanks to his rare combination of size, strength, and athleticism, he racked up 28 tackles and three sacks.
In his second season in the league, Vea started to showcase dominant ability. He finished the year with 29 tackles, 1.5 sacks, and three passes defended. Tampa's burly nose tackle even caught a touchdown pass, making him the heaviest player in NFL history to accomplish that feat.
After two years of solid play, Vea entered the 2020 season with a chance to emerge as an elite player. And in his first four games, he showed why he could be a perennial Pro Bowler in short order.
With Vea anchoring a talented front seven, the Buccaneers allowed just 257 total rushing yards through four weeks. The third-year pro dominated Denver's offensive line in Week 3, as he recorded a sack, two quarterback hits, and a tackle for loss in Tampa's 28-10 victory.
The Buccaneers lose their $14 million breakout star
Facing an improved Chicago Bears offensive line on Thursday night, Vita Vea enjoyed one of the most impressive performances of his career. He racked up a sack, a quarterback hit, and a tackle for loss before getting carted off with what appeared to be a serious leg injury.
On Friday, Buccaneers fans got the worst possible news about the team's breakout star. In speaking with the media, head coach Bruce Arians said Vea broke his leg and will probably miss the rest of the season. According to Scott Smith, a senior writer/editor for the Buccaneers, Arians characterized the situation as a "big, big loss."
From both an individual and team perspective, Vea's injury represents a brutal blow. In the midst of a breakout campaign, Vea could have positioned himself for a lucrative contract extension this offseason. Instead, he will have to go through rehab and prepare his body for next season coming off a serious injury.
For the Bucs, losing an elite player at any position is not an ideal scenario. And in this case, Vea's absence could have a detrimental effect on a unit that will now rely upon a former late-round pick to man the nose tackle spot.
Tampa needs Rakeem Nunez-Roches to step up
While Vita Vea entered the NFL as a first-round pick, his replacement, Rakeem Nunez-Roches, had to wait much longer to hear his name called. The former Southern Mississippi star got selected in the sixth round of the 2015 NFL draft by the Kansas City Chiefs. The 6-foot-2, 307-pounder started 16 games across three seasons with the defending Super Bowl champions.
After a brief stint with the Indianapolis Colts in which he did not play a single game, Nunez-Roches joined the Buccaneers. After playing just three games in 2018, he played 26% of the team's defensive snaps last season.
Now, though, the 27-year-old will have to prove he can handle a full-time role. The Belize native does not offer the same skill set as Vita (perhaps no NFL player does), but he at least brings starting experience to the table. Plus, the Buccaneers have plenty of proven commodities on that side of the ball, including Ndamukong Suh, Lavonte David, and Jason Pierre-Paul.
Moving forward, it will be interesting to see if Tampa continues to shut down the run at an elite rate. Through five games, the Buccaneers boast the NFL's second-best run defense (58.4 yards per game) and the No. 8 scoring defense. Will they maintain that pace without Vita Vea?
The Buccaneers will learn the answer to that question next Sunday when they host Aaron Rodgers and the Packers at Raymond James Stadium.
All contract data courtesy of Spotrac. All statistics courtesy of Pro Football Reference.