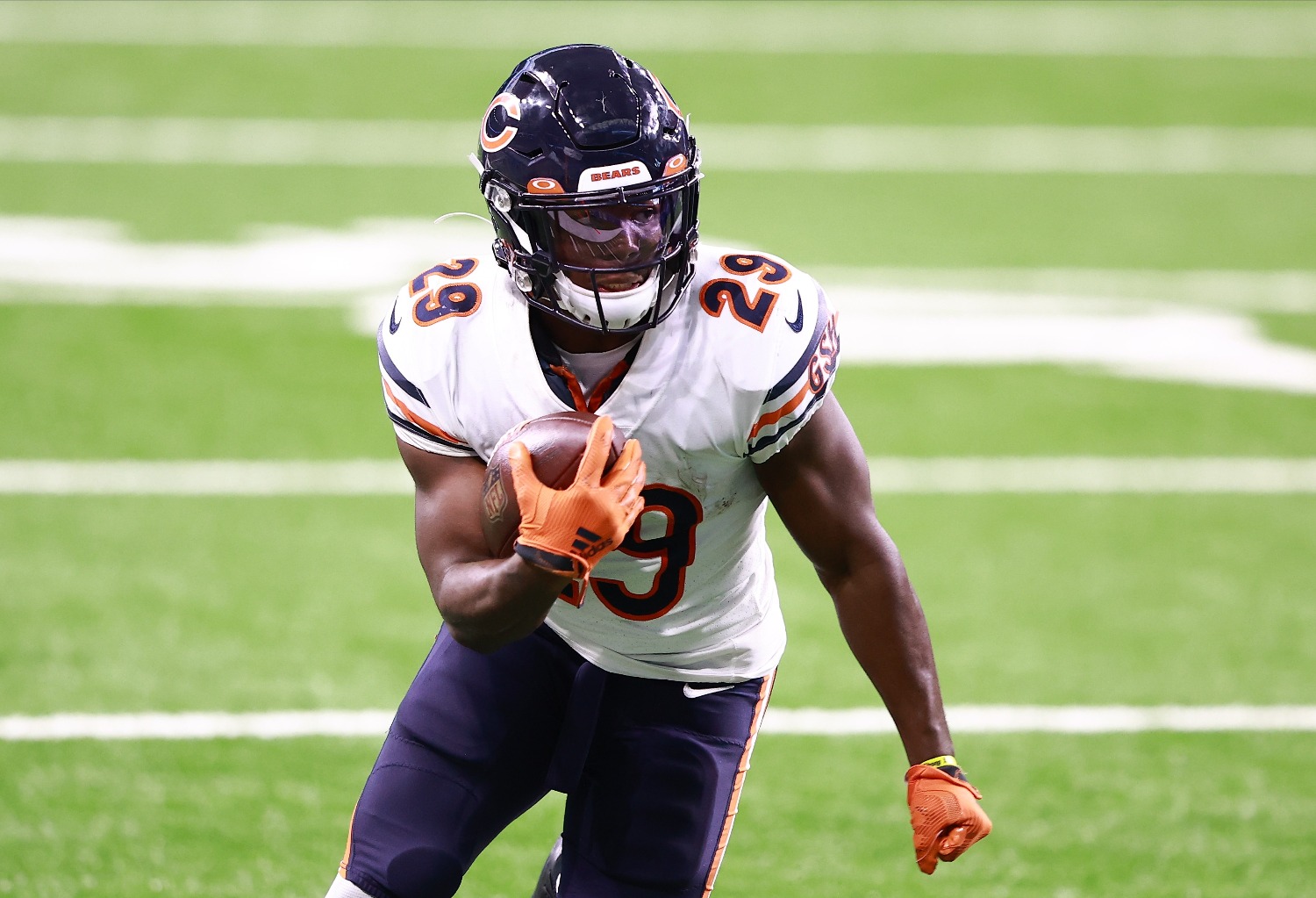 The Chicago Bears Just Lost Their $17 Million Offensive Weapon
Just a week after signing a lucrative contract extension, Chicago Bears RB Tarik Cohen suffered a torn ACL that ends his 2020 season.
As the Chicago Bears deal with their quarterback conundrum, Matt Nagy also has to replace one of his top weapons. In Sunday's dramatic win against the Atlanta Falcons, versatile running back Tarik Cohen suffered a torn ACL.
With their recently-paid playmaker out for the year, the Bears' offensive struggles could get actually get worse. After all, when you throw Cohen's injury on top of a shaky quarterback situation, Chicago appears headed for some dismal days on offense.
Tarik Cohen went from a fourth-round pick to a $17 million playmaker
Tipping the scales at 5-foot-6, 181 pounds, Tarik Cohen certainly does not boast the typical size of an NFL player. Yet, the speedy tailback has become one of the Bears' most valuable players thanks to his versatile skill set.
After entering the league as the 119th overall pick of the 2017 NFL draft, Cohen split carries with Jordan Howard. While the latter provided a powerful, downhill approach, Cohen's quickness and ability to make defenders miss gave the Bears a new element on offense.
The former North Carolina A&T star showed dynamic ability as a rookie. Cohen recorded 370 rushing yards and two touchdowns on 87 carries. He finished second on the team with 53 receptions. He also returned one punt for a touchdown and averaged 22.4 yards on 26 kick returns.
In 2018, Cohen took his game to another level. He led the NFL in punt return yardage while also setting career-highs in rushing yards (440) and receiving yards (725). The second-year pro earned first-team All-Pro honors as a return specialist and also got named to his first Pro Bowl team.
Last season, Cohen once again proved to be a critical component of Chicago's offense. He started 11 games and finished the season with nearly 1,000 all-purpose yards.
Entering a contract year, the Bears locked up their key weapon to a three-year, $17.25 million contract extension on Sept. 20. However, the 25-year-old won't get a chance to live up to that deal. At least, not this season.
Chicago loses Cohen to a torn ACL
Sunday will go down as both a joyous and painful one for Bears fans. On one hand, the team staged an improbable comeback against the Falcons that ended in a stunning 30-26 victory. The win did come at a cost, though.
Tarik Cohen left Sunday's game with what appeared to be an injury to his right leg. In speaking with the media on Monday, Matt Nagy delivered devastating news to Bears fans. Cohen suffered a torn ACL and will miss the remainder of the season.
Considering he just signed a lucrative extension a week ago, at least Cohen scored a life-changing payday before sustaining a potentially career-altering injury. Still, from a team perspective, his absence leaves Chicago short-handed on offense. And given their issues at the most important position in football, the Bears' offense could be in for some long days at the office.
The Bears have major issues on offense
Losing Tarik Cohen represents a brutal blow to the Bears' offense. But Chicago has an even bigger issue to solve: finding a starting quarterback.
Somehow, despite spending millions of dollars and valuable draft capital, the Bears still don't have a clear-cut QB1. Mitchell Trubisky entered the season with enormous pressure to prove he deserves a contract extension. So far, he he has failed miserably in that regard.
Trubisky looked solid in Week 1, as he threw for three touchdowns in Chicago's 27-23 win against Detroit. However, he threw two interceptions in Week 2 before throwing another pick on Sunday. Nagy elected to bench the former No. 2 pick in favor of Foles, who threw three fourth-quarter touchdown passes to cap off an impressive comeback.
On Monday, Nagy confirmed that Foles will start against the Indianapolis Colts on Sunday. While the veteran has experienced success before, he still does not seem like much of an upgrade over Trubisky. Foles looked awful in four starts with the Jacksonville Jaguars last year before Ryan Pace swung a trade for the former Super Bowl hero.
Now, Foles will have to try and keep the Bears undefeated without one of the team's top playmakers. Can he succeed without Tarik Cohen out of the backfield? Does Chicago have enough weapons to elevate a quarterback who has never fully convinced a team to build around him?
Ultimately, it seems like the Bears are bound to struggle on offense once again. And if that's the case, not even Khalil Mack and a talented Chicago defense can carry this team to the playoffs.
All statistics courtesy of Pro Football Reference.