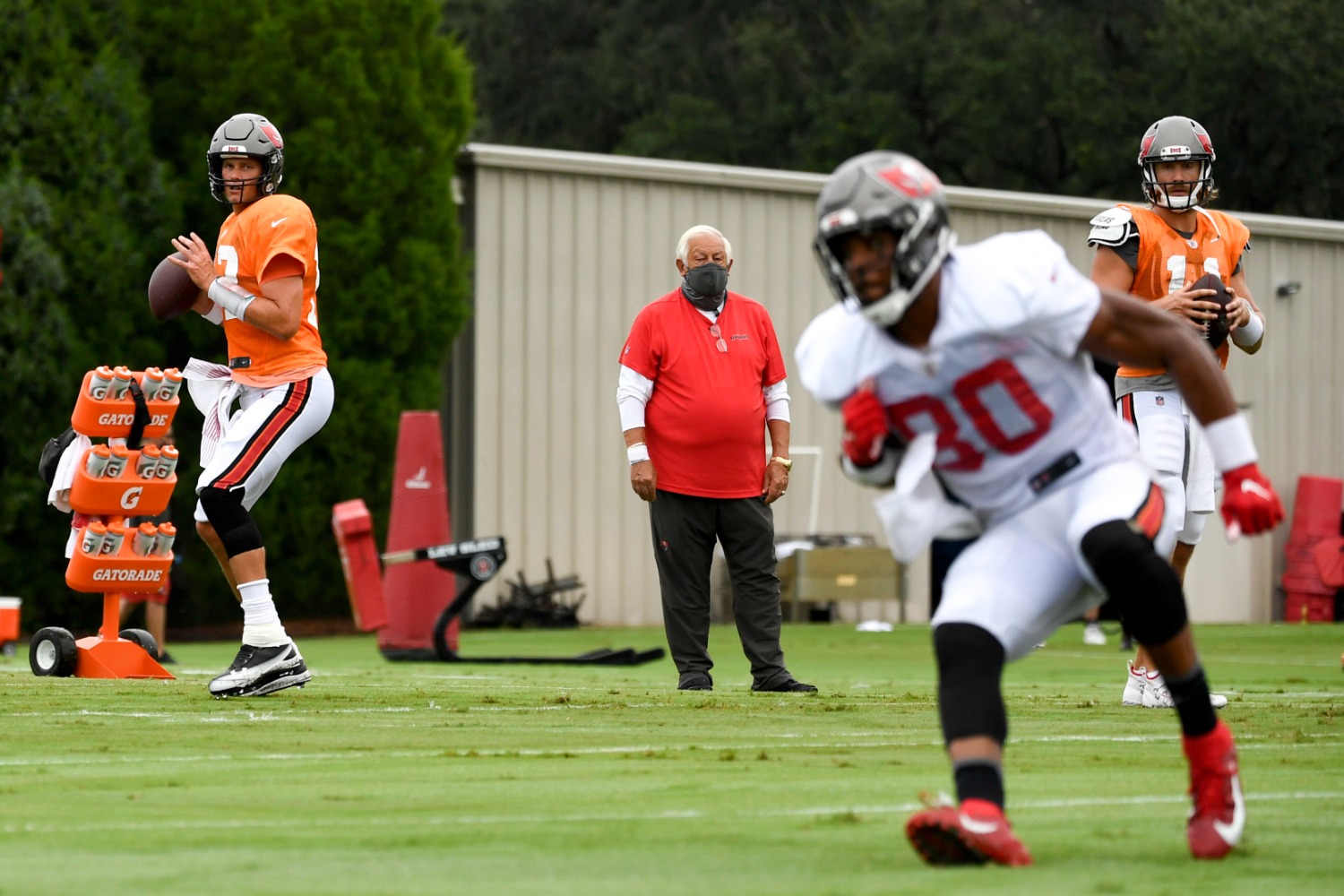 Tom Brady Just Suffered a Potential Setback to His Super Bowl Dream
Tom Brady just suffered a potential setback to his Super Bowl dream with Buccaneers TE O.J. Howard sustaining an Achilles injury.
When Tom Brady officially took his talents to the Tampa Bay Buccaneers, it immediately transformed one of the NFL's worst franchises into an overnight Super Bowl contender. Of course, it didn't hurt that the six-time champion joined a team loaded with talented playmakers. Thanks to a sizable upgrade in his weaponry, Brady has led the Buccaneers to a 3-1 record to start the season.
However, in Sunday's 38-31 comeback win against the Los Angeles Chargers, the man seeking his seventh Super Bowl ring suffered a potential setback to his Super Bowl dream. Now, Brady and the Buccaneers better hope Rob Gronkowski rediscovers his vintage form if they plan on hoisting the Lombardi Trophy in February.
Tom Brady has the Buccaneers looking like a Super Bowl contender
It certainly hasn't been perfect, but the Buccaneers have justified their Super Bowl hype through four games of the 2020 NFL season. Of course, it helps to have Tom Brady running the show instead of Jameis Winston. Even at 43 years old, the longtime New England Patriots quarterback looks more than capable of leading his new team on a title run.
After a disappointing Week 1 performance against the New Orleans Saints, Brady and the Buccaneers earned a 31-17 victory against the Carolina Panthers in Week 2. However, after posting a dismal 80.3 quarterback rating against Carolina, Brady rediscovered his vintage form in each of the last two weeks.
The future Hall of Fame torched the Denver Broncos to the tune of 297 passing yards and three touchdowns. Though many pointed to Rob Gronkowski's lack of production in the passing game, some of that had to do with the emergence of O.J. Howard. In Tampa's first three games, the 2017 first-round pick racked up eight catches for 96 yards and a touchdown.
Heading into Sunday's matchup against the Chargers, the fourth-year tight end looked to build off a solid start to the season.
Brady suffers potential setback to his Super Bowl dream
Tom Brady may have staged an epic comeback against the Chargers, but Sunday's win came at a sizable cost. Though O.J. Howard caught three passes for 50 yards and a touchdown, the former Alabama star did not make it through the game unscathed. In speaking about his tight end during his postgame press conference, head coach Bruce Arians said, "Looks like he has a ruptured Achilles and will probably be done for the year."
For Brady, Howard's injury represents a massive blow to his dream of capturing a Super Bowl title with the Buccaneers. The 25-year-old tight end has played an integral role in the passing game this year. In fact, he ranks third on the team in targets (19) and receiving yards (146). Among all of the Buccaneers' talented weapons, only Howard and Mike Evans have caught multiple touchdowns through four games.
Losing such an important member of the offense will surely set the Buccaneers back. But if Tampa plans on making a deep playoff run, it better hope Brady's best friend finds the fountain of youth quickly.
O.J. Howard's injury puts the pressure on Rob Gronkowski to rediscover his prime form
O.J. Howard finally started to build some momentum after a rather nondescript start to his career. However, Rob Gronkowski has failed to live up to the hype after coming out of retirement. The former Patriots star has totaled just nine catches for 88 yards through four games. While Howard's athleticism allows him to gain easy separation, Gronkowski no longer possesses the burst or explosion necessary to beat defenders on a consistent basis.
But with his understudy likely done for the year, that puts the pressure on Gronk to play like Gronk again. Just don't hold your breath on that happening.
At 31 years old, the five-time Pro Bowler does not have Father Time on his side. Plus, Gronkowski sustained numerous injuries during his nine-year run in New England. Even after taking a year off from football, he still struggles to get open—something that became apparent in his final year with the Patriots.
Luckily for Tom Brady, nobody knows Gronk better than No. 12. But while the TB12 method seems to have kept the legendary QB from experiencing a dramatic drop-off, all the avocado smoothies and soft-tissue work can't suddenly make Gronk run a 4.7 again.
Ultimately, the Buccaneers need the future Hall of Famer to find his prime form if they want to avoid a major setback on offense. But in 2020, O.J. Howard is a better player than Rob Gronkowski. And at this point, it seems like a risky bet to believe the latter will somehow revert back to being the most difficult one-on-one matchup in the league.
Plus, will a player with an extensive injury history even survive the season in a more expanded role?
There's still a long way to go, but for now, Tom Brady's Super Bowl dreams just suffered a major blow with O.J. Howard's Achilles injury.
All statistics courtesy of Pro Football Reference.