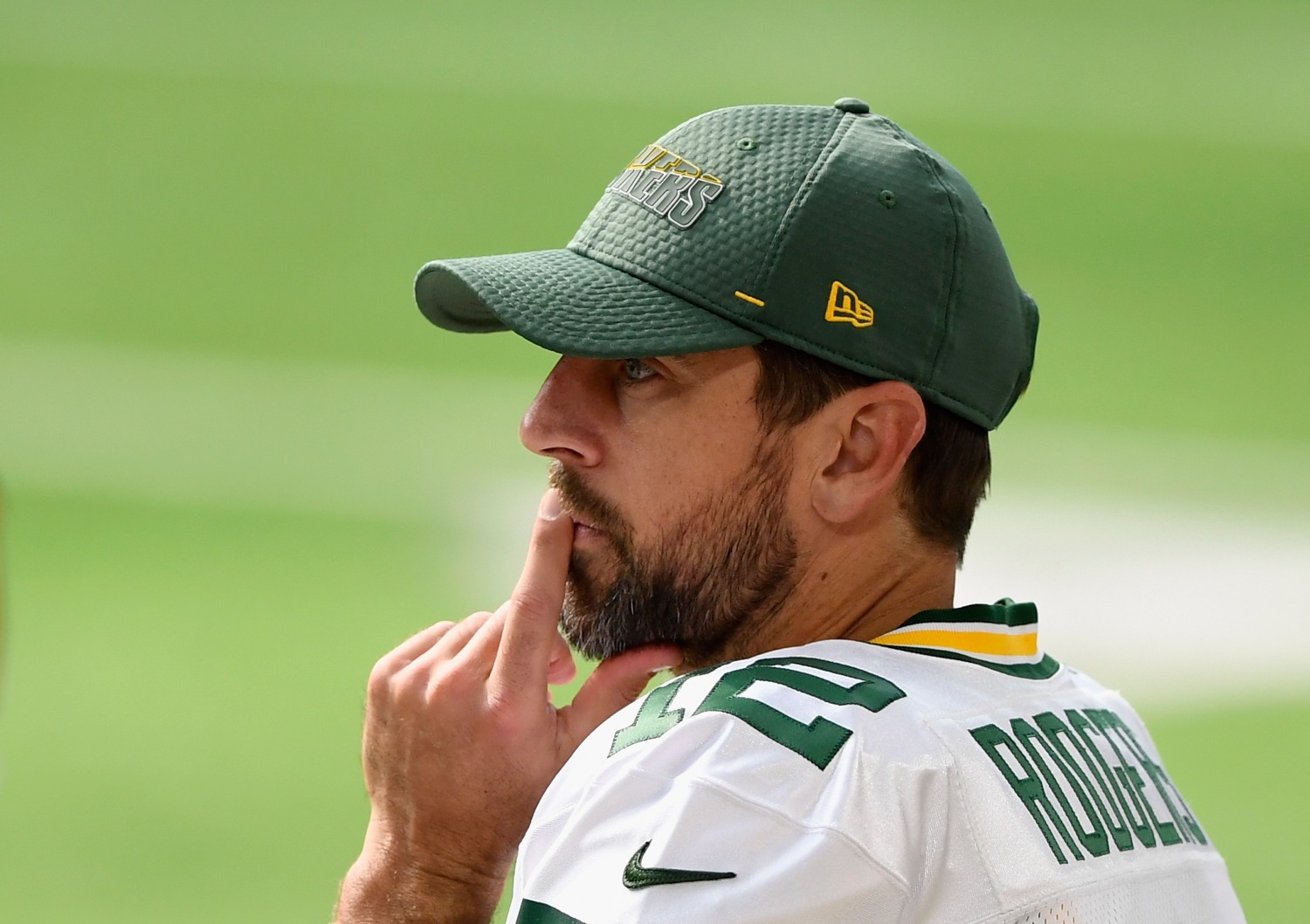 Aaron Rodgers Just Suffered a Major Blow to His MVP Campaign
Aaron Rodgers just suffered a major blow to his MVP campaign with Packers WR Allen Lazard out indefinitely after undergoing surgery.
Heading into the 2020 NFL season, Aaron Rodgers faced some doubts about his future with the Green Bay Packers. After all, the team surprisingly selected Jordan Love in the first round—a player who could take Rodgers' job rather than make it easier.
Yet, through three games, the 36-year-old quarterback has proven he has plenty left in the tank. However, Rodgers just suffered a major blow to his MVP campaign. Now, the former Super Bowl champion must overcome yet another injury to his receiving corps as he tries to keep the Packers undefeated.
Aaron Rodgers is off to a scorching start
Coming off a down year by his standards, Aaron Rodgers has wasted no time showcasing why he will be a first-ballot Hall of Famer one day. In Week 1, he torched the Minnesota Vikings to the tune of 364 yards and four touchdowns. Rodgers connected on 72% of his passes in the 43-34 season-opening victory.
In Week 2, he put together another solid day at the office. Though Rodgers was not quite as efficient, he still played turnover-free football and finished the afternoon with two more passing touchdowns.
Facing a talented New Orleans Saints defense on Sunday, Rodgers had to play without his top weapon, Davante Adams. With his star receiver sidelined with a hamstring injury, the two-time NFL MVP still found a way to throw for 283 yards and three touchdowns in a 37-30 win. Of course, he got tremendous help from Allen Lazard, who caught six passes for 146 yards and a touchdown.
With nine touchdowns, zero interceptions, and a quarterback rating of 121.1, Rodgers has performed at an MVP level through the first three weeks of the season.
Rodgers suffers a major blow to his MVP campaign
For years, Packers fans have clamored for the team to draft an early-round receiver for Aaron Rodgers. Yet, Green Bay opted to select a quarterback with its first-round pick back in April. Now, the Packers may regret not adding a premier pass-catching talent for their franchise QB.
On Thursday night, Adam Schefter reported via Twitter that Allen Lazard underwent core muscle surgery and will be out indefinitely. In a cruel twist of fate, the news comes just days after the 24-year-old enjoyed his most impactful game of his short NFL career.
For Rodgers, Lazard's injury represents a major blow to his MVP campaign. The 6-foot-5, 227-pound wideout leads the team in receiving yards (254) and ranks second in receptions (13). Plus, with Adams sidelined, Lazard's breakout performance gave Packers fans hope that the team could survive without Rodgers' top target in the lineup.
Now, though, No. 12 will be without his big-bodied breakout receiver for what seems like a significant amount of time. And given their razor-thin depth at the position, it will be difficult for Rodgers to maintain his MVP pace if he does not have reliable receivers available.
Can the Packers survive the loss of Allen Lazard?
Aaron Rodgers may look like an MVP candidate now, but that conversation could change rather quickly if the Packers cannot replace Allen Lazard's production.
With Adams battling his way back from a hamstring ailment, and with Lazard out indefinitely, Green Bay will have to rely on the likes of Marquez Valdes-Scantling, Darrius Shepherd, and Malik Taylor to pick up the slack. Let's just say that group does not strike fear into defenses quite like the duo of Adams and Lazard.
The Packers could elect to go with a more run-based offense moving forward. Aaron Jones and Jamaal Williams form one of the league's top running back tandems. Rookie A.J. Dillon brings excellent size and power to the equation. Plus, the Packers' offensive line quietly ranks as one of the NFL's better units.
Still, for Rodgers, losing Lazard makes his job much more difficult. He no longer has a reliable target with a wide catch radius to turn to in critical moments. Lazard's absence could also lead to some struggles in the red zone, as his frame and length make him a dangerous option on fade routes and one-on-one jump-ball opportunities.
Ultimately, Green Bay may have to explore the free-agent market or look for a trade partner to ease the loss of Lazard. But for now, it looks like Aaron Rodgers' MVP campaign just suffered a major blow.
Let's see if the Packers find a way to replace one of their key weapons in order to keep their star quarterback thriving.
If not, don't expect Green Bay to remain undefeated much longer.
All statistics courtesy of Pro Football Reference.