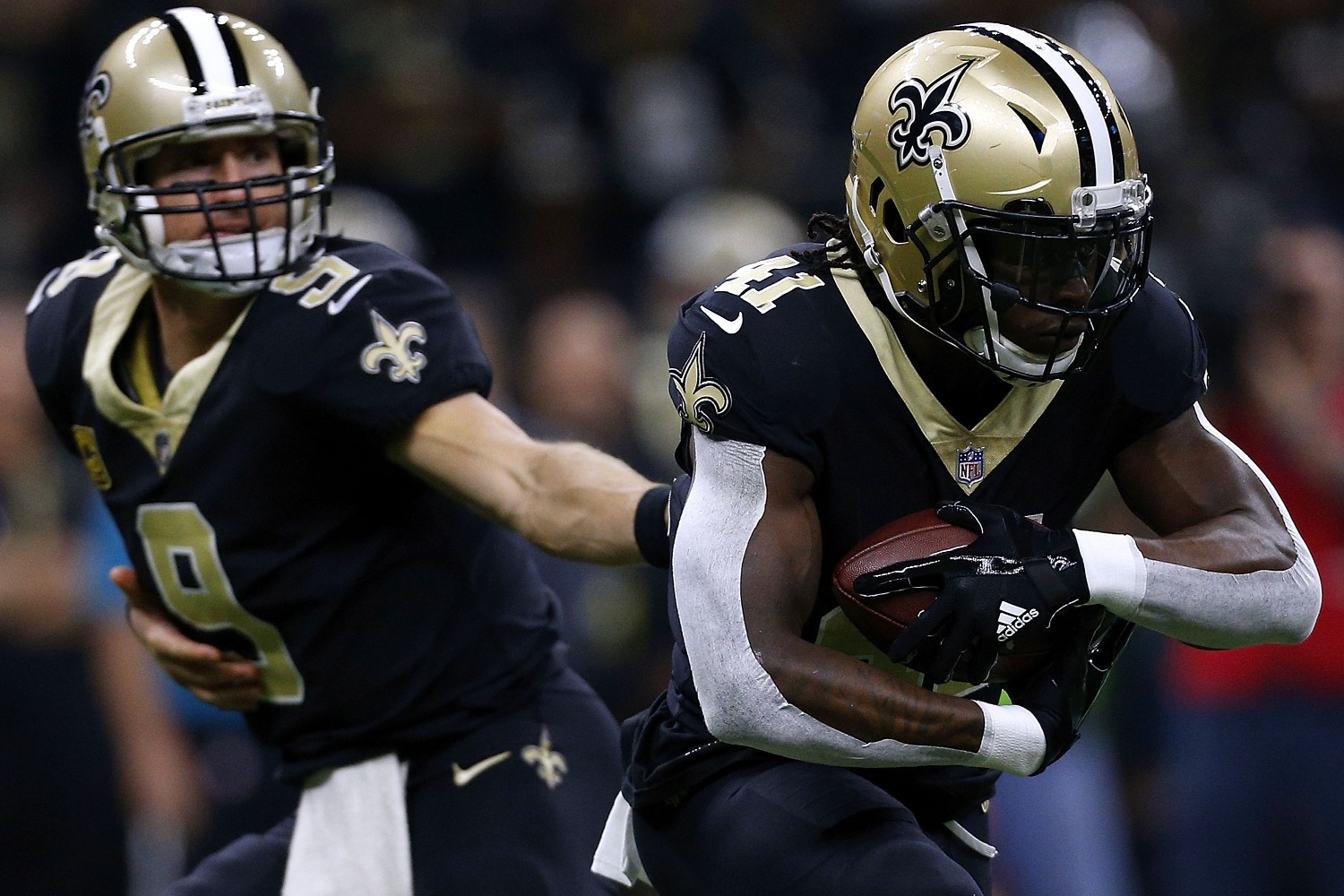 The Saints Just Sent a $75 Million Message About Their Future After Drew Brees
The New Orleans Saints sent a $75 million message about their future by ensuring Alvin Kamara will remain a key part of the offense.
With Drew Brees on the cusp of retirement, the future of the New Orleans Saints hangs in the balance. Even with Jameis Winston and Taysom Hill on the roster, nobody knows exactly what the team will look like when No. 9 calls it a career. However, on Saturday, the Saints sent a $75 million message about their future by ensuring Alvin Kamara will remain a fixture on offense for years to come.
Alvin Kamara has been a star for the Saints
Turn back the clock to the 2017 NFL draft. The Saints put together one of the most impressive draft classes of the last decade. While Marshon Lattimore and Ryan Ramczyk went off the board in the first round, New Orleans found a third-round steal in Alvin Kamara.
Of course, Kamara did not exactly enter the draft with a ton of hype. After signing with the University of Alabama out of high school, he transferred to a community college before taking his talents to the University of Tennessee. Kamara never became a full-time player and left the Volunteers with just under 1,300 rushing yards on his resume.
Still, the Saints saw his potential and took a gamble on the Georgia native. Kamara responded with a dominant rookie campaign that included 1,554 yards from scrimmage and 13 total touchdowns. He followed up with an even better second season. In 2018, Kamara totaled 883 yards and 14 touchdowns on the ground while adding another 709 yards and four TDs as a pass-catcher.
However, even though he earned his third straight Pro Bowl berth, Kamara did not live up to expectations in 2019. Injuries limited his effectiveness, as he averaged just 5.3 yards per touch—a far cry from the 7.7 mark he put up as a rookie.
New Orleans sends a $75 million message about their future
With three Pro Bowl campaigns on his resume, Alvin Kamara entered the offseason seeking a lucrative contract extension. Considering he's made just over $5.2 million in his three-year NFL career, his performance certainly warranted a pay raise.
Despite discussions about a possible holdout or trade, the Saints sent a clear message about the future of their franchise on Saturday. Rather than moving one of their top weapons, New Orleans locked up Kamara on a five-year, $75 million extension. According to Adam Schefter, the deal includes $34.333 million guaranteed.
For Kamara, the deal puts him among the league's highest-paid running backs. For the Saints, the $75 million contract ensures one of their most critical players will remain in New Orleans for years to come. Given Brees will likely retire after this season, the signing also sends a clear message about the future of the franchise.
Kamara and Michael Thomas will lead the offense when Drew Brees retires
By signing Alvin Kamara to a $75 million extension, the Saints signified that the future of the franchise rests on the abilities of their talented running back and fellow offensive star Michael Thomas. New Orleans already locked up the record-setting receiver on a five-year, $100 million extension last summer. With Kamara and Thomas under contract for years to come, the Saints have two elite playmakers to help whoever takes over for Brees.
Kamara needs to stay on the field and contribute more as a pure running back to live up to his massive deal. Though he has caught 81 passes in each of his first three seasons, Kamara has averaged only 161 carries per year. Elite running backs with elite contracts operate as the focal point of their respective offenses.
For example, Ezekiel Elliott played 83% of the Dallas Cowboys' offensive snaps in 2018 and 84% last season. Christian McCaffrey's snap percentage climbed from 70% as a rookie to 91% in 2018. Last year, the Carolina Panthers star earned first-team All-Pro honors after playing 93% of the team's offensive snaps.
Kamara has surprisingly not played a ton of snaps since entering the league three years ago. As a rookie, he played only 45% of the team's offensive snaps. That number increased to 63% in 2018 before dipping to 59% a year ago.
Based on his contract, Alvin Kamara needs to take on a more prominent role moving forward. Along with Thomas, he will be the key to New Orleans staying atop the NFC South when Brees retires. Let's just see if he avoids becoming the latest running back to disappoint after signing a massive contract extension.
All statistics courtesy of College Football Reference and Pro Football Reference.