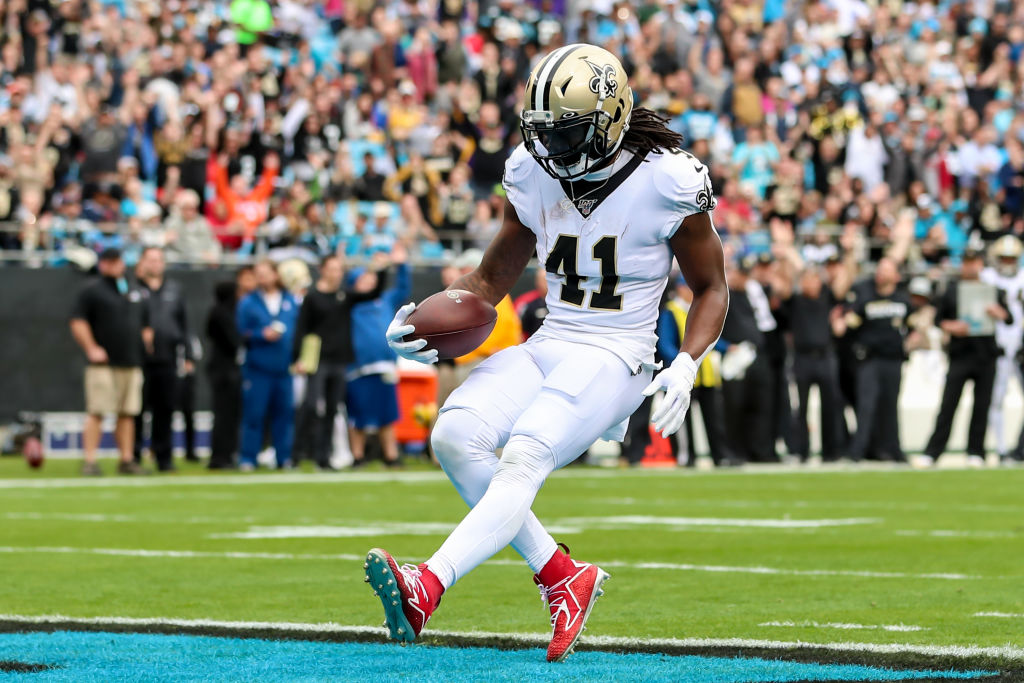 NASCAR's Newest Fan and NFL Star Alvin Kamara Provides Hilarious Commentary During Races
New Orleans Saints running back Alvin Kamara attended his first NASCAR race this weekend and provided a humorous commentary throughout the day's activities.
When NASCAR announced it was banning all confederate flags from races going forward, the move made headlines. For three-time Pro Bowl running back Alvin Kamara, NASCAR's decision served as an invitation to check out the sport in the future. That's precisely what the Saints running back did this weekend in Florida and based on his social media accounts, NASCAR has a new fan.
Bubba Wallace calls for ban and NASCAR changes
Since the death of George Floyd, Bubba Wallace, the lone black driver on the NASCAR Cup Series, has served as the unofficial spokesman for NASCAR and has joined the national conversation on racial injustice and police brutality.  
In addition to discussing racial issues with his fellow drivers and others within the NASCAR community, Wallace has made the media rounds talking about what it's like being a black driver in the predominantly-white sport and identified changes he hoped might happen in the future. In an interview on CNN, Wallace suggested removing the confederate flag would be a good place to start.
Just two days later, NASCAR announced it would no longer permit the flags at future races. "The presence of the confederate flag at NASCAR events runs contrary to our commitment to providing a welcoming and inclusive environment for all fans, our competitors and our industry. Bringing people together around a love for racing and the community that it creates is what makes our fans and sport special. The display of the confederate flag will be prohibited from all NASCAR events and properties." 
Pro bowl running back Alvin Kamara becomes a fan of NASCAR
Within a couple of hours of NASCAR's announcement on Twitter, New Orleans Saints running back Alvin Kamara responded with a simple—"when the next race?" He didn't stop there. Later that night Kamara live-tweeted the NASCAR race at Martinsville.
NASCAR's decision had already drawn in one fan who just happened to be one of the best backs in the NFL. Kamara, who trains during the offseason in Miami, then received an invite from NASCAR to attend the weekend race. 
This weekend Kamara was one of a few select fans allowed to attend the races. Since NASCAR returned to action following the pause due to the pandemic, there have been no fans permitted until this weekend's races.
Alvin Kamara provides hilarious commentary during races
Once at Homestead-Miami Speedway and decked out in his No. 43 Bubba Wallace gear, Kamara said he was excited to attend his first race but admitted there was a learning curve.
In another tweet, Kamara, who knows a thing or two about yardages and distances, was impressed by the size of the track. 
Kamara, who received VIP treatment and watched most of the races from the closed quarters of the air-conditioned press box, was equally impressed when he stepped outside to hear the roar of the engines. 
In the continuing NASCAR education of Alvin Kamara, he had a chance to learn what happens when it rains. His response was hilarious.
When the night was over and Denny Hamlin was victorious in the Cup Series race, Kamara expressed his thanks to NASCAR but most importantly said this wouldn't be his last race. 
Note to the NFL: this is how you make change and bring on new fans.