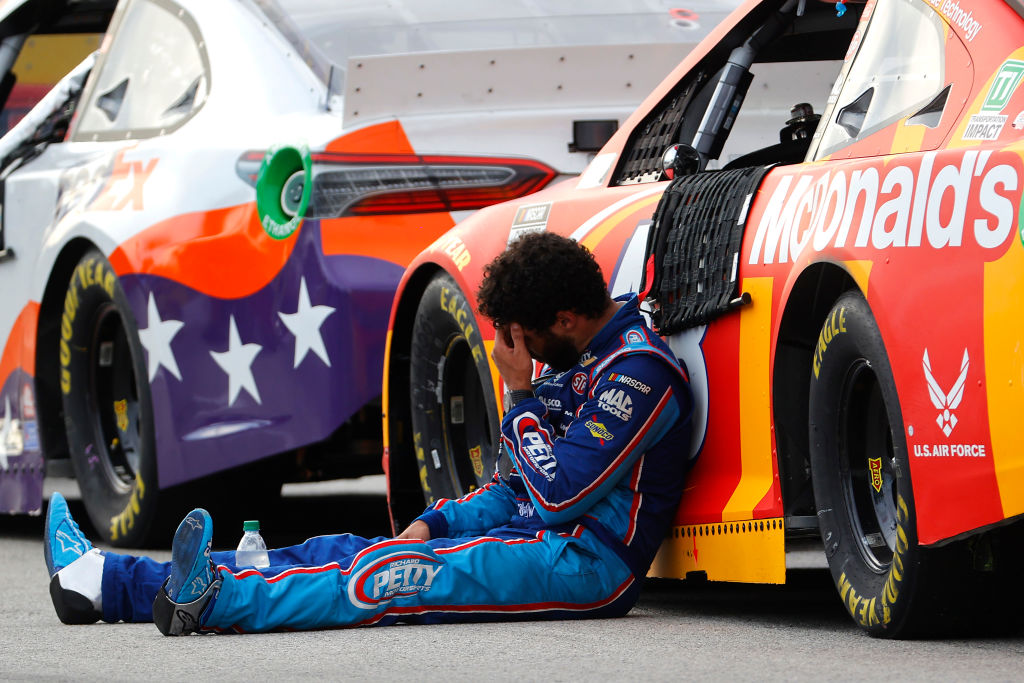 NASCAR's Bubba Wallace Has Scary Moment and Faints on Live TV
NASCAR's Bubba Wallace has endured a lot the last few weeks. It all caught up with him Sunday in Atlanta where he had a couple of fainting spells including one on live TV.
Bubba Wallace has been under considerable stress the last two weeks since the death of George Floyd. As the lone black driver for the NASCAR Cup Series, he's become the unofficial spokesperson for the racing series speaking out on racial issues while educating his fellow competitors on his own personal experiences.
In an interview following Sunday's race in Atlanta, a weary Wallace listened to the reporter's question but then failed to respond as he fainted mid-interview. It was a scary moment to watch on live television.
Bubba Wallace has been educating the NASCAR community
On Sunday's Fox broadcast of the NASCAR Folds of Honor Quik Trip 500 in Atlanta, the pre-race coverage joined the national conversation on racism and racial inequality and what is happening in cities across the country. One segment featured an interview with Bubba Wallace, the lone black driver on the NASCAR Cup Series.
Wallace discussed the past week of having meaningful conversations with fellow drivers like Chase Elliott and Ty Dillon and encouraging them to raise their voices. Wallace's segment concluded with the driver reading an emotional text he received from his mother the day after George Floyd died. 
"Good morning, I pray as the mom of a black son I never have to hear you crying out, I can't breathe. I love you, Bubba, and your life matters to me," Wallace read the text as he rubbed his eyes wiping away tears. 
Wallace has heavy conversation on podcast with Dale Jr. 
In addition to encouraging other drivers to speak out, Bubba Wallace has been active as well talking to various media outlets offering his perspective including a powerful interview on NASCAR legend Dale Earnhardt Jr.'s podcast Dale Jr. Download. In that interview, Wallace got emotional as he discussed recent events, how they affected him, and detailed his own experiences with racism.
Wallace paused before speaking on the recent death of Ahmaud Arbery in Georgia. 
"I've lost a race and lost it on the last lap and thought my heart was broken there. My heart was broken, and my stomach was ripped out of my body, seeing an unarmed black man hunted and shot and killed in broad daylight. What kind of world do we live in where we hunt people and take their life away because we assume that this is a black guy that's terrorizing our neighborhood? We're going to go kill him? What in the hell?"
Wallace also detailed how racism turned into a personal tragedy for his family when he was eight years old and his 18-year-old cousin, who was unarmed, was shot and killed by police on a routine traffic stop. You could tell Wallace's personal stories moved Earnhardt.
Bubba Wallace faints on live television  
After the Folds of Honor Quik Trip 500, Bubba Wallace was standing with several of his pit crew members when he got wobbly and collapsed. Several minutes later, he had another spell during the middle of an interview with Fox's Jamie Little.
With temps in the mid-to-upper 80s and summer-like humidities, fainting isn't unheard of, but not common. Wallace fainted following his first Cup Series race in 2017 at Pocono. Following today's on-air incident, Wallace was taken to the infield care center for treatment. Several hours later, he was released.
Wallace posted on Twitter several hours after the incident indicating he was fine.
It's hard to comprehend what Wallace has endured the last two weeks. After watching another unarmed black man die at the hands of police, witnessing protestors organize in cities across America, and listening to other top-level black athletes speak out against racism and social inequality, Wallace had to go to work on multiple fronts. 
Not only has he been vocal as the lone black driver of NASCAR, he's been telling and retelling the painful stories to drivers and the rest of the NASCAR family what he and his own family have endured for years, including the death of his 18-year-old cousin by an officer on a routine traffic stop.
Bubba Wallace is exhausted. It might be wise for him to take a week or two off from NASCAR to recharge. And during that time he will have a chance to refresh, and be prepared for the final push to the end of the NASCAR season, but more importantly ready to participate in an enduring effort that results in substantive change in overcoming racism and social inequality in America.