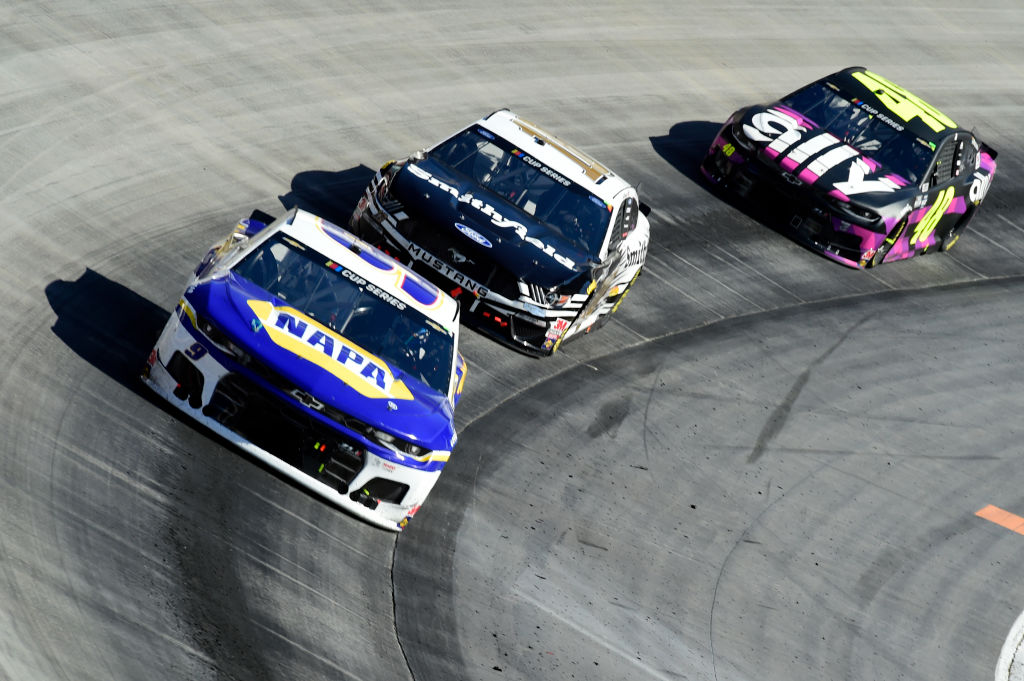 Young NASCAR Drivers Chase Elliott and Ty Dillon Using Platform to Address Social Issues
NASCAR's Chase Elliott and Ty Dillon are using their platform to speak out against social injustice as drivers in a sport not known for its diversity.
NASCAR is not known for its diversity. There's currently one black driver in the Cup Series in Bubba Wallace. That lack of diversity is part of the stock car racing culture and it's been like that since the very beginning. If NASCAR Cup Series drivers Chase Elliott, Ty Dillon, and other young drivers have their way, that's going to change in the very near future.
Kyle Larson makes racial slur and gets suspended
NASCAR has had problematic racist behavior within the organization in the not-so-distant past. With NASCAR suspended like the rest of the sports world due to the COVID-19 pandemic, Cup Series driver Kyle Larson joined other drivers online for NASCAR virtual races. During the race on April 12, Larson used a racial slur while streaming on Twitch. Larson didn't realize the other drivers and thousands of viewers watching could hear the slur.
NASCAR suspended Larson indefinitely the next day. The Chip Ganassi Racing team fired him. He then lost all of his primary sponsorships. Within days of his dismissal, Larson completed sensitivity training, a condition for any possible return to NASCAR and joining the World of Outlaws circuit.
Larson has since returned to dirt-track racing in Missouri and won the 40-lap Saturday night feature event his first weekend of racing.
Bubba Wallace encourages Chase Elliott to speak out
Bubba Wallace, the only African-American on the NASCAR Cup Series, told Dale Earnhardt Jr. on his Dale Jr. Download podcast this week how he has encouraged fellow NASCAR drivers like Chase Elliott to speak out as protests and demonstrations permeate cities across the nation. Wallace offered details of his text exchange with Elliott and their discussion on his star power and his ability to impact the NASCAR fan base.  
"I said 'Hey man, you're the biggest name in our sport right now, bud. Like it or not, you're the biggest name. And your voice carries over much more than mine in our sport.' I said 'don't be silent on this, please. Don't let it go under wraps.'"
Chase Elliott answered honestly.
"I know, it's tough to comment on, I've been trying to come up with something. What's really going to change?"
Wallace said he told the 24-year-old Elliott to imagine if he had two followers and one hated someone and the other was someone regularly discriminated against. Wallace suggested if Elliott spoke out on the subject, both of those people could potentially look at the world from a different perspective and change. In Wallace's final words to Elliott, he offered a powerful message. "I'm going to stand up for what's right. Imagine your words changing somebody else's life."
On Tuesday, Elliott participated in the #blackouttuesday. 
Ty Dillon embraces opportunity to advocate for change
Besides Bubba Wallace, Ty Dillon has been one of NASCAR's leading voices on social justice since the death of the unarmed black man, George Floyd, at the hands of Minneapolis police. Dillon delivered a lengthy Instagram post on Sunday where he said, "I never want to be seen as someone who is silent on the subject of racism and social injustice."
The next day, Dillon and Wallace had a video chat on Instagram where the two men discussed what is going on across the nation, and Wallace emotionally offered details of his own personal experiences. Dillon listened.
To hear the stories about how Bubba was treated in some of those situations and knowing Bubba's character and knowing him as a human being, that blew my mind because I would have never thought Bubba, as a person, would have gone through anything like that. But, I think that's just what it is. I think sometimes it's easy for us who don't know, as a white man or a white person, in general, we don't know these stories. We don't all the time ask the right questions to become informed.

Ty Dillon
Dillon said listening to the things Wallace has endured is painful, and it's time that we do something about it because when our time on earth is through, it's not about who won the most trophies.  
""For me, I can tell you about my heart on it and for me, I don't care if I ever win a race or a championship in my life or lose every follower I have on Instagram, but when my children grow older and I take my last breath, I want it to be made sure that I was on the right side of what I felt is going on in history. And that means way more than acquiring fame and trophies and wins. Those things all fade away. But the impact you had on human beings in your life, the relationship lasts forever. So, that's my heart behind this."
With outspoken voices like Elliott, Dillon, and Wallace, leading the charge on reform and consistently speaking out and connecting with the race fans, NASCAR is in good hands on and off the track.