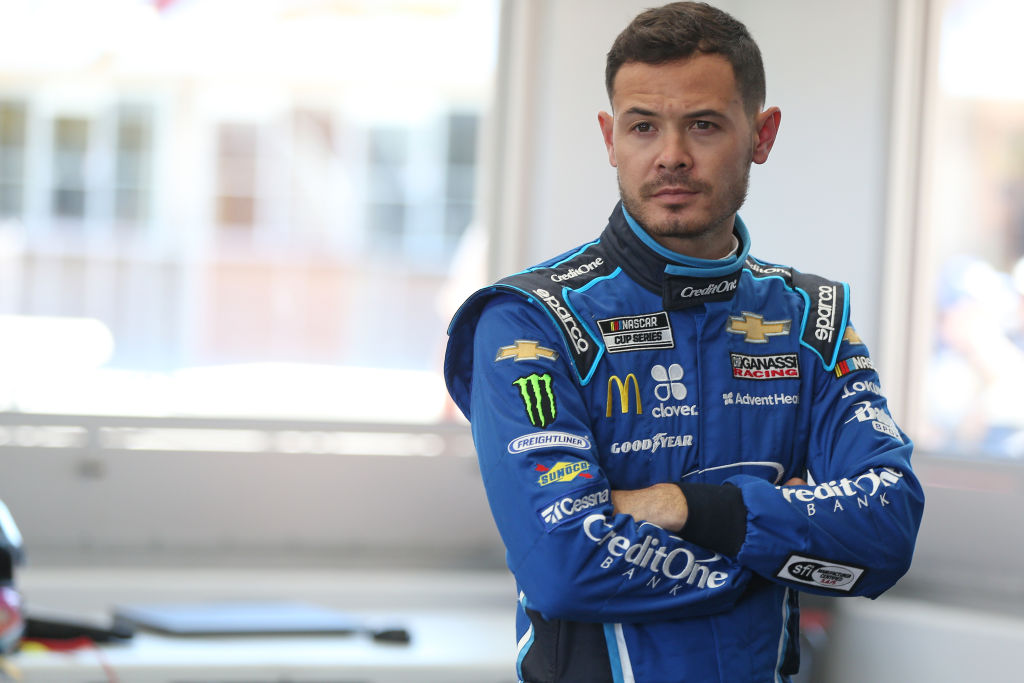 Kyle Larson on Right Track for a Return to NASCAR
Since NASCAR indefinitely suspended Kyle Larson for a racial slur in April, he has been taking all the right steps with the hopes of returning to the Cup Series in the future.
Kyle Larson was the 2014 Sunoco Rookie of the Year. He is a six-time NASCAR Cup Series winner. He's qualified for the NASCAR playoffs the last four seasons. Today, Kyle Larson is without a ride because NASCAR indefinitely suspended him for a racist slur he made on a live stream during an iRacing event in April.
Uncertain of his future with the NASCAR Cup Series, Larson is living in the present and doing everything he can to improve as a person with the hopes of one day, if given the opportunity to return, he can show it to the world.
Kyle Larson indefinitely suspended by NASCAR
Since his arrival on the NASCAR Cup Series in 2014, Kyle Larson has proven he's a more-than-capable driver winning the Sunoco Rookie of the Year his first season. In addition to his 12 wins on the Xfinity Series, Larson has won six races on the Cup Series, his last, the 2019 Drydene 400 at Dover International Speedway.
With NASCAR suspended like the rest of the sports world because of the COVID-19 pandemic, Larson joined other drivers for NASCAR virtual races. During one race on April 12, Larson used a racial slur while streaming on Twitch. Larson didn't realize the other drivers and thousands of viewers watching could hear the slur. 
NASCAR acted swiftly and suspended Larson indefinitely the next day. The Chip Ganassi Racing Team fired him. He lost all of his primary sponsorships. 
Larson completes sensitivity training and returns to World of Outlaws
A race-car driver without a ride, Larson opted to return to a world with which he was quite familiar, the World of Outlaw Racing. The Kyle Larson Racing Team has been involved in the Sprint Car Series since 2013. Prior to his full-time ride in NASCAR, Larson raced the series himself, earning eight victories.
After completing sensitivity training, a prerequisite to joining the World of Outlaws as well as a condition of reinstatement for NASCAR, Larson returned to dirt-track racing in Missouri and did so in impressive fashion. Before his first race, in qualifying, Larson became the first Sprint Car driver to break 10 seconds at the Federated Auto Parts I-55 Raceway, a one-third mile oval track, turning a lap in 9.995. It was an emotional moment for the 27-year-old Larson.
"It's definitely something I love," Larson said in a World of Outlaws release. "I really just love racing cars in general. I'm just happy I can still get out here and have some fun and be around my close friends. It's just been a crazy, rough handful of weeks. So, any small accomplishment like (the qualifying record) means a lot."
In his first race back, a 30-lap feature, Larson finished second behind his brother-in-law Brad Sweet on Friday night. On Saturday night in the 40-lap feature, Larson edged out another driver and Sweet to capture victory. Larson earned $20,000 for the win but more importantly, found some solace in returning to racing.  
What is Kyle Larson's future?
Kyle Larson's future in NASCAR remains in doubt. He doesn't know when, or even if, his suspension will be lifted. In an interview with Motor Racing Network's Winged Nation, Larson said he hoped to race in the NASCAR Cup Series again, but in the near-term, plans on focusing on the things he can control.
"I'm just happy to be racing race cars right now," he said. "It's been weird watching the NASCAR stuff on TV, but I also hope that I'll still be able to have another opportunity to race in Cup someday, so taking this time to watch and still study and stay relevant in my own mind. That way whenever an opportunity comes up, I'll be ready to take full advantage of that opportunity and do a good job."
Until then, Larson will race with the Outlaws, including this upcoming weekend, May 29-30, in Lake Ozark, Missouri at Lake Ozark Speedway. It's a long way from NASCAR, but Larson has the right approach taking it one race and one day at a time. Everything else will take care of itself.