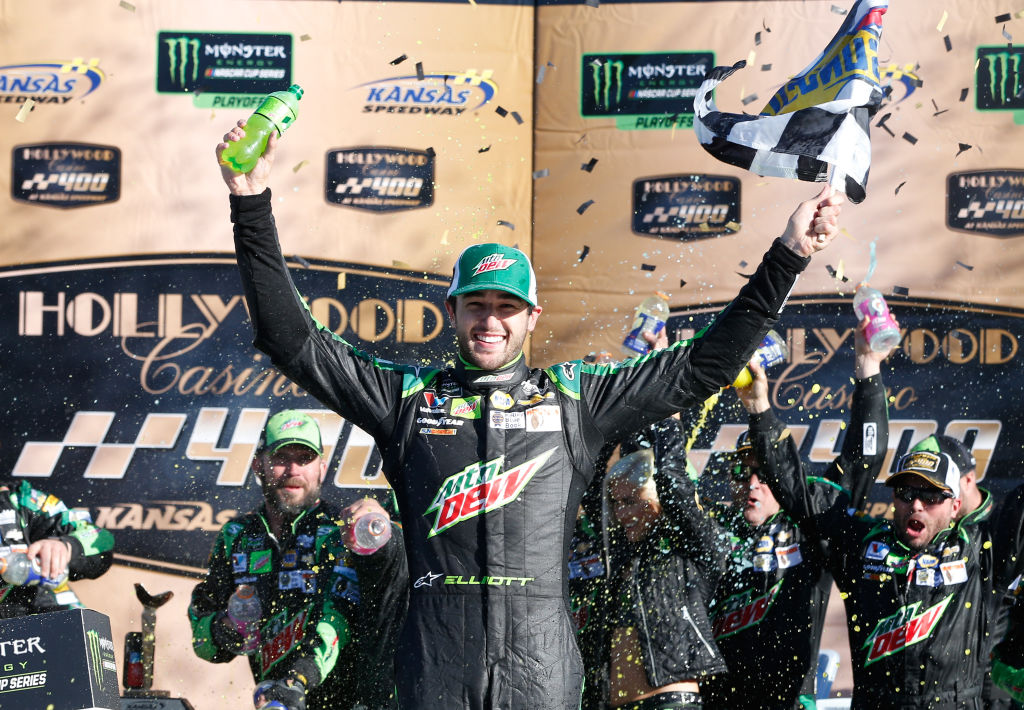 Chase Elliott Is a 24-Year-Old NASCAR Driver With an Impressive Net Worth
Chase Elliott was destined for greatness at a young age. Now 24, he's won seven times on the NASCAR Cup Series. What is Chase Elliott's net worth?
Chase Elliott was destined for greatness at a young age. He was the definition of child prodigy winning races at age 12 against drivers twice his age. Today, Elliott is one of the top drivers on the NASCAR Cup Series at age 24. He's won numerous races in NASCAR and made a large sum of money through earnings and endorsements. What is Chase Elliott's net worth?
Chase Elliott wins at a young age
In a July 2009 issue of Sports Illustrated, the magazine described a young Chase Elliott, who was 13 years old, and how he had a bright future in racing. At the time, he had already won seven state titles, including the Georgia semipro championship, and regularly defeated competition much older. 
In 2010, Elliott raced in 40 races in various series, earning the victory in 12 events and finishing in the top ten an incredible 38 times. He was just getting started. Elliott signed a three-year driver development contract with Hendrick Motorsports in February 2011 and began competing on the larger series including the K&N Pro Series East and West, where he won his first race at Iowa Speedway. 
Elliott raced in the ARCA Racing Series in 2012-13 and won his first title at a big circuit, earning a victory at Pocono Raceway at age 17, the youngest winner in the ARCA Series in its 60-year history.     
Chase Elliott's rise through NASCAR 
Chase Elliott began his career in NASCAR with the Truck Series during the 2013 season, where he raced a limited schedule. For the next two years Elliott split time between the trucks and Xfinity Series, where he earned his stripes competing against the best in the business.
Elliott raced 13 times in the Truck Series during that time, finishing in the top ten 11 times including three victories. He fared even better on the Xfinity Series and in 2014, his first full year with the series, he won three races and the series championship, becoming the first rookie and youngest driver to win a NASCAR national series title.
For the next two years, Elliott competed full-time on the Xfinity Series while also transitioning to a ride with the Cup Series, where he made his debut in 2015. In 2016, Elliott started racing the Cup Series full time driving the No. 24 car. 
What is Chase Elliott's net worth?
In the last six years, Elliott has raced more than 150 races with the Cup Series, won nine poles, earned 79 top tens, and collected seven victories. In 2019, Elliott made his way to the winner's circle three times, his most successful season on the Cup Series, and earned $7.5 million according to Forbes. 
He also earned an additional $2 million from endorsements and licensing, which in 2018, Elliott's merchandise sales were highest among all NASCAR drivers. 
In 2020, Elliott started slow with a couple of finishes outside the top 25, but has come on strong in the last month since NASCAR returned from a two-month-long hiatus due to the pandemic. He was in contention late to win three races, but bad luck and a bad pit decision cost him a couple of races. He did come away with his first victory of the 2020 season in the Alsco Uniforms 500 at Charlotte Motor Speedway on May 28. 
For his career, which includes 15 wins in NASCAR, Chase Elliott has a net worth of $2 million, according to AltDriver.com. There aren't many 24-year-olds who have anywhere near that kind of net worth. And Sports Illustrated predicted it all more than a decade ago.