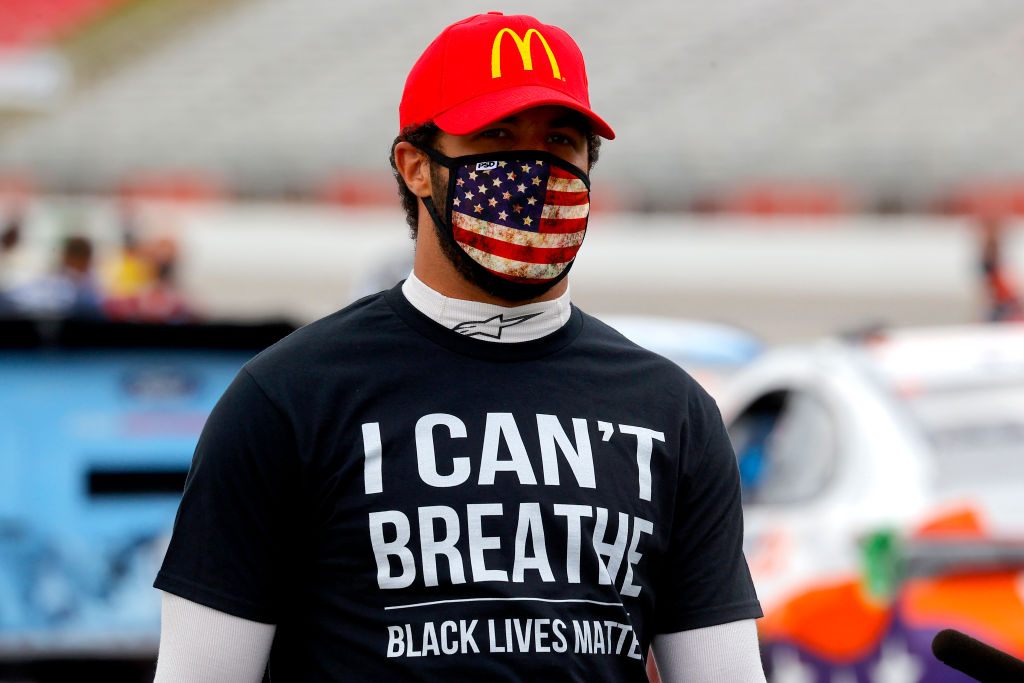 Bubba Wallace Stands Up for Black Lives Matter by Giving His Car a New Paint Job
Bubba Wallace is taking a stand in the Black Lives Matter movement by giving his race car a new paint job for Wednesday night's race.
Athletes around the world have been speaking out in support of the Black Lives Matter movement after the death of George Floyd. Prominent black sports figures such as LeBron James, Michael Jordan, Tiger Woods, and Russell Wilson have been vocal on social media about bringing change to the U.S. In the world of NASCAR, Bubba Wallace is now speaking up. Wallace recently said he wants NASCAR to ban confederate flags from races. Now, he's taking a stand with a bold paint job ahead of Wednesday night's race at Martinsville.
Bubba Wallace is the only black driver in NASCAR's Cup Series
If anyone knows what racial inequality looks like in America, it's Bubba Wallace. Wallace is the lone African American driver in NASCAR's Cup Series, and he has been since he turned pro in 2017.
It's hard for anyone to do their job as the only person of their race, especially if your job is driving a race car. NASCAR has been a predominantly white sport since its inception. All of the legends — Dale Earnhardt, Richard Petty, David Pearson, Jimmie Johnson, and countless others — are white.
You can't say that for any other major American sport. Wallace relishes his role in the black community as the athlete who broke another racial barrier. Now, with protests and racial injustice consuming the country, Wallace is taking a stand.
Bubba Wallace wants confederate flags banned from NASCAR
Before Sunday's NASCAR race, Wallace wore a shirt with the words "I Can't Breathe" written in bold letters. Underneath George Floyd's final words, it read "Black Lives Matter."
Wallace is standing up for the African American community on his sport's biggest stages, and now he's calling for change. The driver of the 43 car appeared on CNN this week and proposed what he believes NASCAR should do now.
"My next step would be to get rid of all Confederate flags," Wallace told CNN. "There should be no individual that is uncomfortable showing up to our events to have a good time with their family that feels some type of way about something they have seen, an object they have seen flying."
Wallace also told CNN about the discrimination he experienced dealing with law enforcement officials in the past. He said NASCAR higher-ups have been understanding and helpful in terms of spreading his message.
Wallace will drive #BlackLivesMatter car for Wednesday's NASCAR race
After donning a Black Lives Matter shirt and calling for NASCAR to ban confederate flags, Wallace is taking another step to bring light to racial injustice in America.
On Wednesday night, Wallace will drive his 43 car at Martinsville, but not without a twist. Instead of the McDonald's logo, the front of his car will show black and white hands joining together in solidarity. The car will be painted all black, with #BlackLivesMatter painted on both sides.
For the NASCAR fans who refuse to listen to Wallace's message, now they'll be forced to see it Wednesday night. Wallace is taking a brave stand in a sport dominated by white athletes in fans.
As the lone black driver in the Cup Series, Wallace believes it's his duty to use his platform for change.