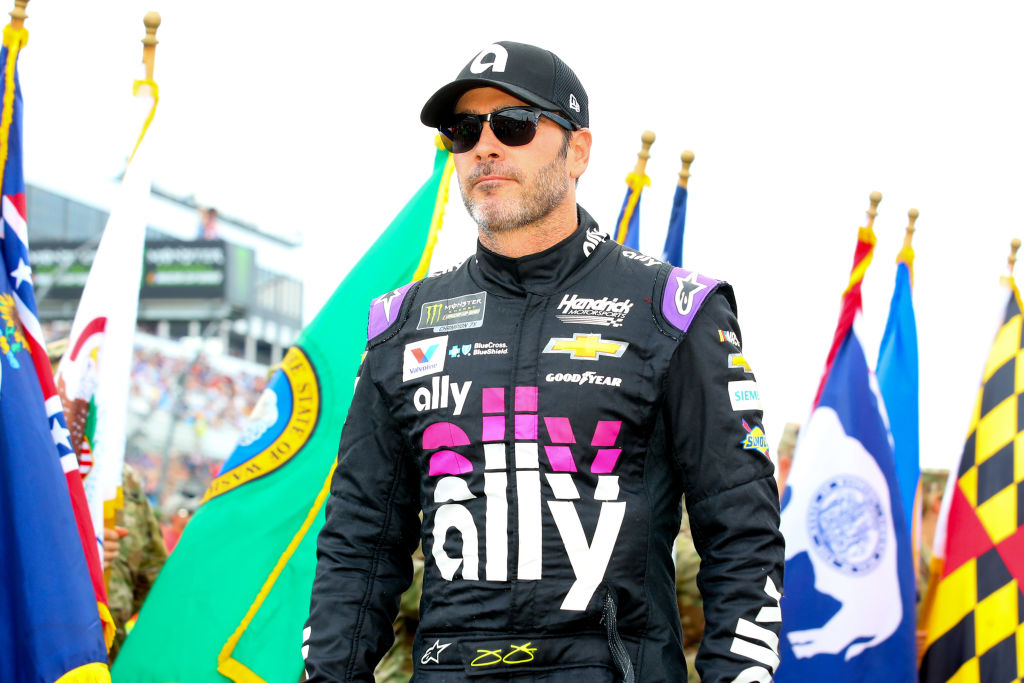 NASCAR's Jimmie Johnson Conceived Idea for Drivers Video Confronting Racism in America
NASCAR's Jimmie Johnson has made his mark as one of the greatest ever. This last week Johnson made a statement by organizing a powerful anti-racism video for his fellow NASCAR drivers.
NASCAR stepped out of its comfort zone in a big way on Sunday during pre-race coverage of the Folds of Honor QuikTrip 500 race broadcast on Fox. In addition to a powerful message from Fox analyst and NASCAR legend Jeff Gordon on the social unrest in our nation, NASCAR president Steve Phelps made an emotional statement to drivers and the television audience watching that condemned racism and promised to do better.
The final message came in the form of a video produced and delivered by NASCAR drivers similar to what a group of NFL players created last week. It was the most poignant moment of all. Here's a look at how it all came together. 
NFL players release video earlier in the week
Before the NASCAR drivers video was released, numerous well-known NFL players coordinated and posted a video earlier in the week across their different social media platforms calling on the league to "condemn racism and systemic oppression of black people … admit wrong in silencing our players from peacefully protesting … believe black lives matter."
Among those participating included Saquon Barkley, Odell Beckham, Ezekiel Elliott, DeAndre Hopkins, Patrick Mahomes, Tyrann Mathieu, Patrick Peterson, Sterling Shepard, Michael Thomas, Deshaun Watson and Chase Young.
The video started talking about George Floyd and his murder, and then the players, one by one, asked what it would take for the NFL to actually listen to its players. The players then passionately stated how they were all George Floyd, Breonna Taylor, Ahmaud Arbery, and the countless other unarmed black people killed at the hands of police. At the video's conclusion, the players provided a list of things they wanted to hear from the NFL. 
"So, on behalf of the National Football League, this is what we, the players, would like to hear you state. 'We, the National Football League, condemn racism and a systematic oppression of black people. We, the National Football League, admit wrong in silencing our players from peacefully protesting. We, the National Football League, believe black lives matter.'"
The next day, NFL commissioner Roger Goodell responded with his own video that almost repeated verbatim the statement made by players. 
Fox airs video message from NASCAR drivers
On Sunday's broadcast of the Folds of Honor QuikTrip 500 from Atlanta, NASCAR drivers released a video similar to the NFL players that included multiple drivers offering a unified message on confronting the racial inequality issues facing the nation.
Among the drivers included were Bubba Wallace, Chase Elliott, Alex Bowman, Brad Keselowski, Denny Hamlin, Martin Truex Jr., Ty Dillon, Jimmie Johnson, Kyle and Kurt Busch, and several others including NASCAR legend Dale Earnhardt Jr. 
The message mentioned the names of black victims killed by police including Floyd, Taylor, and Arbery, and detailed how the NASCAR drivers and its community are "committed to listening with empathy and with an open heart to better educate ourselves. We will use this education to advocate for change in our nation, our communities, and most importantly, in our own homes." 
The video concluded: "We have a long road ahead of us, but let's commit to make that journey together. Our differences should not divide us. It is our love for all mankind that will unite us as we work together to make real change," Jimmie Johson finished the statement. 
Jimmie Johnson organized video
According to ESPN's NASCAR reporter Marty Smith, the video came together this week and was the brainchild of seven-time NASCAR Cup Series champion Jimmie Johnson. Smith said after Johnson had meaningful conversations with many of his black friends including Bubba Wallace, the lone black driver on the Cup Series, Johnson felt compelled to act, and without any involvement from NASCAR corporate.
Johnson reached out to various drivers and asked them to participate in the video. Dale Earnhardt Jr., who retired in 2017 but still has a powerful voice in the NASCAR community, also joined forces with Johnson early on in the process. Earnhardt admitted to Smith that this type of thing likely wouldn't have happened just two years ago, but now is the right time even though it can be challenging. 
"It is terrifying sometimes to speak out because sometimes the words, the message isn't heard the right way, or it's misconstrued and with that comes so much negative feedback and that's a difficult prospect for all of us," Earnhardt told Smith. 
Earnhardt said the true test on the video was to see if all the participating drivers followed the plan and posted the finished video to their social media feeds at 2pm on Sunday before the race. They did, all in unison.
"Junior said that felt really good. That showed him progress is underway. There's a really long way to go, but at least it's a start," Smith said.
If Jimmie Johnson retired tomorrow, his legacy is already established as one of NASCAR's greatest drivers. For someone who has led NASCAR on the track for years, it's nice to know he's willing to lead NASCAR off the track in an effort that will make a difference in the lives of so many others for years to come.