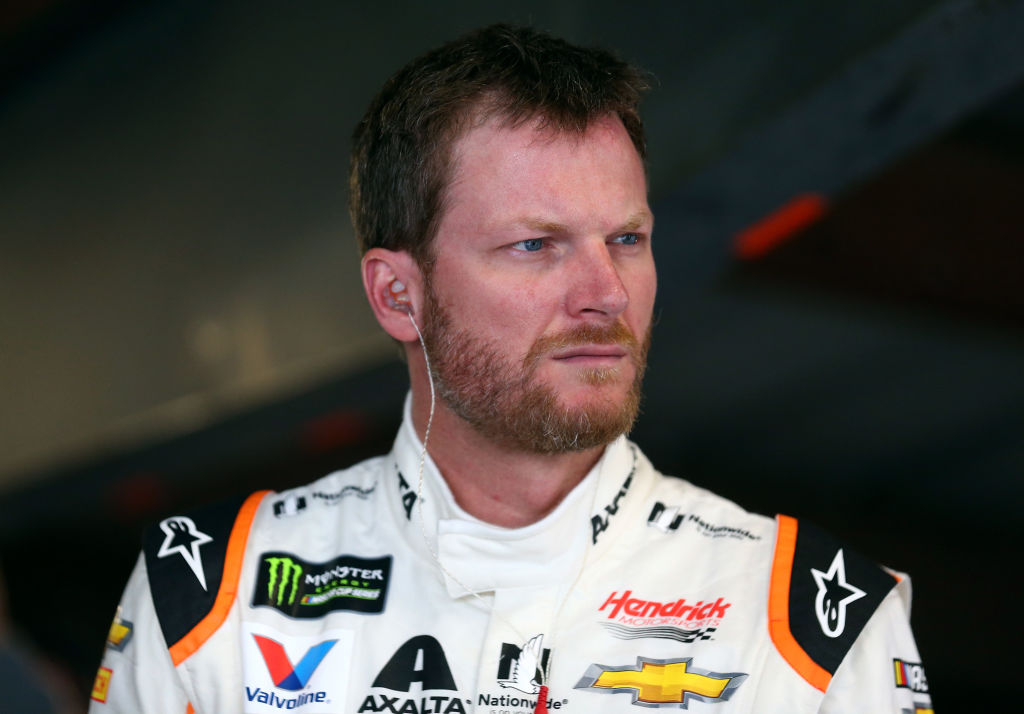 Emotional Dale Earnhardt Jr. Moved by Heart to Heart With NASCAR's Lone Black Driver Bubba Wallace
Dale Earnhardt Jr. got emotional with ESPN's Scott Van Pelt when talking about a recent interview he had on his podcast with NASCAR Cup Series' lone black driver Bubba Wallace.
As demonstrators continue protesting in cities across America, the conversation around police brutality and race relations more broadly, continues to expand into all sports, including the very white-dominated NASCAR. In an interview with ESPN's Scott Van Pelt, Dale Earnhardt Jr. was moved by an emotional conversation he had this week on his podcast with the lone black driver on the NASCAR Cup Series Bubba Wallace.
Dale Earnhardt Jr. initial comments ambiguous on George Floyd
Earlier in the week, Dale Earnhardt Jr. replied to a Tyler Reddick tweet complimenting Reddick, Ty Dillon, and other drivers for speaking out in the wake of the death of the unarmed black man George Floyd at the hands of police in Minnesota. Some, however, interpreted his reply and position as ambiguous.
Earnhardt responded to those who were confused or curious to his original post. "So let me be clear. Black Lives Matter. They are hurting and upset and it's time for me to listen. Riots, violence, and looting is bad and needs to stop. We all better get this sh-t figured out and fix it. Love and Respect."
The responses were mixed. Dale Earnhardt told Van Pelt he can stand the heat. He's done this before a time or two. "If you go on Twitter, you say something; you get called a lot of names. People don't know where you're coming from. It's really frustrating to work in that space. I knew what I was getting myself into any time you stand up for something that you believe in. This feels different. What's going on right now feels different from the past."
Earnhardt interviews an emotional Bubba Wallace on podcast
To discuss current events, Dale Earnhardt Jr. invited Bubba Wallace on his podcast Dale Jr. Download earlier this week. The lone black driver on the NASCAR Cup Series became emotional as he discussed recent events, how they affected him, and detailed his own experiences with racism. 
Wallace paused multiple times speaking on the recent death of Ahmaud Arbery in Georgia. 
"I've lost a race and lost it on the last lap and thought my heart was broken there. My heart was broken, and my stomach was ripped out of my body, seeing an unarmed black man hunted and shot and killed in broad daylight. What kind of world do we live in where we hunt people and take their life away because we assume that this is a black guy that's terrorizing our neighborhood? We're going to go kill him? What in the hell?"
Wallace also detailed how racism turned into a personal tragedy for his family when he was eight years old and his 18-year-old cousin, who was unarmed, was shot and killed by police on a routine traffic stop. You could tell just by listening that Wallace's personal stories moved Earnhardt.
Dale Earnhardt talks about how Bubba Wallace is a great voice for NASCAR
In Dale Earnhardt's conversation with ESPN's Van Pelt, he described how moved he was listening to Wallace on his podcast and he appreciated the 26-year-old's willingness to step to the fore and share his personal stories. He said it's all helping those within the NASCAR family better understand the racial inequality issues facing the country.
"He's saying a lot of powerful things. I'm so grateful for Bubba because without him we might not have that leadership and that guidance and the opportunity to understand and to listen. That hasn't always been there in our sport so I don't think I can say enough how much I appreciate him. He's also had a lot of conversations with drivers that I think it really helped Bubba and the drivers understand what Bubba deals with and what his life is like and how it's different from theirs."

Dale Earnhardt Jr.
Earnhardt said while there have been talks in the past of racism and social injustice even in NASCAR circles, there's a different feeling this time around for the movement as a whole and for him personally. 
"I'm hearing the message in a more impactful way. I'm learning more in this go-round than I did ever before. It was a great opportunity to listen to Bubba and everyone else who shared their stories and trying to understand what they're dealing with and how extremely serious this problem is in our country. I'm thankful for the opportunity to open my ears and take it and hopefully we can see some real change. That's all I want is for things to get better."
Earnhardt's name is royalty in NASCAR. His words have power. It's voices like his to audiences like NASCAR fans that can genuinely make a difference during this transformational moment in our nation's history. It's just like a NASCAR race, Earnhardt has taken the lead. Hopefully, others will follow.