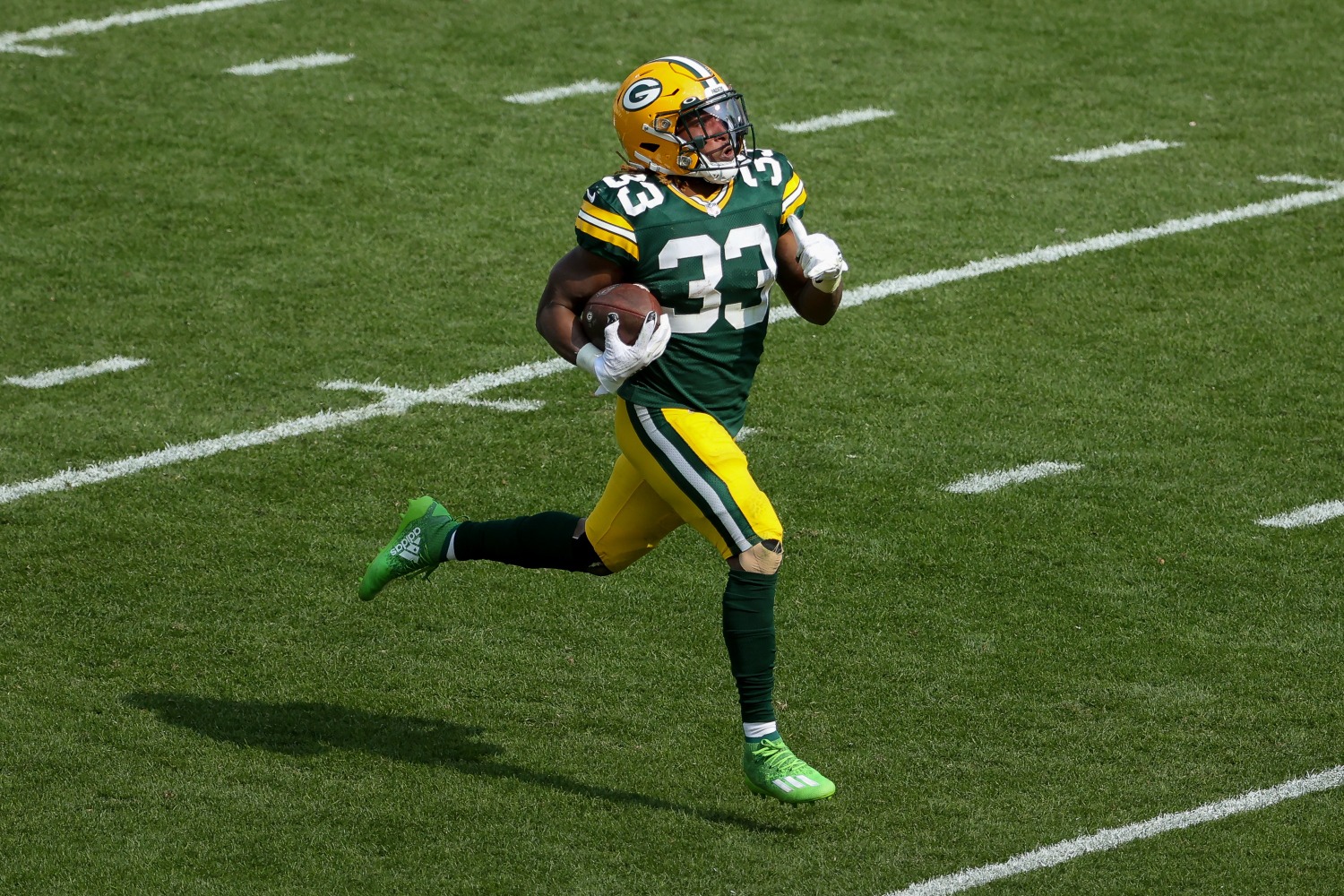 Aaron Jones Just Forced the Packers to Make Critical $75 Million Decision
Aaron Jones just forced the Packers to make a $75 million decision about his future. Will Green Bay give the star running back an extension?
With Alvin Kamara and Dalvin Cook recently signing lucrative contract extensions, Aaron Jones appears to be the next running back in line for a raise. After all, the Green Bay Packers star has far outplayed his rookie deal. In the midst of a contract year, Jones should score a monster payday with another Pro Bowl campaign. And on Sunday, the dynamic tailback just forced the Packers to make a $75 million decision about his future.
Alvin Kamara just set the standard for running back extensions
Christian McCaffrey signed a record-setting contract extension earlier this offseason. More recently, Dalvin Cook and Alvin Kamara scored lucrative long-term deals of their own. In particular, Kamara's five-year, $75 million extension essentially set the market for running backs. McCaffrey remains in a different class than his contemporaries, which means Kamara's $15 million average annual salary looks like the mark to beat.
Of course, Kamara earned a significant raise after developing into a star for the New Orleans Saints. A third-round pick in 2017, he quickly showed NFL teams that they made a mistake by letting him slip so far in the draft. As a rookie, Kamara totaled 1,554 yards from scrimmage and 13 touchdowns. He followed up with nearly 1,600 yards from scrimmage and 18 total TD in 2018.
Though Kamara has dealt with some minor injuries, he still ranks as one of the best playmakers in football. Even after rumors swirled about a possible trade, the Saints rewarded their star running back accordingly with a $75 million extension the day before New Orleans kicked off its season against the Tampa Bay Buccaneers.
Aaron Jones has earned a raise after developing into a star
Like Alvin Kamara, Aaron Jones entered the NFL without a ton of hype. In fact, he waited much longer than Kamara to find out his NFL fate. Jones went off the board in the fifth round—112 picks after the Saints made Kamara the 67th player taken.
Despite his late-round draft status, Jones also proved he should have been selected much earlier. He ran for 448 yards and four touchdowns in limited snaps during his rookie season. In 2018, Jones earned a more prominent role in Green Bay's offense. Operating as a dual-threat weapon, he racked up 728 rushing yards, 206 receiving yards, and nine total touchdowns.
Last season, Jones left the Packers no choice but to feed him the ball. By season's end, the Georgia native had racked up a league-leading 19 total touchdowns, including 16 on the ground. Jones topped 1,000 rushing yards and also set career highs in catches (49) and receiving yards (474).
Green Bay's breakout star earned Pro Bowl honors and positioned himself for a massive raise. Yet, Aaron Jones entered the 2020 season playing out the final year of his four-year, $2.6 million rookie contract.
Jones just forced the Packers to make a $75 million decision
With plenty of financial motivation to repeat his 2019 performance, Aaron Jones put together arguably the most impressive performance of any skill player through the first two weeks of the season. In Sunday's matchup against the Detroit Lions, Jones racked up 168 yards and two touchdowns on just 18 carries. He also proved to be a major problem in the passing game. Jones shredded Lions' linebackers and defensive backs to the tune of four catches for 68 yards and another score.
He managed to do all that while playing just 35 offensive snaps.
After the game, the Packers running back told reporters that he thinks he's close to the same caliber as Cook and Kamara, both of whom signed contract extensions recently.
In doing so, Aaron Jones just forced the Packers to make a $75 million decision. Kamara and Jones entered the league at the same time and have posted nearly the same exact rushing totals. The Saints RB has accounted for 28 rushing TD; Jones has totaled 31 in four fewer games. Kamara does play a much larger role as a receiver, as he has totaled 248 receptions in 46 games. Jones has racked up 92 catches since joining the Packers.
Still, his ability to contribute on all three downs makes him an invaluable member of Green Bay's offense. Jones demonstrated he can carry the load in 2019, and his monster performance on Sunday simply reinforced the fact that he can dominate a game without needing a ton of touches.
Based on his comment, it certainly seems like Aaron Jones has his eyes set on topping Kamara's $75 million contract. And if the Packers are smart, they'll ensure their star running back never plays for another NFL franchise anytime soon.
All statistics courtesy of Pro Football Reference.