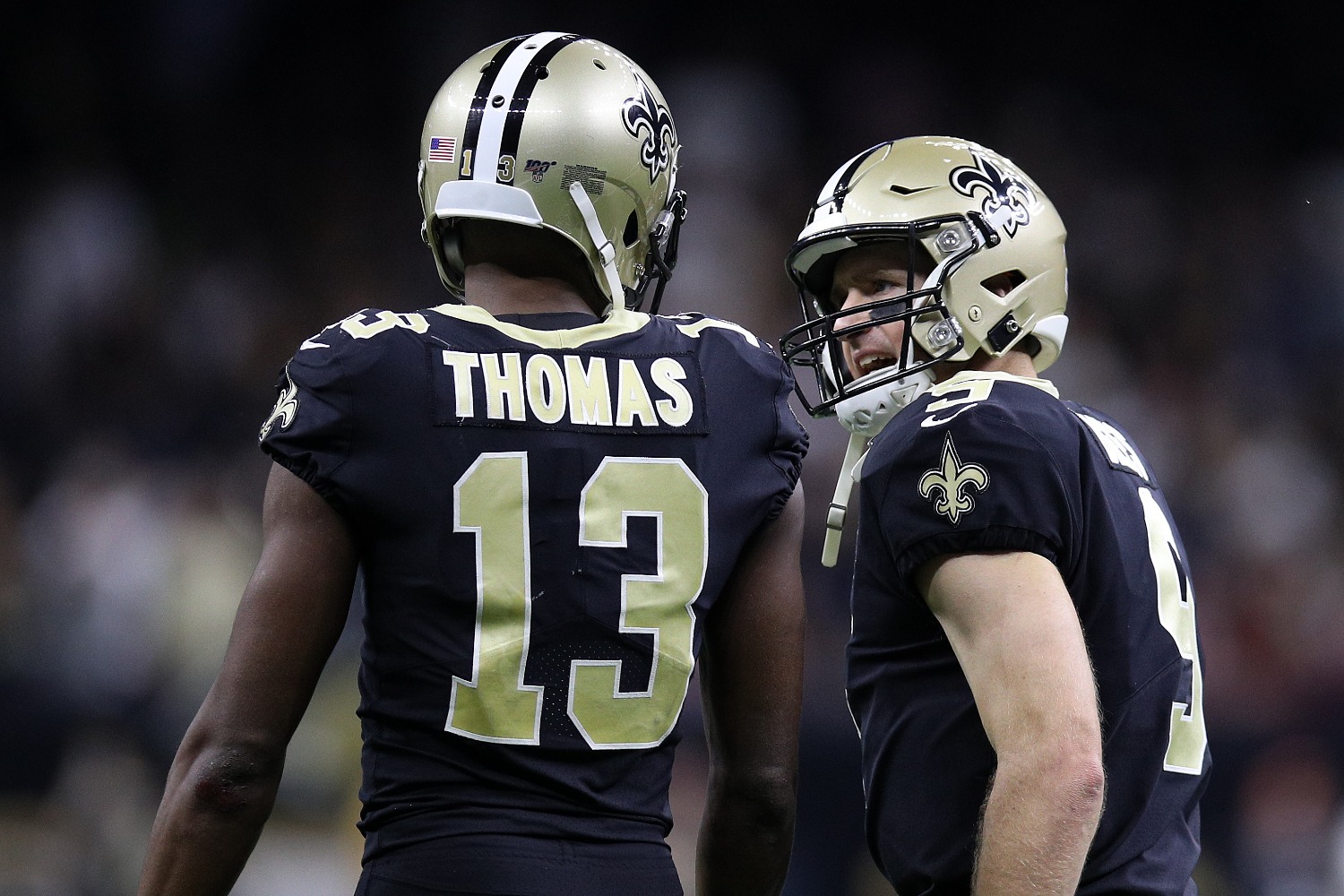 The New Orleans Saints Just Lost Their $100 Million Star
The New Orleans Saints just lost Michael Thomas for the next few weeks. How will Drew Brees adapt without his $100 million receiver?
In a year where Drew Brees wants to cut it loose, the legendary quarterback will have to do so without his top weapon. At least, for a little while. The New Orleans Saints may have defeated Tom Brady and the Tampa Bay Buccaneers on Sunday, but they also lost Michael Thomas to an ankle injury. Now, Brees will have to find a new way to win until his $100 million teammate gets healthy.
Michael Thomas has developed into an elite receiver
Following an excellent career at Ohio State, Michael Thomas got selected 47th overall in the 2016 NFL draft. Despite being the sixth receiver off the board, the big-bodied wideout has far outplayed his draft pedigree. In fact, after just four years in the league, Thomas has already become one of the elite players at his position.
The 6-foot-3, 212-pound pass-catcher made an immediate impact in New Orleans. As a rookie, Thomas totaled 1,137 yards and nine touchdowns on 92 receptions. That simply set the stage for even better production.
In his second season, Thomas earned Pro Bowl honors after posting a line of 104/1,245/5. He followed up with a league-leading 125 catches in 2018.
Prior to the 2019 season, the Saints rewarded their breakout star with a five-year, $100 million contract extension. He promptly responded by setting the NFL single-season catch record with 149 receptions. Though the Saints have yet to win a Super Bowl with Thomas as their No. 1 receiver, he has certainly done his part by earning two first-team All-Pro berths while totaling 470 catches for 5,512 yards and 32 TD.
Saints lose their $100 million star to an ankle injury
As one of the top contenders in the NFC, the Saints entered the 2020 season with sky-high expectations. In their season-opening matchup against the Buccaneers, they struggled to move the ball but still emerged victorious. Michael Thomas recorded just three catches for 17 yards before suffering an ankle injury.
On Tuesday, Saints fans got bad news about their $100 million star. Tom Pelissero reported via Twitter that Thomas' high-ankle injury "is worse than originally believed." Sources told Pelissero and Ian Rapoport that Thomas is expected to miss several weeks.
The fifth-year pro has played all 16 games in each of the last three seasons. However, the durable and highly-productive wideout will likely miss at least a game or two, if not more, based on Pelissero's report.
The Saints take on the Las Vegas Raiders on Monday Night Football before hosting the Green Bay Packers on Sunday Night Football. Assuming Thomas misses both of those matchups, that will force Brees and Sean Payton to find another way to win.
How will New Orleans adapt with Thomas out of the lineup?
With Michael Thomas injured, that leaves the Saints in a precarious position. How will they adjust to life without their $100 million star?
Currently, New Orleans does not boast impressive depth at the receiver position. Other than Emmanuel Sanders, the Saints do not possess an established wideout on their roster.
Rookie Marquez Callaway is currently listed as Thomas' backup. The undrafted free agent brings good size to the position, as he tips the scales at 6-foot-2, 204 pounds. However, Callaway did not produce at a high level at the University of Tennessee. He totaled just 92 catches for the Volunteers and already faces a tough task in learning the Saints' playbook and making the transition from college to the NFL.
Should the Saints go the free-agent route, the options appear slim. Jordan Matthews did not find a new team after spending 2019 with the Philadelphia Eagles and San Francisco 49ers. The 28-year-old looked like a budding star early in his career before fading. Matthews would at least bring size and experience at a cheap price.
Perhaps New Orleans could consider giving it another go with Dez Bryant. The former Dallas Cowboys star never got a chance to showcase his skills after suffering a torn Achilles tendon before ever playing a game for the Saints.
Bryant's size, physicality, and strong hands would certainly be a welcomed addition with Michael Thomas out. Let's see if the Saints give him a call to bring him back to New Orleans.
All statistics courtesy of Pro Football Reference.