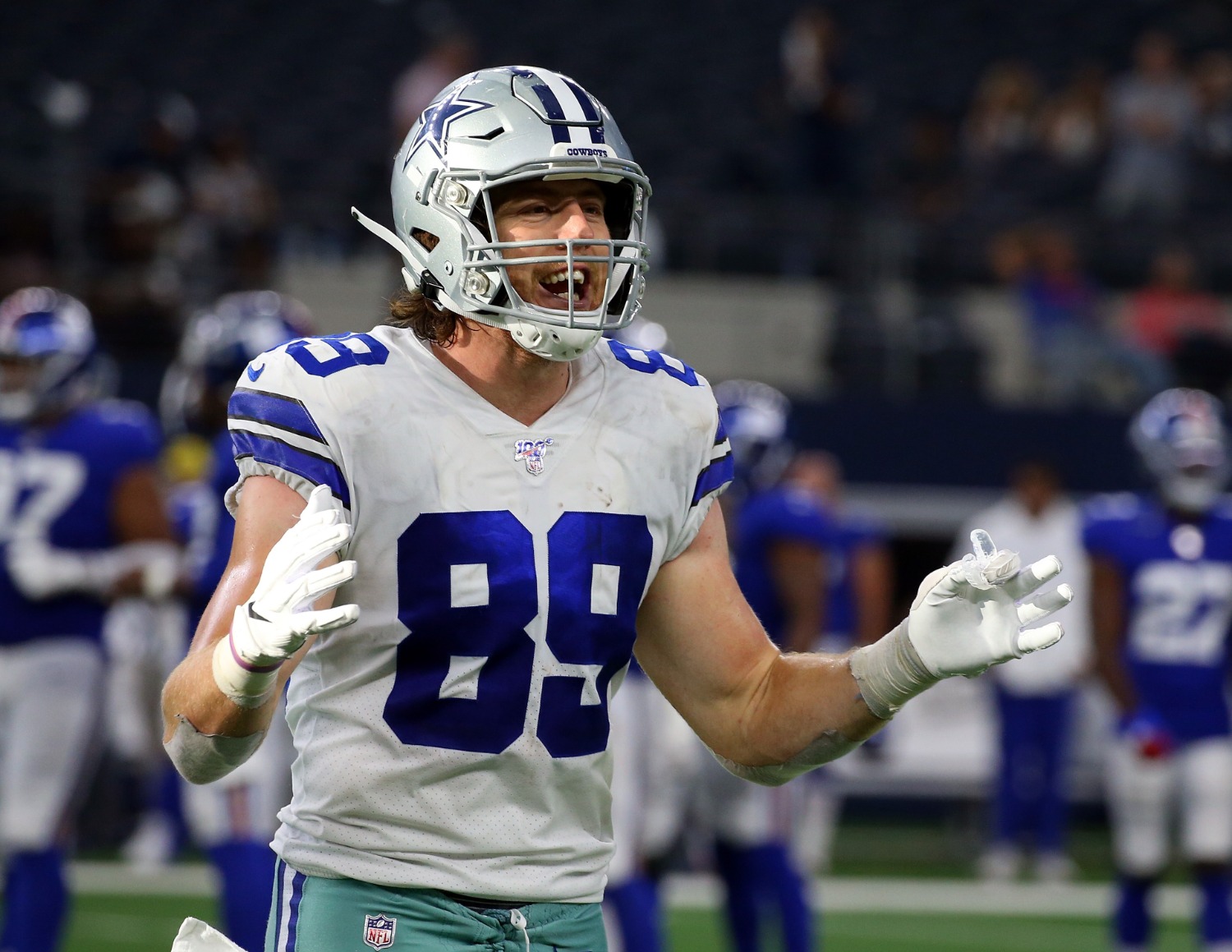 The Dallas Cowboys Just Suffered a Brutal Blow to Their Offense
The Dallas Cowboys suffered a brutal blow to their offense with starting tight end Blake Jarwin tearing his ACL in Sunday's loss.
The first game of the Mike McCarthy era did not go as planned. Facing a talented LA Rams team, the Dallas Cowboys scored just three points in the second half of a 20-17 defeat. However, their biggest loss occurred well before the final whistle when starting tight end Blake Jarwin went down with a non-contact injury that will end his season.
Now, Jerry Jones will have to help his new head coach find a suitable replacement. If not, the Cowboys and their seemingly loaded offense may never reach their Super Bowl potential.
Blake Jarwin's journey from undrafted free agent to starting tight end
For years, Jason Witten locked down the starting tight end position in Dallas. However, with the future Hall of Famer on his last legs, the Cowboys began planning for life after Witten. In 2017, the team signed Blake Jarwin as an undrafted free agent out of Oklahoma State.
The 6-foot-5, 250-pound tight end caught just 41 passes and five touchdowns in college. However, he battled in training camp and earned a spot on the practice squad. Jarwin did get promoted to the active roster in October, but he appeared in just one game as a rookie.
With Witten and James Hanna reitiring, Jarwin saw an uptick in playing time in 2018. He appeared in all 16 games and caught 27 passes for 307 yards and three scores.
Last season, he started seven games and became a dependable target for Dak Prescott. After setting career-highs in catches (31) and receiving yards (365), Jarwin signed a three-year, $24.25 million contract on March 16 to secure his future with the Cowboys.
Cowboys suffer a brutal blow to their offense
Though nobody would classify Blake Jarwin as a superstar, he still entered the 2020 NFL season as a key member of a stacked offense. His blocking ability and knack for getting open made him an intriguing breakout candidate. Fresh off of signing a lucrative contract extension, Jarwin suffered a major career setback in Sunday's season-opening loss to the Rams.
During the second quarter, Jarwin crumpled to the ground in the midst of running a route. He immediately grabbed at his right knee. The Cowboys' starting tight end left the game and never returned.
On Monday, Ian Rapoport reported via Twitter that Jarwin suffered a torn ACL. He will undergo surgery and be out until the 2021 season.
For the Cowboys, suffering such a brutal injury blow this early in the season changes the outlook of their offense. After all, the current options on the depth chart do not inspire much optimism.
How will Dallas replace Jarwin?
With Blake Jarwin out for the year, the Cowboys must figure out a way to replace him in the lineup. Currently, Blake Bell would be in line to take on more of a prominent role. However, the former college quarterback has caught just 38 passes as a career journeyman.
If Dallas wants to keep its Super Bowl hopes alive, it may require exploring the free-agent market. Luckily for Jerry Jones, he has a few intriguing options to consider.
Veteran Delanie Walker still remains unsigned. The 36-year-old earned three straight Pro Bowl trips from 2015-2017 before injuries wiped out his 2018 and 2019 campaigns. Still, with 504 career receptions, Walker easily ranks as the top tight end on the market. Considering his age and injury history, the longtime Tennessee Titans tight end would likely cost little in the form of guaranteed money.
Another established veteran who could help ease the loss of Jarwin would be Charles Clay. The 6-foot-3, 246-pounder just caught 18 passes for 237 yards and a touchdown for the Arizona Cardinals in 2019. Prior to that, he racked up 178/1,822/9 in 54 games with the Buffalo Bills. He may not offer much as a blocker, but his pass-catching chops would give Prescott a reliable receiving option at tight end.
Ultimately, the Cowboys have to figure out a way to replace the production they expected to get from Blake Jarwin. It took just one game for Dallas to suffer a significant setback. Let's see how Jerry Jones addresses the huge hole left by Jarwin's knee injury.
All statistics courtesy of Pro Football Reference.