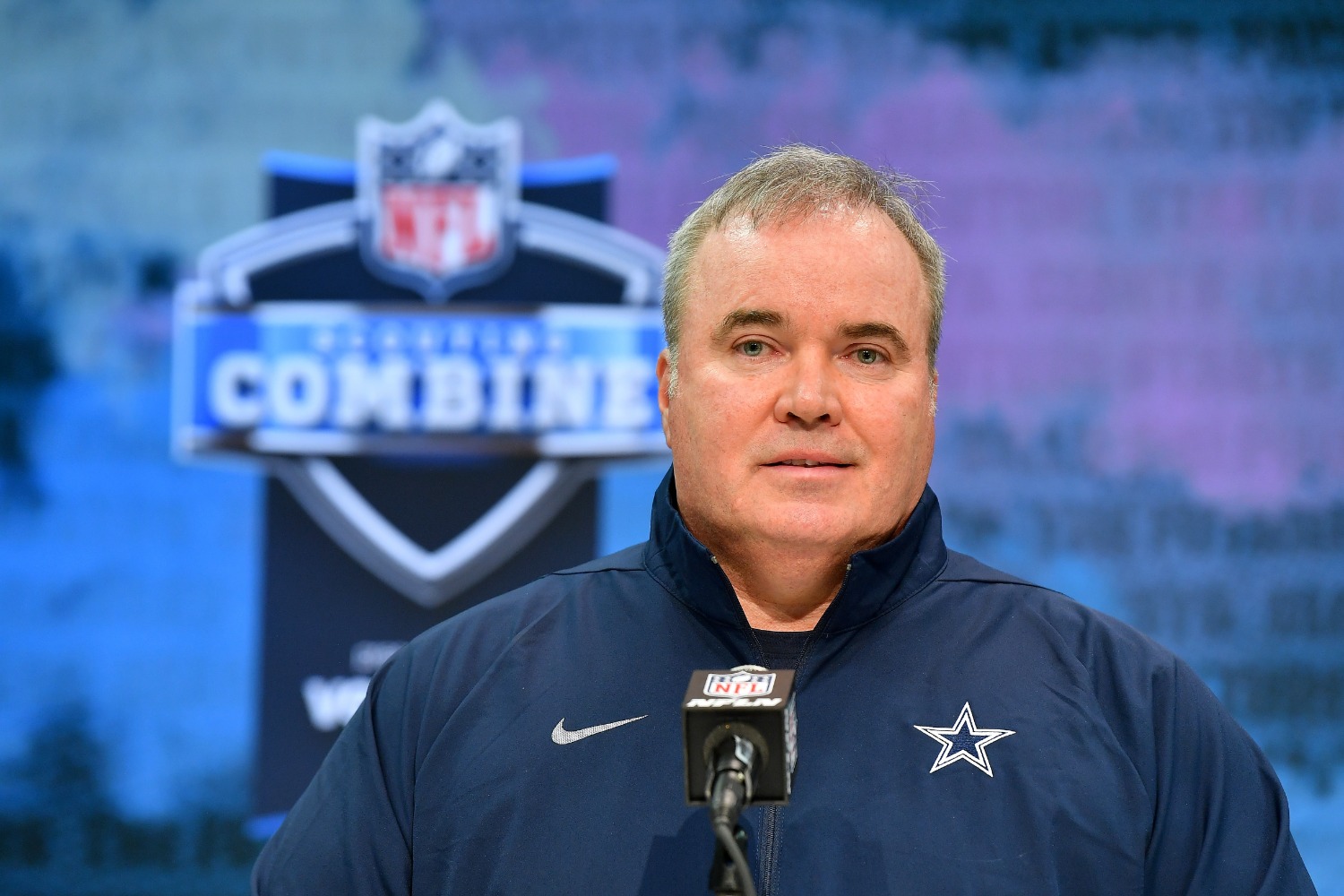 Mike McCarthy Reveals Significant Change Cowboys Will Implement in 2020
Mike McCarthy just revealed a major change that the Dallas Cowboys will implement this season. But will that make a difference on game days?
Successful teams need strong leaders. For years, Jason Garrett failed to turn the Dallas Cowboys into a Super Bowl champion. Part of that had to do with a leadership style that never seemed to push all the right buttons. However, as Mike McCarthy embarks on his first year working for Jerry Jones, he revealed a significant change the Cowboys will implement in 2020.
The Cowboys have been no stranger to change this offseason
Jerry Jones has made many changes to his team this offseason. Moving on from Garrett and hiring McCarthy represented a substantial upgrade. After all, the former led the Cowboys to just three playoff appearances during a decade on the job. The latter led the Green Bay Packers to eight consecutive postseason berths from 2009-2016.
From a roster standpoint, Dallas attacked some of its biggest weaknesses through both the NFL draft and free agency. Jones scored a major steal by landing CeeDee Lamb at pick 17. He did the same with cornerback Trevon Diggs, who fell to the 51st pick. Plus, fifth-rounder Bradlee Anae adds another pass-rusher to a defensive line that got a significant boost through free agency.
Though Gerald McCoy suffered a season-ending injury, the Cowboys will still feature plenty of new faces in the trenches. Dontari Poe brings rare athleticism for a man of his stature. Everson Griffen has made four Pro Bowl trips and should benefit from playing alongside a talented front four that also includes former 49ers star Aldon Smith.
Overall, the Cowboys overhauled their coaching staff and made a number of major changes to a roster that went just 8-8 in 2019.
Mike McCarthy reveals a significant change Cowboys will implement in 2020
For Mike McCarthy, the key to living up to expectations in Dallas comes down to effective leadership. After all, the Cowboys boasted plenty of star power before his arrival. However, finding the right leaders to support his program and policies will make a major difference in McCarthy succeeding or flopping in Dallas.
In speaking with the media on Monday, the 56-year-old head coach revealed a significant change that will be implemented this season. Instead of electing captains for the entire year—which occurred under Garrett—the Cowboys will do things much differently.
"We will have weekly captains," McCarthy said. "There will be three captains that will serve each week. That will be part of our team meeting on Saturday. That's where we'll let the team know who they are."
The former Packers coach explained his rationale behind the decision to depart from the normal practice of electing captains during a preseason vote.
"I feel it's an opportunity for your full roster to experience — it's an opportunity for leadership," McCarthy said.
He added that the only time the Cowboys will have a vote to see who dons the "C" on their jersey will be if the team qualifies for the playoffs.
Cowboys have many viable candidates for captain roles
Mike McCarthy's plan for selecting team captains gives Cowboys players an opportunity to showcase their leadership abilities. In fact, the head coach may have trouble narrowing down his options to only three players each week.
Dallas boasts plenty of qualified candidates who could serve as captains. Obviously, Dak Prescott seems like a lock to earn a weekly captaincy role. Despite not signing a contract extension, he still ranks as the most important player on the team and has exhibited solid leadership skills during his first four years in the league.
The offense also has a number of other worthy candidates. Zack Martin and Tyron Smith bring experience, toughness, and All-Pro resumes to the table. Amari Cooper could also find himself in a captain role given his monster contract and importance to the offense.
Plus, Ezekiel Elliott has said the right things about doing what it takes to win. Does that mean McCarthy will entrust him to be a captain at some point?
On defense, DeMarcus Lawrence and Jaylon Smith served as team captains last year and should be in consideration again. Linebacker Leighton Vander Esch could also find himself in the mix for one of the three captain spots on game day if he can stay on the field.
Ultimately, Mike McCarthy has a wealth of options from which to choose. And based on his plan to name captains on a weekly basis, that gives Cowboys players more motivation to stay focused and prove themselves to their new head coach. Let's see if this change makes a difference in the win column.
Like Sportscasting on Facebook. Follow us on Twitter @sportscasting19.