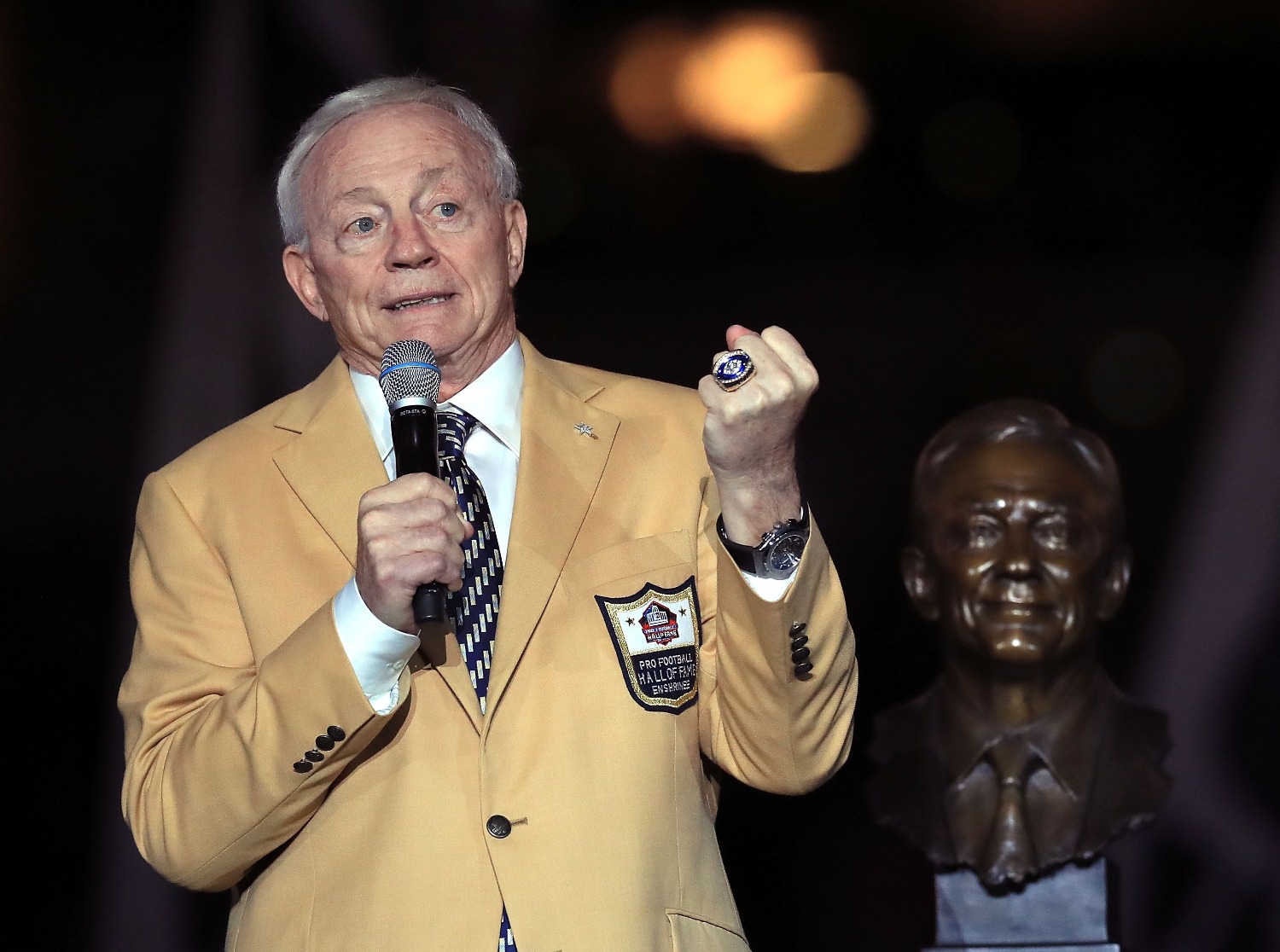 Jerry Jones Sends Powerful Message About Cowboys' Role in Social Justice Movement
Jerry Jones has been criticized for his anthem stance, but he sent a powerful message about the Cowboys' role in the social justice movement.
Jerry Jones has never been afraid to speak his mind. After all, when you're worth $8.4 billion, few people can tell you to keep quiet. However, the Dallas Cowboys owner has caught plenty of flak for his stance on players kneeling during the national anthem. With the social justice movement in full swing, especially in the wake of the Jacob Blake shooting, that has led many NFL players and coaches to voice their opinions about police brutality, racial inequality, and other key issues.
On Friday, Jones sent a powerful message about his team's role in the social justice movement. But will the 77-year-old billionaire follow through on his words? After all, his recent comments about anthem protests suggest change may not come so quickly in Dallas.
Social justice has been a hot-button topic in Dallas
When the Cowboys signed Gerald McCoy and Dontari Poe this offseason, they brought in two talented defensive tackles. At the same time, they added two players who refused to stay silent on social justice matters. In fact, McCoy sent a stern message to Jones in June during an appearance on ESPN.
"You can't be silent at a time like this," McCoy said. "When things are not going well for the team, you can hear him screaming. Well, this is life. This is bigger than just football; it's bigger than money; it's bigger than winning a Super Bowl. Something needs to be said."
Clearly, Jones' lack of words or actions bothered one of his biggest offseason additions. However, McCoy would not be the only Cowboys player to call out the typically outspoken owner.
Poe also criticized Jones for staying silent in the aftermath of George Floyd's death. The 30-year-old NFL veteran showed no hesitation in stating his desire to kneel during the national anthem this season. Poe reiterated that stance recently, which could cause issues based on Jerry Jones' own comments about the peaceful form of protest against police brutality.
Jerry Jones has made strong comments about national anthem protests
Few could have predicted that Colin Kaepernick taking a knee in 2016 would still generate such emotional reactions four years later. Part of that had to do with the fact that some misinterpreted the act as a sign of disrespect to the flag and the country. However, Kaepernick taking a knee had everything to do with raising awareness about police brutality and racial inequality rather than blatantly disrespecting the military, the flag, or the United States.
Still, his peaceful form of protest elicited strong reactions from NFL players, coaches, and owners. During the 2017 season, Jerry Jones had to tackle the issue head on. Having already made his stance quite clear, he ultimately reached a compromise with his team.
On Sept. 25, the Cowboys—including Jones—collectively took a knee before the national anthem. The team then stood with arms locked as "The Star-Spangled Banner" played.
Fast forward to 2020 and the topic of kneeling during the national anthem still generates headlines. In the wake of the Blake shooting, it seems likely that at least some NFL players will want to kneel during the anthem this season. However, Jones created a potential problem within his own team by recently stating that he would like to implement a similar compromise as he did in 2017.
That could force Cowboys players to make a difficult decision. Will they upset their owner and potentially risk their spot on the team by protesting during the anthem? Or will they follow orders and stand in order to satisfy Jones?
Jones sends a powerful message about Cowboys' role in the social justice movement
Ultimately, we will have to wait and see whether Jerry Jones succeeds in reaching a similar compromise with his team as he did three years ago. But for all the criticism he has drawn for his kneeling stance and his general silence about the social justice movement, Jones did speak about the topic on Friday during an appearance on 105.3 The Fan.
In doing so, he delivered a powerful message about the Cowboys' role in the social justice movement.
"We certainly understand how sensitive these times are in the nation, but I feel that our team and we can make a special contribution because of the interest that is in the Cowboys," Jones said. "I want our team and I want them to be emboldened to be a part of change. The dramatic change isn't going to happen overnight, but I want our organization and our players to play a part in the movement of making it a better place in this country."
Jones further added, "I feel confident that our players have a can-do and what-can-I-do participation in it. I want what the Cowboys are up to to help make this a better place."
Like Sportscasting on Facebook. Follow us on Twitter @sportscasting19.