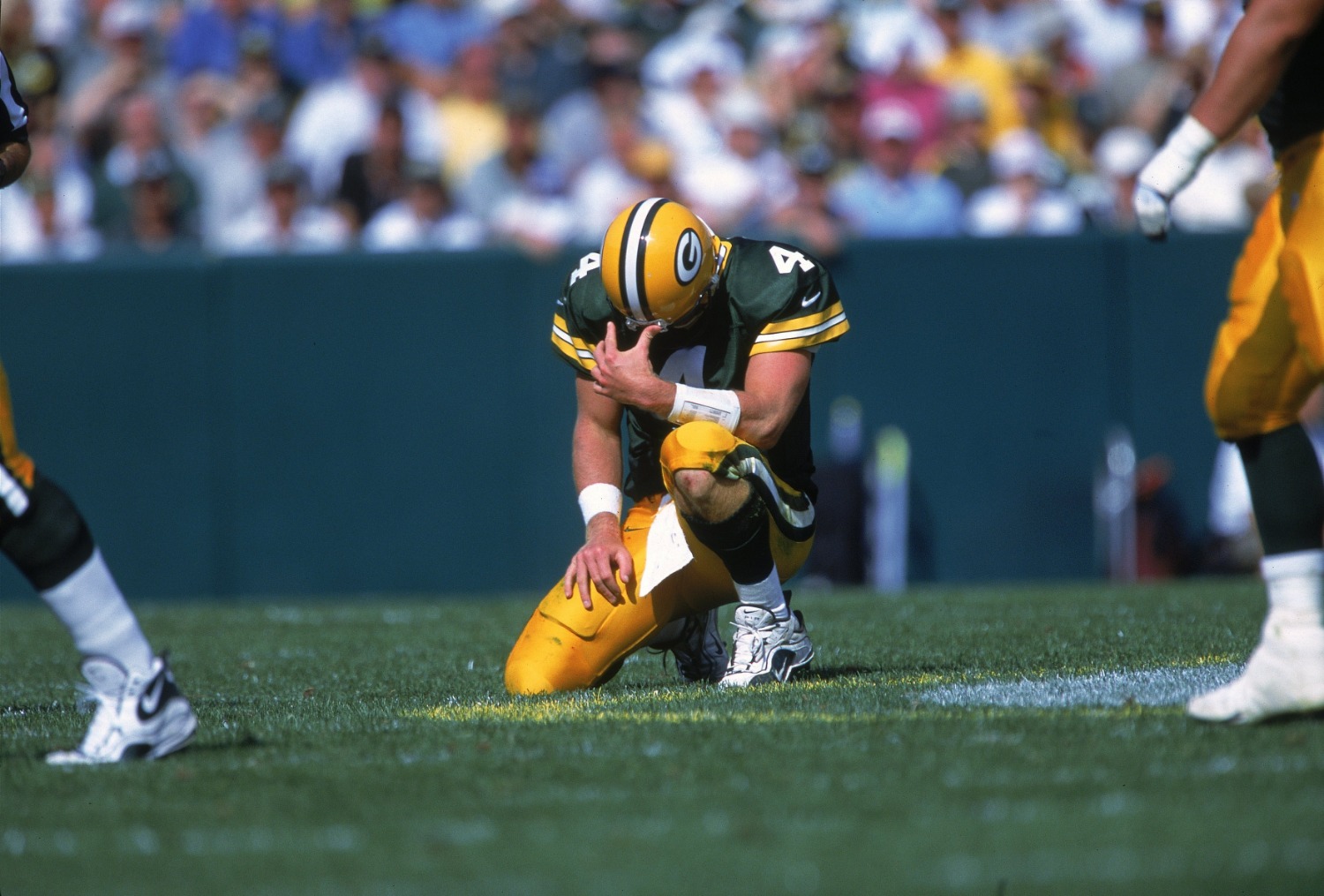 Brett Favre Just Sent a Strong Message About NFL Players Kneeling
NFL players began kneeling once Colin Kaepernick did so in 2016. NFL legend Brett Favre just sent a strong message about the practice.
The entire landscape of the NFL changed when Colin Kaepernick took a knee in 2016. Since then, countless NFL players have followed suit. That has sparked debate from both sides about whether kneeling during the national anthem serves as a sign of disrespect to the military or the flag. Recently, NFL legend Brett Favre sent a strong message about players kneeling.
Considering the Green Bay Packers icon last played in the NFL a decade ago, it may seem odd to hear from Favre on this issue. But given his wealth of experience inside NFL locker rooms, perhaps his opinion carries some weight when discussing the controversial topic of NFL players kneeling.
Colin Kaepernick changed everything by taking a knee
It seemed like Colin Kaepernick had just begun to scratch the surface of his potential when everything came to a crashing halt. A breakout star for the San Francisco 49ers, Kaepernick led the squad to a Super Bowl berth in just his second season. Yet, just a few years later, he would seal his NFL fate by taking a knee during the national anthem.
The peaceful form of protest resulted in both praise and criticism. Supporters applauded Kaepernick for shedding light on police brutality, racial inequality, and criminal justice issues. Critics blasted the 49ers QB for disrespecting the military and the flag by taking a knee.
It turns out that by taking a knee, Kaepernick cost himself his NFL career. He has never thrown a pass since the 2017 playoffs. Though he has been loosely connected to a few teams, not a single NFL owner has signed the former dual-threat star to a contract.
Meanwhile, athletes around the world have continued to kneel as a sign of protest. In the wake of George Floyd's death, the practice has only become more popular. In fact, Kaepernick inspired other NFL players, as well as pro and amateur athletes around the world, to not only take a knee but also do much more to affect change.
Brett Favre sends strong message about NFL players kneeling
Perhaps no issue has been as divisive as athletes kneeling during the national anthem. When it comes to NFL players, many have followed in Colin Kaepernick's footsteps.
With the 2020 NFL season approaching quickly, that has once again put the kneeling issue on the stand. After all, it seems likely that many NFL players will continue to take a knee during the anthem. For Brett Favre, who spent two decades in the league playing for four franchises, the repercussions within an NFL locker room if a player kneels will be interesting to watch.
"I know from being in an NFL locker room for 20 years, regardless of race, background, money you grew up with, we were all brothers it didn't matter," Favre said. "Guys got along great. Will that be the same (with kneeling scenario)? I don't know. If one guy chooses to stand for his cause and another guy chooses to kneel for his cause, is one right and the other wrong? I don't believe so. We tend to be fixed on highs. (H/T USA Today)
Favre clarified that it's not his place to say what's right or what's wrong. However, he firmly stated that we should all be treated equally before adding, "If you can't do that, you shouldn't be in America."
Ultimately, the Packers legend doesn't believe a right answer exists with the kneeling debate. He did manage to sum it up in these simple terms:
"The right answer is that we all get along. It seems like the more people try, the more damage is done."
NFL players can honor victims with their helmets this season
Brett Favre's strong statement on NFL players kneeling certainly drives home an important point. At the end of the day, athletes have the freedom to express their opinion. Just because someone disagrees does not make a particular form of protest right or wrong.
But if NFL players want to call attention to police brutality victims, they can do so in a different way than kneeling. This season, the NFL will allow players to wear decals on their helmets of the names of victims of systemic racism.
Additionally, coaches can wear patches on their hats to honor victims. The league will also stencil "It takes All of Us" and "End Racism" on all end zone borders for home openers.
For Colin Kaepernick, this measure should hit home. After all, he gave up his NFL career to bring attention to urgent issues. We will only see more athletes speak up and follow in his footsteps moving forward.