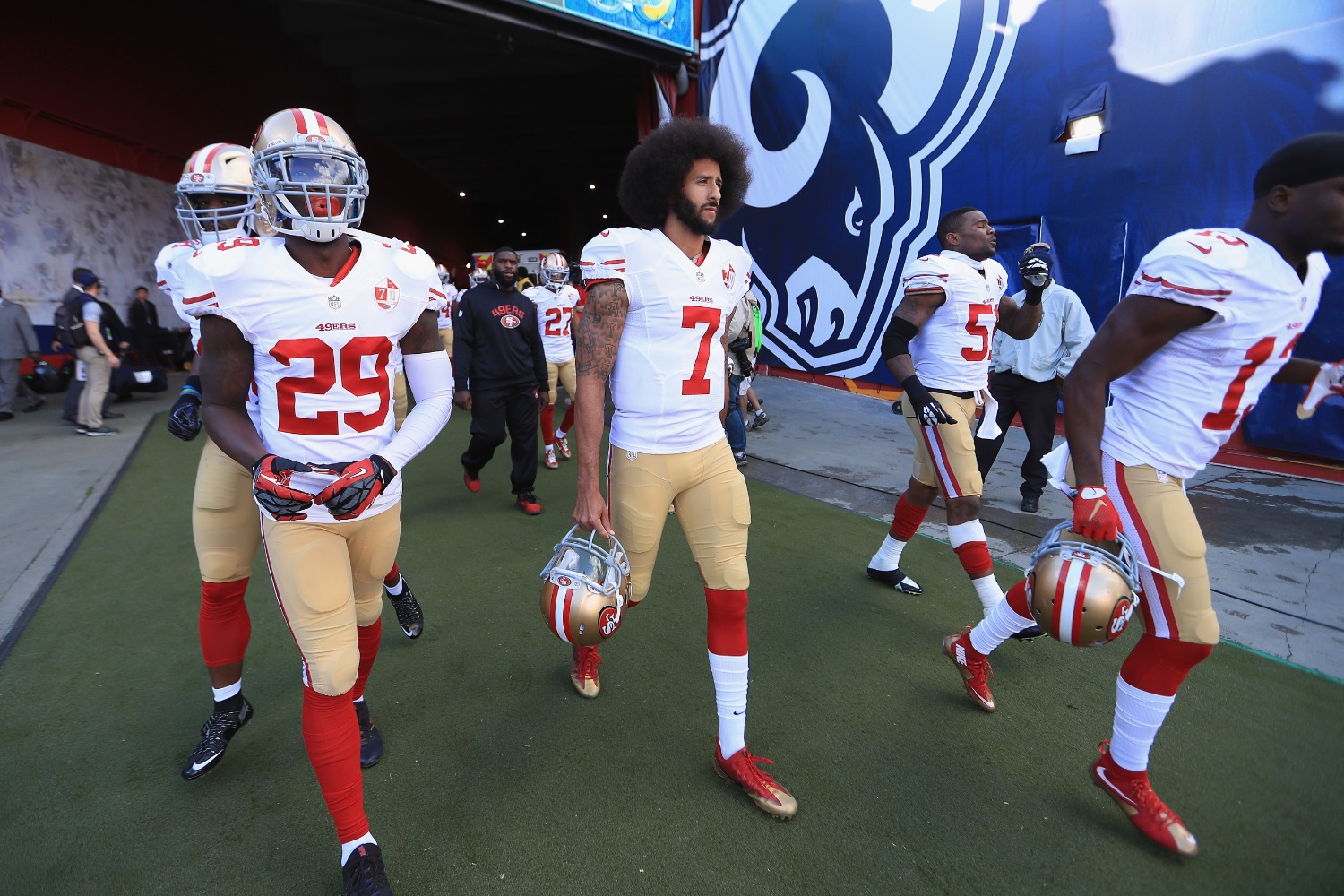 Colin Kaepernick's Influence Can Be Seen on NFL Helmets This Season
Colin Kaepernick should be proud of the NFL's new uniform rule given his well-documented stance on police brutality and racial inequality.
When Roger Goodell finally said "Black Lives Matter", it represented a huge victory for Colin Kaepernick. After all, he sacrificed his NFL career in order to call attention to issues such as racial inequality and police brutality. By taking a knee, Kaepernick started a movement and a discussion about issues that people all across the world face.
In particular, the police brutality issue became even more prominent in the wake of George Floyd's death. Athletes from all over the globe have spoken up about police brutality, racial inequality, and other issues. Creating a conversation can lead to change. So when/if Colin Kaepernick watches an NFL game this season, he will notice a unique change to NFL helmets.
Colin Kaepernick sacrificed his NFL career to call attention to major issues
Just a few years ago, Colin Kaepernick held the coveted title of NFL starting quarterback. His dual-threat capabilities allowed him to achieve tremendous success with the 49ers. After taking over for Alex Smith, he led San Francisco to a Super Bowl berth.
Though he never reached elite status, Kaepernick proved he belonged as one of the NFL's 32 starting quarterbacks. Yet, once he decided to take a knee in 2016, he essentially sacrificed his NFL career.
Kaepernick's peaceful protest aimed at raising awareness about the oppression of Black people and people of color. In addition, he wanted to call attention to police brutality. Some interpreted taking a knee as a sign of disrespect to the American flag or the military.
Kaepernick has never played another down since the 2016 NFL season. He has, though, embarked on an activism journey that has inspired other athletes and prominent figures to join him.
The former 49ers quarterback has caught the attention of prominent figures
Though his days as an NFL quarterback appear over, that hasn't stopped Colin Kaepernick from working hard. Given his platform as a professional athlete, he has been able to help countless people through several initiatives.
His Know Your Rights Camp offers legal assistance to those in need. And the organization received big boosts recently with Serena Williams' husband donating $1 million to Kaepernick's cause. That came right after Twitter CEO Jack Dorsey pledged a $3 million donation.
Kaepernick has also caught the attention of several prominent media companies. Netflix recently announced a six-part series covering Kaepernick's activism journey in high school will make its way to the platform. In addition, Kaepernick will serve as an executive producer.
The former 49ers QB also scored a board member seat with Medium. Plus, his recently-launched Kaepernick Publishing company will partner with the platform.
Kaepernick's influence will be seen on NFL helmets this season
The NFL normally doesn't allow players to put any kind of messages on their uniforms unless the league is running a specific campaign. But given the importance of the Black Lives Matter movement and its intersection with the sports world, the league will allow for an exception this season.
According to ESPN, a memo from the league office confirmed that players will have the option to wear helmet decals honoring victims of system racism.
"Each player will have the option to honor an individual by displaying that person's name via a decal on the back of their helmet," the memo said. "Players will be offered a list of names and short biographical information to help guide their decision-making, however, they can also select a victim of systemic racism who is not represented on this list."
In addition, coaches can honor victims by wearing patches on their hats. "It takes All of Us" and "End Racism" will be stenciled on all end zone borders for home openers.
Ultimately, the fact that the NFL will allow players to honor victims on their helmets should make Colin Kaepernick proud. Though he won't wear a helmet himself (unless a team surprisingly signs him), his mission of raising awareness about police brutality just took a massive step forward.
Millions of NFL fans across the world will now see the names of victims of systematic racism. Perhaps those who had little knowledge or awareness of these issues will get a chance to learn more and get inspired. Players can also make a statement just by placing a particular name on their helmet.
At the end of the day, Colin Kaepernick may never put an NFL helmet on again. But he should be proud that other NFL players can send a strong message this season simply by putting on theirs.