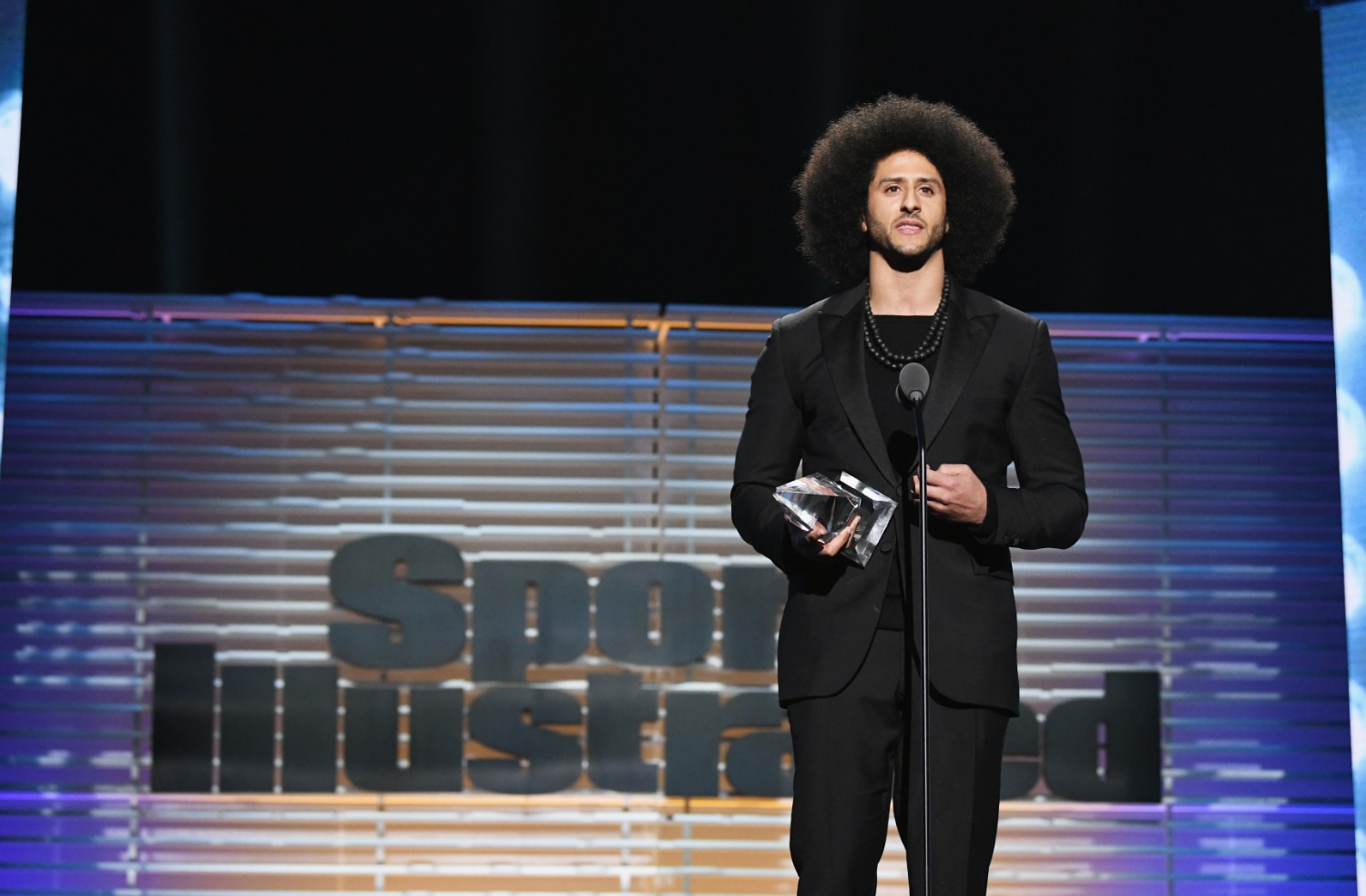 Colin Kaepernick Scores Powerful Role and His Own Series on Netflix
Colin Kaepernick has never been afraid to stand up for what he believes in. Now, his story is coming to Netflix in a new six-part series.
Colin Kaepernick gave up everything to stand up for what he believes in. For that, he deserves tremendous praise. Although he doesn't spend his Sundays as an NFL quarterback anymore, he's still scored massive donations from powerful figures and even a board of directors seat to support his activism efforts.
Now, his activism journey will hit TV screens via a powerful six-part Netflix series that will take a look at the issues of racism through the lens of his high-school years.
Colin Kaepernick sacrificed his NFL career in becoming an activist
If Colin Kaepernick hadn't taken a knee in 2016, he very likely would still be the starting quarterback for the San Francisco 49ers. Instead, he hasn't thrown a pass in four years. By sacrificing his own career, though, he forced people to take a deeper look at the issues of racism and police brutality.
As an activist, Kaepernick has done tremendous work to provide resources to those who need them. He set up the Know Your Rights Camp, which helps give legal support to people in need. Recently, Serena Williams' husband donated $1 million to support the organization.
Even Twitter CEO Jack Dorsey has stepped up to support Kaepernick's activism efforts. Earlier in June, he donated $3 million to the Know Your Rights Camp to "advance the liberation and well-being of Black and Brown communities through education, self-empowerment, mass-mobilization to elevate the next generation of change leaders."

Needless to say, Kaepernick's work has drawn attention from some powerful figures. But for those who may not be familiar with his upbringing, Netflix has a solution.
Kaepernick's activism story will be featured in a new Netflix series
On Monday, Netflix announced that Colin Kaepernick will be the subject of a six-part series called "Colin in Black and White." The series will take a look at Kaepernick's high school years and reveal the experiences that eventually put him on the path of activism.
"Too often we see race and Black stories portrayed through a white lens," Kaepernick said in a release. "We seek to give new perspective to the differing realities that Black people face. We explore the racial conflicts I faced as an adopted Black man in a white community, during my high school years. It's an honor to bring these stories to life in collaboration with Ava for the world to see."

Of course, Kaepernick faced plenty of racist comments from people growing up as a biracial child adopted by a white family. But his parents have always stood behind him and defended their son from an early age.
In the new Netflix series, Kaepernick will appear as a narrator. However, he will be portrayed by a younger actor in the scripted drama. The former NFL quarterback will also serve as an executive producer. No release date has been set yet. Ava Duvernay, who will direct the series, offered some interesting insight into how Kaepernick's story can have a major impact.
"With his act of protest, Colin Kaepernick ignited a national conversation about race and justice with far-reaching consequences for football, culture and for him, personally," DuVernay said in a release. "Colin's story has much to say about identity, sports and the enduring spirit of protest and resilience."

Will the former 49ers quarterback ever play in the NFL again?
As Colin Kaepernick embarks on his newest venture, it raises the all-important question: Will he ever play in the NFL again? Perhaps his commitment to the new Netflix series shows that he's moving in a new direction. At the same time, recent reports have linked the former 49ers star to several NFL destinations.
While the New England Patriots may have seemed like a logical fit, that opportunity looks gone now with Cam Newton on board. So where does that leave Kaepernick?
On one hand, he could fit as a backup to Lamar Jackson in Baltimore. Stylistically, the two boast similar skillsets. And given Jackson's penchant for running, he carries huge injury risk. Perhaps the Ravens could consider bringing in Kaepernick as a veteran insurance policy with more upside than Robert Griffin III.
The Seattle Seahawks could also be another fit. Russell Wilson has proven incredibly durable since entering the league as a third-round pick in 2012. However, Seattle could do a lot better than Geno Smith as his backup.
Ultimately, nobody knows if Colin Kaepernick will ever play in the NFL again. Maybe that ship has sailed. But he will continue to remain in the spotlight whether he puts a helmet and shoulder pads on ever again.