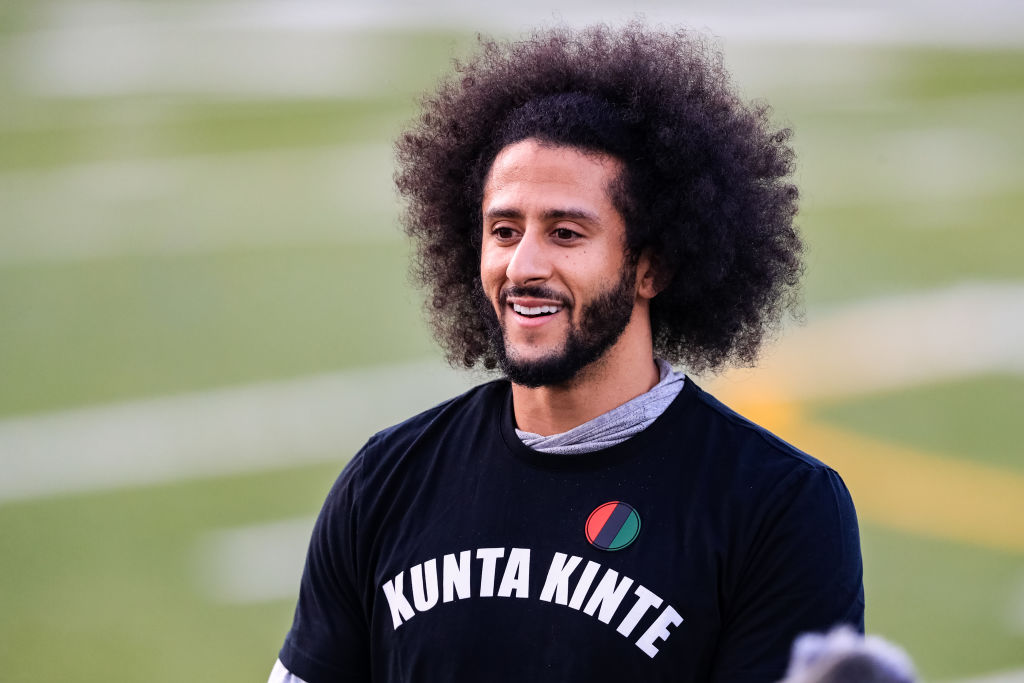 Colin Kaepernick Just Got a $1 Million Donation From Serena Williams' Husband
Colin Kaepernick got a $1 million donation from Serena Williams' husband, Alexis Ohanian, who is the co-founder of Reddit.
Colin Kaepernick essentially sacrificed his NFL career to stand up for what he believes in. His mission still has a long way to go. However, the former San Francisco 49ers quarterback just got a huge donation from Serena Williams' husband, Alexis Ohanian. The Reddit co-founder joins a growing list of people pledging their support for Kaepernick's mission.
Colin Kaepernick went from an NFL star to activist
At one point, it looked like Colin Kaepernick would be a perennial Pro Bowler. Ultimately, the dual-threat star put his football career on the line for a more important cause. By simply taking a knee, he simultaneously lost respect from some while becoming a hero for others.
Blackballed by the NFL, Kaepernick never played another down after New Year's Day 2017. Still, that hasn't stopped him from staying in the headlines. Kaepernick has donated more than $1 million to various charities. Beyond that, he's spoken up for those who don't have a voice.
More importantly, he's inspired other people to take notice of key issues. Police brutality and racial inequality have been two areas that he's put on the map. Through relentless and fearless effort, Colin Kaepernick caught the attention of Serena Williams' husband.
Serena Williams' husband makes powerful $1 million pledge
As the co-founder of Reddit, Alexis Ohanian has become a wealthy man. Serena Williams' husband has an estimated net worth of $20 million, according to Celebrity Net Worth. Of course, that figure pales in comparison to his wife's fortune. The 37-year-old father made a startling decision on June 5 by resigning from Reddit's board.
However, that represented just the beginning. In addition to giving up his seat and requesting that a black candidate take his place, he put his money where his mouth is.
In a video posted on his Twitter account, Ohanian pledged to donate future gains on his Reddit stock to "serve the black community." Moreover, he pledged a $1 million donation to Colin Kaepernick's Know Your Rights Camp. The official website gives a description of the organization's mission.
The Know Your Rights Camp Legal Defense Initiative has identified and teamed up with top defense lawyers and civil rights lawyers nationwide to provide legal resources for those in need. 

When there is an injustice within our community, it is our legal right to address it, by any means necessary. 
Current camp locations include Atlanta, Baltimore, Miami, Amsterdam, New Orleans, Chicago, New York City, and Oakland.
Kaepernick has gotten financial support from other powerful figures
Serena Williams and her husband have the ability to make a tremendous impact during this time. However, another powerful figure also made a significant financial contribution to Colin Kaepernick's cause.
Twitter CEO Jack Dorsey recently announced a $3 million donation toward the Know Your Rights Camp. His donation will help "advance the liberation and well-being of Black and Brown communities through education, self-empowerment, mass-mobilization to elevate the next generation of change leaders."
When you have the co-founder of Reddit and the CEO of Twitter on your side, anything is possible. For Colin Kaepernick, perhaps this represents the beginning of more prominent people in power pledging to make societal changes.